Spring in LA? Time For Banging Julep Recipes.
Photo: Eric Helgas/Styling: Ali Nardi
Just because it always feels like springtime in LA doesn't mean that we shouldn't mark the most wonderful time of the year -- and the Kentucky Derby -- with that seasonal essential, the mint julep. To get you the most lip-smacking recipe possible, we hit up Downtown bartender Mary Bartlett for a spin on the old standby.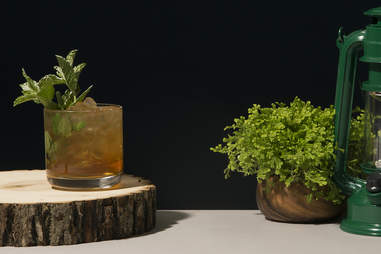 Photo: Eric Helgas/Styling: Ali Nardi
The Zip Zap Julep
INGREDIENTS:
1.1 ounce Bulleit bourbon
0.23 ounce Amaro Montenegro
0.25 ounce cinnamon syrup
10 mint leaves
4 hearty mint sprigs
Powdered sugar
DIRECTIONS:
Measure cinnamon syrup and pour into serving glass.
Add about 10 mint leaves.
Muddle lightly.
Add bourbon and amaro to mixture.
Stir to combine.
Add pebble ice or crushed ice.
Mix ice in using bar spoon and push mint back to the bottom of the glass.
Top with additional ice so it's slightly above the top of the glass or tin.
Add a hearty mint bouquet and straw.
Lightly dust mint and ice with powdered sugar.