Though you can find beauty in almost every bar if you spend enough time in it, it takes a special type to wow you even before you've started drinking. But these 14 bars do it, be it through smooth lines, beautifully carved wood, or views that make your jaw clang against your knees. So check them out and consider spending a little time in each before everything starts looking pretty.
Also, quick note: we tried to avoid "restaurants with a beautiful bar" in favor of actual bars, so please don't start yelling at us asking where Faith & Flower and Gracias Madre are, OKAY?!!? Thank you. And now on to the bars.
East Hollywood
It's no surprise this French-themed bar -- with its ornate chandeliers, exposed brick, and fireplace (not to mention the, uh, full-sized train outside) made the list: it's operated by the same dudes as the intricately designed Break Room '86 and Good Times at Davey Wayne's, not to mention...
Hollywood
We once called it the sexiest bar in LA, and you know what? We trust ourselves. It's underground, darkly lit, there are sexy wood walls, sexy hidden-away tables, and it's even got the word "sex" on one of the walls, dammit.
Mid-Wilshire
*Sigh* We're still not allowed to take pictures of this leather-entombed semi-private room with a bar made from old guitar amplifiers. So just trust us when we say that it even has a room in which the wallpaper changes colors based on the light, and it's damn beautiful.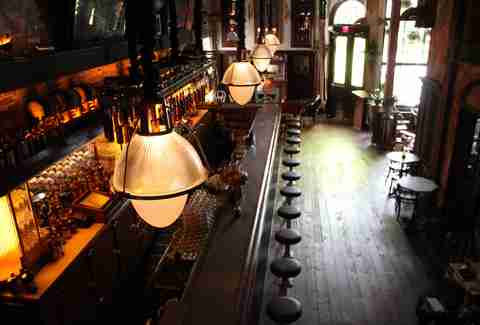 Hollywood
We've told you many times about this bar in Hollywood that literally took a southern home and rebuilt it piece-by-piece inside the bar. And this is us, telling you again.
Highland Park
There is something quite alluring about the mix of curtains and brick and chandeliers and tequila and tequila and tequila and...
Downtown
Everything about this top-floor bar at the Ritz Carlton (attached to Wolfgang Puck's WP24) is intended to be a jaw-dropper: the view is stunning, the bar itself immaculate, and the seating designed like, uh, nests, with slatted dividers giving just the right amount of privacy.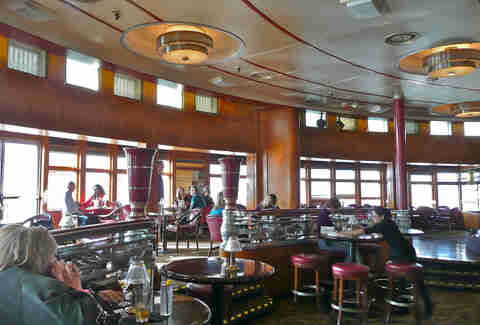 Long Beach
This Art Deco lounge on the Queen Mary is no recreated nouveau-chic version of the original Queen Mary lounge: it IS the original Queen Mary lounge, with nearly everything just as it was in the 1930s, from the tables to the fresco above the bar. IT'S LIKE YOU WERE THERE.
Hollywood
Even without the immaculately maintained bowling lanes, this bar upstairs at the Roosevelt would be a contender thanks to its massive doors, beautiful banquettes, and handsome liquor lockers. But then throw in those lanes (pun very much intended) and you're looking at a bar with beauty to... spare (can't... stop... punning).
Downtown
Unfairly pigeonholed as "that bar next to the Regent," Love Song is actually that BEAUTIFUL bar next to the Regent: though it's brand-spanking-new, LS is full of creatively curated knicknacks that make it seem like it's been there forever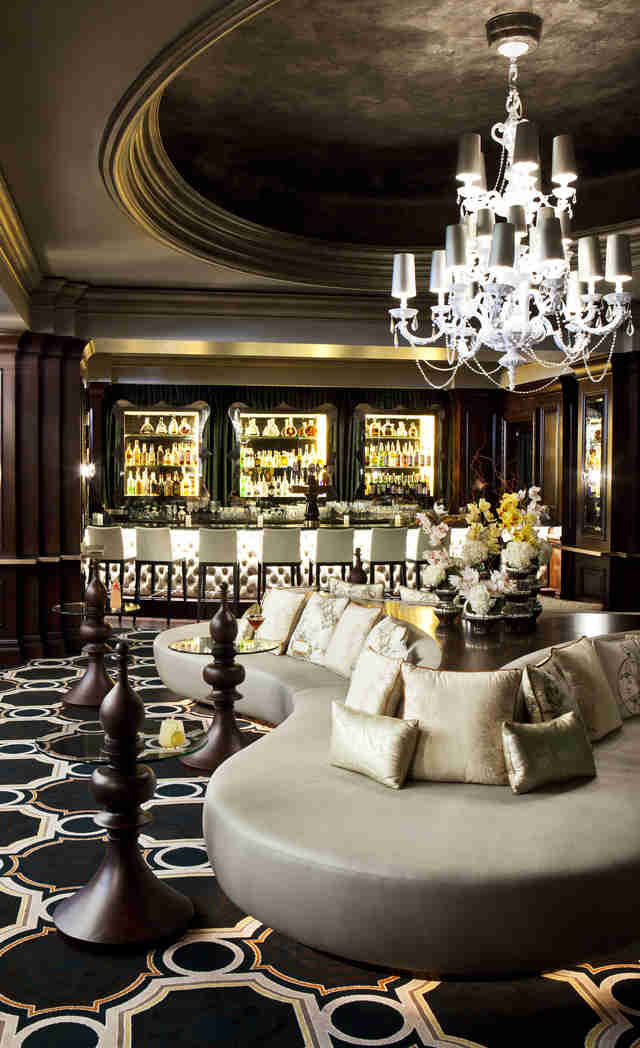 Pasadena
This swanky bar at a swanky hotel (the Langham Huntington) feels almost regal, thanks to the massive couch, meticulously designed tile floor, and oversized chess pieces. And we are ending this writeup here so as to avoid the many chess puns going through our mind.
Downtown
This OG of the fancy-cocktail revival may be almost a decade old (!) but it is still potentially the most damn handsome bar in all of LA: the gargantuan venue used to be an actual power plant, which means it still maintains some of that turn-of-the-century industrial charm that gives it a unique old-school cool. More than that, though, it's one of the only bars in LA that actually enforces dress code rules, meaning everyone in there is going to look almost as good as the bar.
West Hollywood
We're going to make one restaurant exception for this Sunset Strip mainstay, since so many people meet there for drinks. Once you're there, you have two choices: the front bar, which makes it seem like you're drinking in a gorgeous cabin, or the back bar, which makes it seem like you're drinking at a gorgeous cabin's outdoor bar. Basically, there is no wrong answer.
West Hollywood
On the most touristy part of Melrose, this relatively new bar's made a name for itself thanks to its mix of top-level cocktails and a damn good-looking space laden with antique portraits, hanging umbrellas, and seats acquired from a particularly stately train station.