The best LA clubs to be up in
This December 21st -- the longest night of the year -- it's time to prove once and for all that the Best Night of Your Life wasn't that one time Elisabeth Shue babysat you in 1987. To help, we're rounding up the city's most Thrillist-approved spots to get your BNOYL on, from the happiest of happy hours, to the greasiest of late-night eats, to way, way, WAY more. Today we check in with a list of LA's best clubs -- split evenly between 'oontz' clubs and live music clubs -- and another chance to fully map out a perfect evening with our itinerary builder.
The Satellite
Silverlake
Even though they got rid of their trademark curtain (boo! hiss!), The Satellite's become LA's most iconic modern venue. Despite its kinda-crappy sound system and could-be-anywhere interior, the Monday night residencies there (both under The Satellite name and back when it was called Spaceland) have given a platform for just about every band to break out of LA in the past decade, including Cold War Kids, Local Natives, and Silversun Pickups.
Troubadour
West Hollywood
Your parents'll be very impressed you went to the place that they heard about from John Lennon's Lost Weekend, your kinda-broey older brother'll be impressed you went to the place where Incubus got their start, and you'll be really impressed that the band you saw this week's playing the main stage at Coachella in two years.
The Echo/Echoplex
Echo Park
If they didn't break out of The Satellite, and they're from LA, and they're indie, they definitely played a free Monday night here; Foster the People first drew buzz here, Vampire Weekend played to a packed audience of in-the-know peeps on their first LA go-round, and Beck pulls a surprise show in one of the two rooms just about every time he launches a tour. Hell, The Stones played here. This year.
The Mint
Mid-Wilshire
The most-forgotten live music gem in LA, by far. The drinks are stiff, the sound stellar, and the music fantastic. Though they once upon a time were a folk club, they've emerged as the definitive place to go for New Orleans funk and jam-ish rock, which means you can find people like George Clinton and Snoop stopping by the tiny, 150-person room. If you go, tell Deanna at the door we said 'Hi' -- she's literally the nicest person who works at any club, of any kind, in the whole city.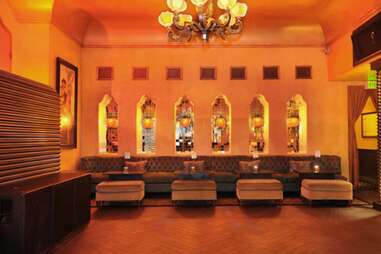 The Avalon
Hollywood
Splitting the difference between live venue and super-club, The Avalon hosts bands both major and minor in its 1000-person room downstairs and the exclusive-feeling Bardot Room upstairs. But on weekends, the whole spot is packed for after-hour DJ sets from mega-spinners like Paul van Dyk, Infected Mushroom, and Paul Oakenfold.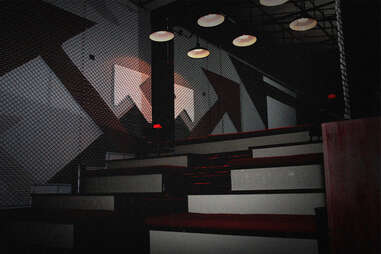 BLOK
Hollywood
Why is this club different than all other clubs? Well, it's Eastern European-themed, so unlike its competitors, it doesn't pretend to be anything it's not -- it's cold and industrial and feels like you just entered a Bond movie, except somehow every martini here is probably made with an energy drink. Add to that huge DJs like Diplo, and you'll barely be able to Kazakstand-up.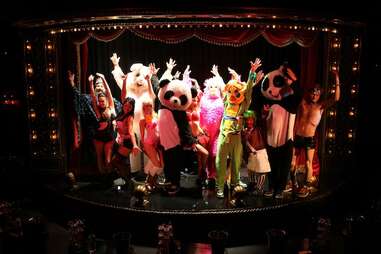 Beacher's Madhouse
Hollywood
Actually, if you can get in, you can't get more Stefon-ish than this Roosevelt Hotel hideaway, which has ACTUAL MIDGETS ON TRAPEZES DELIVERING YOUR DRINKS. Read that sentence again.
Emerson Theater
Hollywood
Of course there's going to be an SBE venue on this list, and of course it's going to be the Emerson Theater -- a glistening spot with dancing girls and an overall aura of classiness and fun often missing from clubland.
Bootsy Bellows
West Hollywood
Right at the end of Sunset Strip, Bootsy Bellows is a David Arquette co-owned club that has vaudeville, burlesque, and other odd shows alongside all of the 'oontz'.