Thrillist's Patio Power Rank: The 7 best outdoor bars in LA
Because the rickets industry NEEDS TO BE STOPPED, it is your personal duty to spend as much time drinking outside as humanly possible. And in order to do so, here are our picks for the top seven outdoor bars in LA:
7. Villains Tavern
1356 Palmetto St; Downtown; 213.613.0766
Though it's now partially covered with a circus tent (thanks to complaints from an overzealous, obviously very cool neighbor), a move which drops it down this list, Villains is the only spot that comes to mind where you can eat, drink, hear live music, and smoke (!!...?) semi-outdoors in the city.
6. The Tropicana Bar at the Roosevelt
7000 Hollywood Blvd; Hollywood; 323.466.7000
Sure, you sometimes have to be on a list (PRO TIP: Tell them you're Ed Begley, Senior), and there's not much to talk about drinks-wise, but the poolside scenery and the massive lawn (which often has movies showing on a giant screen during the Summer) make this a win.
5. High
1697 Pacific Ave; Venice Beach; 424.214.1062
Pool-lessness drops this down the list, but, amid a flurry of totally great seaside beach-hotel hangs (including The Bungalow and the Shangri-La), High stands out for being, well, high: it's on the top of the tallest building in Venice, so you've got a literally unparalleled view of the whole city. PRO TIP: It's especially awesome on the fourth of July.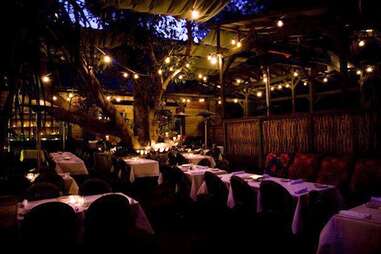 4. Cliff's Edge
3626 W Sunset Blvd; Silver Lake; 323.666.6116
Silverlake's got a few notable patios (Red Lion FTW!), but Cliff's takes the cake due to its foliage/hidden-ness/Matt Biancaniello's drinks.
3. Cat & Fiddle
6530 W Sunset Blvd; Hollywood; 323.468.3800
There're no real specialty drinks, and the food's never been totally on point, but, if you're looking for a place to hang out in a wrought-iron chair and spend, say, eight hours sucking down beers while meeting fresh-off-the-bus actresses in between auditions, there's no better spot in town.
2. The Standard Downtown
550 S Flower St; Downtown; 213.892.8080
Every time someone's all like "Let's go to the rooftop at the Standard!", you're all like, ""I have to drive downtown? And deal with that elevator ride? And get on some list?", and then you do it, and you're like, "Oh yeah, these lounge-beds are awesome. And the food is great. And I've never seen better-looking people in one place." And then you're happy.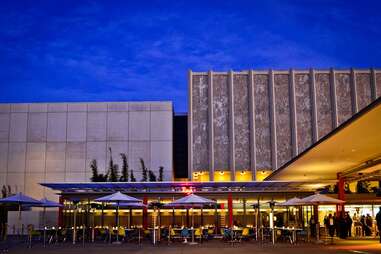 1. Stark Bar
5905 Wilshire Blvd; Mid-Wilshire; 323.857.6180
It's a near-perfect outdoor bar: cushy, sofa-style seats (and art-deco loungers), crazy-good cocktails, and, perhaps best of all, relative proximity to the entire city. Added bonus: jazz on Fridays during the Summer and LACMA exhibits, like the recent Stanley Kubrick retrospective.