Meet Old Town Pasadena's newest argument that you should really make it to Old Town Pasadena more often: Der Wolfskopf, a just-now-open German beer hall to end all German beer halls. The best part? The dudes behind Surly Goat and Little Bear are behind it (AND ALSO THE SECRET BAR UNDERNEATH IT!!!!!!!!!!).
Recommended Video
The Mexican-Style Grasshopper Tacos You Have to Try When You're in South Beach
As you might expect, the place is stocked with loads of hard-to-find German brews, easy-to-find German brews, and regular-to-find German brews...
... bizarro vessels (you basically have to do at least one shot while you're there, right?)...
... and, uh, LAAAAADDDIIIEEEESSS!!!
What you might NOT expect? The secret bar underneath the place. If you're a regular -- at any of the group's bars -- or a bartender likes you, or you just get lucky, you'll get to cross this rope, walk down these stairs, and finally see what's behind the mysterious porthole we showed you earlier.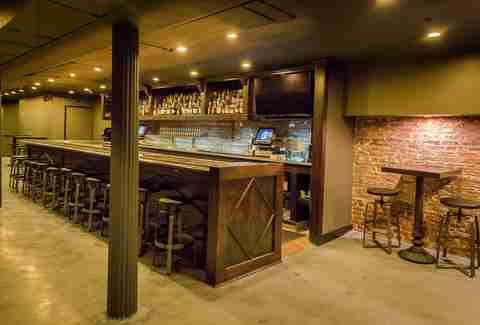 In case you never make it that far, though, here it is: the ultra-secret downstairs bar, which'll have its own secret selection of...
... secret craft cocktails...
... and secret specialty beers.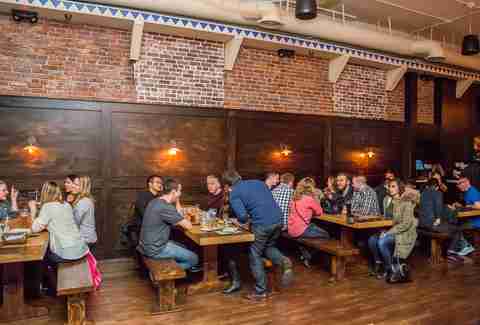 Both areas also have on-theme bar food, with frankfurters, Bavarian pretzels, and schnitzel to fill you up.
Which should adequately fortify you for another one (thousand) of these. Prost, bro. Prost.
Sign up here for our daily LA email and be the first to get all the food/drink/fun Los Angeles has to offer.
Jeff Miller can't drink one of those huge beers before it turns warm, but he's imminently impressed with anyone who can. Call him out about it on Instagram at @jeffmillerla or Twitter at @ThrillistLA.
Previous Venue
Next Venue
Venue Description
1. Der Wolfskopf
72 N Fair Oaks Ave, Pasadena, CA 91103
This German beer hall in Old Town Pasadena has a lot in store for you -- a spacious hall where you can enjoy tons of German brews, from the rare to the regular, plus hearty eats like schnitzel and Bavarian pretzels. Hidden downstairs is a secret bar that you just might be lucky enough to enjoy, filled with specialty beers, secret craft cocktails, and, thankfully, ALSO hearty eats like schnitzel and Bavarian pretzels.