With two new cocktail meccas opening up within a couple months of each other, it seems like Santa Monica's all of a sudden become a viable "Where are we going to go to actually drink-drink tonight?" option.
For the next time you consider it, here are our definitive CliffsNotes on where to drink in SaMo.
This is one of those 'two new cocktail meccas', and it's got drinks from the crazy-lauded dude who established the bar program at Picca and Rivera, all with the added fun of serving drinks in bottom-lit lightbulbs with straws (!). The food (oh, they've got that, too) is all made to match the booze, so you'll get a red snapper crudo along with the pictured-above fig/gin/strawberry Red Light Special.
The OTHER one of those 'two new cocktail meccas' is this newness from the original drink peeps behind La Descarga. Here, they're coming in hot with dimly lit brick walls and a curated drink menu with cocktails like the bourbon-based Blackberry Honey Sour, as well as a killer draft beer list.
Not to be confused with The Library Bar Downtown, or The Library Bar at the Roosevelt, The Library Alehouse has long been a Main St staple, thanks to an epic beer list curated by a certified cicerone. Whatever you do, don't get so distracted by beer that you forget about the nuts-good burgers -- especially the Hell Burger topped w/ jalapeño, habanero, and ghost pepper aioli.
Just off the promenade is this date-friendly cocktailery, which has an amazing happy hour with $5-6 mixology-ish drinks from 5:30-8pm, Tues-Sat, and all day on Monday.
The most classic bar on the Westside (and probably in all of LA) is this steak-serving, seaside shanty shack. It's got an overwhelmingly charming nautical theme, overwhelmingly delicious filets, and overwhelmingly strong drinks.
Thanks to inexpensive pours and a knowledgeable staff, this wine-focused bar (don't worry, they've also got beer) has become a Santa Monica staple. Their happy hour is no slouch either, with $6 wines and apps from 5-7pm, M-F, and again from 10pm-close, Sun-Thurs.
Jam-packed, like, always, this post-college hang has got killer brunchness (pretzel croissant sandwich FTW!), an also-great drinks list with a decent craft lineup (Magic Hat!), and classic cocktails, which are knocked down to $5 if you're well-ing it up for happy hour (which you will be).
A longtime Thrillist favorite for their beer selection and whiskey selection, The Daily Pint's one of those bars you can't believe actually exists. They take their boozing seriously, but are clearly set up for maximum fun with pool, shuffleboard, darts, and more to keep you active between sips.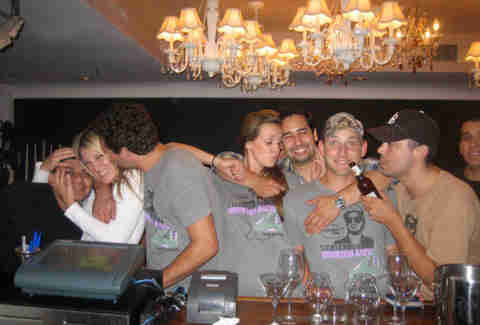 The sort-of-hidden Tavern (it's underneath that giant Victorian house on Main St) is best known for having long lines for cover bands on weekends, but that's not a fair break: they've also got a fantastic cocktail program, with amazing Moscow Mules and rotating chef specials.
"A 1960s, retro-themed bar paying tribute to Charles Bukowski" is how the owners self-describe this comfy, inland drinkery, and they've done an admirable job paying homage to the ultimate writerly boozeman, with a massive draft list and nuked White Castle cheeseburgers. Yep.
Let's say it's time for you to impress someone -- a lady friend, a man friend, a friend-of-a-friend, whomever. You're like, "I'd like to take them for a drink where they can have the absolute best view of the Westside of Los Angeles in a setting that feels like it was ripped from a DiCaprio movie". Then you take them here. And you are allllll set.
Right by the promenade is this two-story standby, which has happy hour starting at noon (NOON!) on weekdays, a breezy & enormous bar (with $5 lunch specials), and pretty-frikking-good food and booze, including super-great Jidori fried chicken & the ginger/mint/Buffalo Trace "Jumping Jack Flash".
No bull (and no nonsense), this British pub is one of those places that could have been airlifted in from Jolly 'Ol, landed in Santa Monica, and set up shop. Like its also-great countryman Ye Old King's Head, it attracts both looking-for-home-and-terrible-teeth ex-pats and fratboys alike, thanks to a party-ish attitude, cheap drafts, and, uh, probably name giggleability.

Sign up here for our daily LA email and be the first to get all the food/drink/fun Los Angeles has to offer.

Jeff Miller is Thrillist LA's Senior City Editor, and can't wait for the Subway To The Sea. It's gonna happen someday, right? Sigh. Anyway, he's at @thrillistla on Twitter and @jeffmillerla on Instagram.