See How This LA Tattoo Artist Gave the Bulleit Bottle a California Spin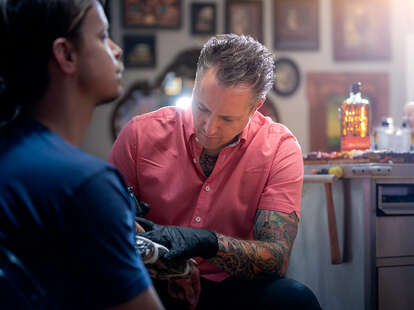 Jeff Berting, Courtesy of Bulleit
Los Angeles tattoo artist Shawn Barber doesn't just create tattoos -- he's a documentarian of tattoo culture.
Since his late 20s -- before ever picking up a tattoo machine -- Barber, 47, has painted portraits of tattooed individuals, artists at work, and their tools and environments. It's a fascination that began at age 16 with his first tattoo, continued through his career as a commercial illustrator, and really clicked the day he decided to do a painting of his own tattooed arms.
"At the time, I was making my own paintings, not tattoo-related in any way. The moment I did it, I just knew," says Barber, who then started painting tattooed friends. "It was exciting -- I can explore the human form outside of just painting a person. It was… knowing a tattoo is sitting in human skin, and that I can have them come off the skin, and be more than just a tattoo."
At age 35, Barber decided to learn the trade himself, eventually opening Memoir Tattoo in LA's Fairfax neighborhood with his girlfriend Kim Saigh, a fellow tattooist, in 2009. Over the years, he's noticed more people both doing and getting tattoos -- and would like to see the next frontier present more individuality.
"Hopefully people will get more custom designed stuff, uniquely designed stuff," he says. "Stuff that's outside the norm and not just a Pinterest thing. That happens more than you think… People in the beginning aren't thinking about composition and design and aesthetic."
The most popular tattoos in LA, according to Barber, are what you'd expect -- palm trees, the Dodgers logo, the Hollywood Sign. So when he was tasked with creating a piece of tattoo art to represent his city for a new limited collection of Bulleit Bourbon bottles, he knew he needed to think beyond those expected landmarks.
"It was a difficult challenge," says Barber, who is one of four top tattoo artists that the whiskey brand partnered with for the collection. "It could be anything. I wanted to complement the aesthetic of the bottle and make something simple, but not so simple that it's boring."
His resulting image, which took about a month to create, captures an appreciation for LA's art, architectural design, and wildlife. "On the back of the bottle is a coyote skull, and at the bottom is a succulent plant -- we have those everywhere," he says. "There's an Art Deco entryway, to mine that revival. A sundial shape on the front of the bottle complements the design on the opposite side. If you take the label off, on top of that sundial are two hummingbirds."
The Tattoo Edition bottles are available for purchase in each artist's respective state -- California, Oregon, Texas, and New York -- and in select locations nationwide. It marks the first time that Bulleit's iconic bottle has been altered, and the fact that it's being done by tattoo artists is perhaps yet another sign of tattooing becoming an accepted part of the cultural landscape.
"Now grandmas do it. My mom's tattooed," says Barber -- he even tattooed her himself. But beyond the opportunity for creativity and personal expression (and inking one's relatives), in tattooing, the multi-talented Barber has found a medium that allows him both a flexible lifestyle and the ability to earn a living as an artist.
"I could make a dozen paintings and not sell any," he says. "Tattooing is an art form that gives back more than you give to it. The more you engage in it, the more you see improvements."

Please Drink Responsibly. BULLEIT Kentucky Straight Bourbon Whiskey. 45% Alc/Vol. The Bulleit Distilling Co., Louisville, KY.