Starbucks Restored This Sweet 1930s Hollywood Gas Station as a Drive-Thru
After years of being fenced off and falling into total disrepair, an awesome and historic Hollywood area fill-up spot has now come back to life as a Starbucks drive-thru and outdoor cafe.
The new Starbucks, which opened for the first time early Thursday morning at the corner of Highland and Willoughby, is a clear homage to the art deco, Americana glory of decades past with a walk-up counter surrounded by outdoor seating and a drive-thru lane covered by sweeping cantilever canopies. It's the result of a two-year restoration project by the company to take the dilapidated structure and bring it back as something the community could use and enjoy again, Starbucks senior store design manager Jon Alpert told Thrillist. Oh, and you know, a place where we can slurp down Frappuccinos.
"The building has basically been vacant for 20 years or so and fell into disrepair," Alpert said. "Our real estate team came in, made a deal, and we set out to restore this building and show it in its -- or as close as we could bring it -- to its original state while putting in a fully-functional Starbucks experience. We wanted to be respectful to the site, respectful to the building, and we feel we've hit that mark."
Originally constructed in 1935, the gas station was operated by Gilmore Oil during the days of California's automobile age and around the height of filmmaking in Hollywood. In fact, Gilmore Oil purchased the land for the station from film star Wallace Beery and the station has made appearances in movies and commercials, including a scene with Nick Nolte and Eddie Murphy in 48 Hours as well as in L.A. Story, when Steve Martin makes a fuel stop, according to Starbucks. Gilmore, and then subsequent oil companies, ran the gas station there for decades until it was shuttered in the early '90s. In 1992, the building was registered as a Los Angeles Historical Cultural Monument.
And soon, we'll probably see movie scenes with Nicolas Cage double-fisting cappuccinos, or James Franco sipping the foam off the top of a Flat White in a moment of exaggerated artistic frustration with the new Starbucks as the backdrop.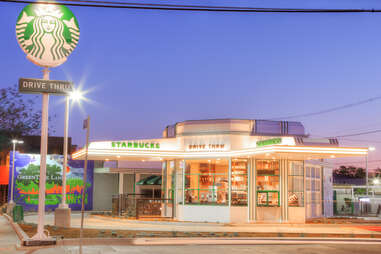 To ensure the proper preservation of the structure, Alpert and the design team worked with a local historical consultant throughout the process of restoring the building and putting in a coffee shop with all of the typical Starbucks offerings -- packaged sandwiches and all.
Alpert said the company was able to retain the use of the canopies, which were falling down, and built replica garage doors in the style of the originals from the station's old car wash. Ultimately, Starbucks was able to move in without constructing any additional structure to the building. However, after consulting with local officials, Starbucks added a pylon sign at the corner of the site to complement the building's intense LED lighting, which Alpert said gives it an "electric feel."
While only store employees will be inside the building, the store's outdoor space includes seating for 24 customers, along with umbrellas over tables and decorative planters. Looking back on the project, Alpert said it was an honor to take such a historic building and transform it into a Starbucks store.
"With every new store, or gem of an opportunity to restore a building like the Gilmore gas station, it's a blend of having a unique opportunity but also a challenge to design something that customers will respond to and appreciate," he said. "It's got such a great view whether you're in the store our outside, it just glows."
Tony Merevick is Cities News Editor at Thrillist and, full disclosure, he worked as a barista at Starbucks while in high school and college. Send news tips to him at tony@thrillist.com and follow him on Twitter @tonymerevick.