If you like tequila, you've come to the right place. If you don't like tequila, you live in the wrong city. Assuming you come geographically correct, we put together a quintet of spots that take agave to another level.
Mercado
Tequila Bona Fides: Over 65 tequilas, any of which can be toppled into a margarita for just a buck extra.
Quick Bite: Alambres de Arrachera -- grilled & skewered cilantro ginger-soy glazed prime skirt steak with Santa Monica farmers market vegetables.
The Mission Cantina
Tequila Bona Fides: Over 100 of the suckers, including a lot of rarities.
Quick Bite: Camaron de Roca tacos. The beer-battered rock shrimp, chipotle crema and jicama-carrot curtido will having you saying... nothing, because your mama taught you not to have disgusting table manners.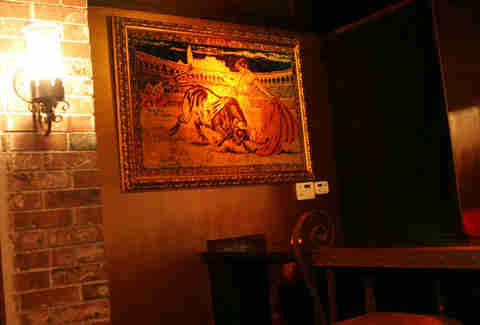 El Bar
Tequila Bona Fides: 40+ tequilas and their signature shot, The Bull, with teq, triple sec, lime & cranberry juice, simple syrup, and Sprite. So obey your thirst, and make sure your Sprite has tequila in it.
Quick Bite: If you get The Bull shot, you'll probably need a Bull pizza to go along with it. But the $2 steak tacos are a surefire bet.
Tortilla Republic
Tequila Bona Fides: Over 70, plus cocktails like El Conquistador and Skinni, like one of those Skinny ones, except spelled funny and not specifically designed for post-yoga drinks.
Quick Bite: Concentrate your dollars on drinks with a $4.50 salsa tasting that includes de Mesa, de Papaya Habanero and de Tomatillo Cruda.
La Cuevita
Tequila Bona Fides: 70+ tequilas and mezcals, plus cocktails like the citrus-happy Campesino, with Aperol, Creme de Cassis, and fresh lemon & grapefruit.
Quick Bite: Free tacos on Tuesday will keep you from becoming a campesino.