You don't want to be drinking the wrong beer. We don't want to be drinking the wrong beer. And these six LA beer experts damn sure don't want EITHER OF US to be drinking the wrong beer, which's why they helped us put together this: a definitive list of the top 11 LA breweries.
Recommended Video
Irish Hazelnut Cream Is the Boozy Winter Warmer You Needed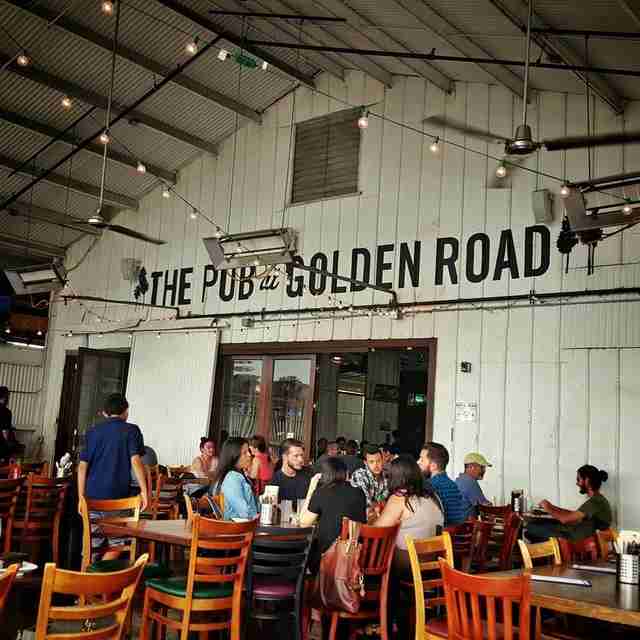 Los Angeles
Golden Road may be the most ubiquitous and accessible (and Workaholics-cameo-ing) craft beer in the city, but that's not necessarily a bad thing -- more than anyone else on this list, it's responsible for turning the mainstream onto local craft beer, thanks in no small part to its game-laden, ultra-fun brewpub.
Experts say: "Cans of their saisons, lagers, and IPAs can be found at nearly every corner liquor store in the county and the quality and consistency of those beers makes it easy to grab a pack and go." - Sarah Bennett (LA Weekly; Beer Paper LA)
Key beers: Heal the Bay IPA, Get Up Offa That Brown

Agoura Hills
With its Art Nouveau aesthetic, Ladyface takes a more elegant approach to beer crafting. The beers are clean, crisp, and consistently good. If you live over the hill, it's a bit of a trek to its brewery in Agoura Hills -- but worth it for tastes straight from the brewers.
Experts say: "Worth the trip to the San Fernando Valley." - Thomas Galvin (Eagle Rock Homebrewing Supply)
Key beers: La Grisette, Blind Ambition
Van Nuys
MacLeod is a cask-only brewery that makes the best British ales in LA (and well, well beyond). The owner is Scottish and his wife is in a local bagpipe band, which makes them the coolest couple ever/adds to the authenticity.
Experts say: " [MacLeod puts out] British-style ales that are heavenly history lessons in an imperial pint glass -- the very antithesis of what's considered the West Coast craft brewing style." - Tomm Carroll (Celebrator Beer News)
Key beers: The King's Taxes Scottish Ale, Little Spree Yorkshire Pale Ale
Inglewood
Close-to-LAX Three Weavers is barely a year old, but brewmaster Alexandra Nowell and crew have already impressed the LA beer community by creating a variety of deliciously crafted beers right out of the gate/terminal.
Experts say: "They have a strong lineup of solid offerings and continue to exceed expectations." - Wes Jacobs (Select Beer Store)
Key beers: Deep Roots ESB, Stateside Session IPA
El Segundo
If you're an IPA fan, chances are you love ESBC's beers or have at least visited Rob Croxall and his team's tap room, which is also a stone's throw away from LAX.
Experts say: "With a deep lineup of IPAs and pale ales that showcase unique aromas over punishing bitterness and a tireless dedication to freshness, ESBC is skyrocketing in popularity." - John Verive (Los Angeles Times; BeerOfTomorrow.com)
Key beers: Mayberry IPA, Citra Pale Ale

Pasadena
Pasadena's Craftsman was founded in 1995 and for the last 20 years has been dedicated to perfecting quality, not quantity; it's one of the most respected breweries in the city, and yet it doesn't even have a tap room to visit.
Experts say: "Craftsman continues to put unique, interesting, and fun beers on the table for us all to try." - Wes Jacobs (Select Beer Store)
Key beers: 1903 Pre-Prohibition Lager, Triple White Sage (Belgian-style tripel with sage)
Eagle Rock
The first established brick-and-mortar -- and some say still best -- brewery in the city is known not just for great beers, but for attentiveness to the community of homebrewers via in-house seminars and brewer meet and greets, all of which help it live up to its slogan: "Beer for the people."
Experts say: "Light, complex, and sessionable beers that stand the test of time." - Sarah Bennett (LA Weekly; Beer Paper LA)
Key beers: Solidarity Black Mild, Populist IPA
Highland Park
Fairly new to the game, the four partners (Bob Kunz, Ross Stephenson, Michael Blackman, and Dustin Lancaster) who make up Highland Park Brewery are making some big waves locally. The brewery is located in the old Hermosillo Club on York Blvd, and there you'll find some very unique beers like its Ham Porter (yes, it has HAM in it) and consistently changing seasonal brews that'll make you keep coming back.
Experts say: "Highland Park brewhouse may be small, but it's certainly fierce." - Frances Michelle Lopez (LA County Brewers Guild; TheFullPint.com)
Key beers: Beer Spaceship, Cherry Spazz Wild Ale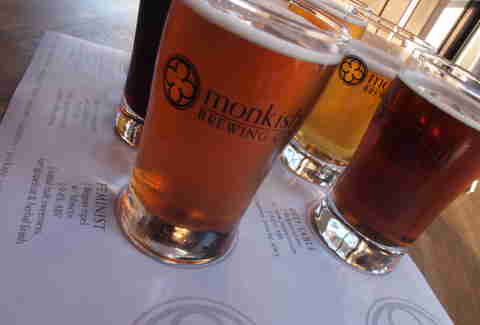 Torrance
Henry Nguyen and his crew don't play into the promotional game as much as the other breweries, which means his complex and delicious Belgian-style beers do the talking themselves (sorry, hop heads: no IPAs here).
Experts say: "I urge everyone to get their hands on some of the funky, tart, Brett-aged results of Henry's constant experimentations." - Sarah Bennett (LA Weekly; Beer Paper LA)
Key beers: Seme Della Vita, Crux
Torrance
Originally a homebrewer out of Tustin, Jonathan Porter and his wife Laurie moved their operation to Torrance in 2012 and since, then have been on a roll -- they've won three Great American Beer Festival medals, including a gold for their Groundwork Coffee Porter.
Experts say: "They are passionate and engaged, which is an added bonus to their delicious beer." - Frances Michelle Lopez (LA County Brewers Guild; TheFullPint.com)
Key beers: Groundwork Coffee Porter, Little Bo Pils
Long Beach
No surprise that Beachwood came handily in first: Julian Shrago's beers have won more beer awards than any other in Los Angeles, and aside from his incredibly popular IPAs, Julian and his crew make beers for both the beer nerd and casual drinker.
Experts say: "Brewmaster Julian Shrago is a wizard equally adept at crafting bombastic IPAs and delicate style classics." - John Verive (Los Angeles Times; BeerOfTomorrow.com)
Key beers: Citraholic IPA, Knucklehead Red

Sign up here for our daily LA email and be the first to get all the food/drink/fun Los Angeles has to offer.

Sean Johnson has been a craft beer geek since his first Anderson Valley beer over a decade ago with his friends. You can buy him a pint at any of the aforementioned establishments. Find him on both Instagram and Twitter at @OtikRecords.