Sure, sometimes you want a bartender to explain that his bitters are sourced from a rare Peruvian herb that he had to cross Madagascar through a blizzard to find. But other times, you just want a Jack-and-Coke from a bartender who could be your grandpa and has an exceptionally heavy hand. On those nights (or afternoons -- we're not judging), LA's best dive bars will be ready to welcome you with a strong pour.
Santa Monica
Yes, nautical themes are a theme of this list, and that's because nautical themes lend themselves to dive bars. Oh and yes, those are peanut shells on the floor.
Culver City
Yes, you can come here for sports, but you should come here for karaoke, especially if your favorite part of karaoke is yelling "you bitch, you slut, you whore" during "Delilah." And it should be.
Hollywood
OK, we're partial to karaoke. Sue us. This longtime Hollywood spot doesn't take credit cards, has amazingly & charmingly rude bartenders, and won't judge you for picking "Don't Stop Believin'"... again. In other words, it's heaven.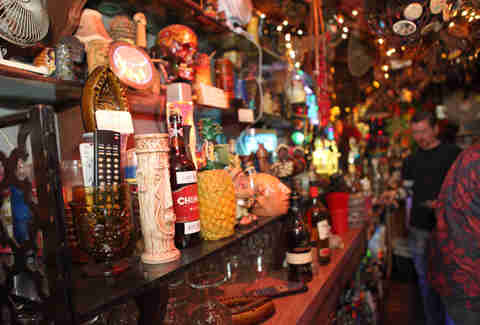 Silverlake
It made our very reputable list of the 33 Best Dive Bars In America, and deserved it: this legendary hut (it really is nothing more than a hut) on Sunset boasts one of the best sweet-drink lists in the US, though you've gotta fight to get any of 'em, as there's only enough seats for a dozen people.
Playa Del Rey
This generations-old shiphole is teeny-tiny -- like, it's literally the smallest bar in town -- which means it's you... and four grizzled sailors.
Koreatown
Kinda like Chez Jay, but in Koreatown... so if you live further East, you don't need to drive to Santa Monica for sweet nautical action.
Culver City
Come for the shuffleboard. Stay for... the shuffleboard.
Mid-Wilshire
Long-notorious as the bar where Guns N' Roses played their first gigs, this deli-adjacent dive recently renovated... by moving the teeny-tiny stage across the floor. Period. Shout out to the Jheri curl dude in the gold pants who's always here. You know the one.
Silverlake
Jay's, located just across the stripmall from the now-closed Tang's Donuts (which we're still mourning) has killer, super-cheap burgers, and is newer than any of the other picks on this list -- that doesn't mean, though, that it has less of the anything-can-happen, neighborhood appeal that makes every one of these a must-stop destination.
Long Beach
If you're a drinker in Long Beach, and you haven't washed down a cheap beer with Jost's pickled eggs (or vice-versa), you're doing something horribly, horribly wrong: it's been a drinking-and-regret staple for more than 80 years.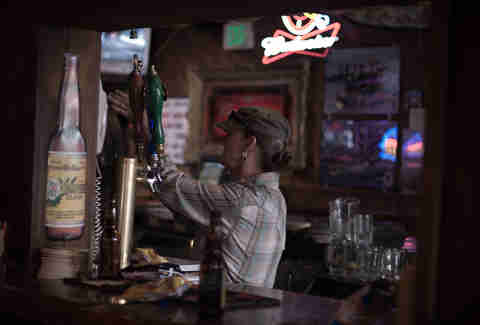 Venice
OH MY GOD THAT BURGER AT 1:30AM.
Thai Town
Jumbo's is a singular place: not quite a dive bar, not quite a strip club, and filled with a cast of acrobatic non-nude burlsequey dancers who choose their own songs (Vintage showtunes! Black Flag! The Pixies!) and do death-defying, ceiling-hitting pole-dancing stunts while you slurp down $5 rum-and-diets. Just make sure you tip the dancers and the bartenders.
Hollywood
Hollywood used to be home to some of LA's best dives, but they've essentially all been priced out -- except for this incredibly dark hole-in-the-wall, where you can still find a routine cast of both savory-and-unsavory characters (The elderly woman in the ripped mink stole! The club girl crying in her little black dress! The dude in the suit who thought he was going to the W and is very confused!) mingling (and sometimes, ahem, leaving) together.
Valley Village
William H. Macy drank to excess at Foxfire in Magnolia, and the same things that drive his character there in the movie are what drive SFV residents to the bar at all times, all days: it's a place where you're never gonna be judged, it feels like you stepped into a time warp, and the drinks are always stiff. Bingo.