LA's Best New Secret Bar Is Hidden in... a Play???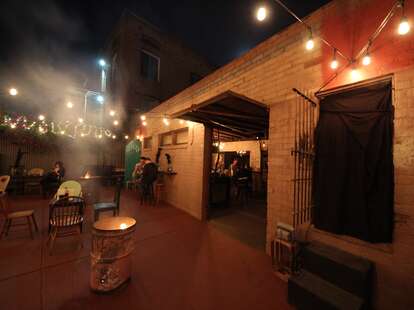 You already know that LA has a wealth of secret bars, and that the most exciting part of the current food & drink scene in town is that amazing things can pop up unexpectedly just about anywhere. Plus, you probably already know that there's also an amazing amount of underground theater here, because, well, we're in LA. But what you're about to find out is that the best new pop-up bar in town, aptly named Paradise, combines all of those qualities because it's hidden within an Arts District play called The Day Shall Declare It. It's only open 'til July 31, so here's what you need to know immediately:
The play itself is based loosely on the writings of Tennessee Williams, and explores the big life themes of relationships, work, and, uh, nuclear war, in a somewhat surrealist way, with the audience imbedded into the performance, following the actors through the sets -- which include the bar (more on that coming up, promise).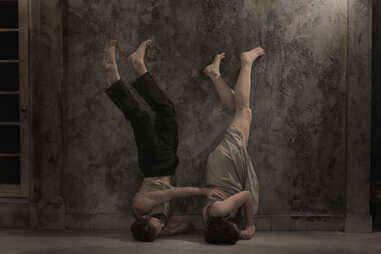 The play is more emotion-driven than plot-based: the characters move together and separately in a dance-type routine throughout the space, and if that's your thing, you'll totally dig it...
But even if you aren't into plays -- and, actually, regardless of whether you go to the play at all -- the bar is open afterwards, with high-end craft cocktails curated by Vagrant Bartenders, a group that's made menus for award-winning restaurants from chefs like Govind Armstrong and Mark Gold.
The bar itself is beautiful with a speakeasy vibe and period-specific style, which includes classic elements like Edison lightbulbs and brick walls, and bartenders who spend their time on drinks ranging from classic Old Fashioneds to specialties like the vodka-Benedictine-bitters Gypsy.
But the real highlight is the outdoor patio, which gets a big reveal at the end of the performance and is full of its own surprises, including a live jazz band...
... and killer BBQ sandwiches, served on pretzel rolls (they've also got classic bar snacks like pickled eggs).
Wanna get over there? Act fast: it closes up at the end of July, at which point all of this becomes Paradise lost.
Sign up here for our daily LA email and be the first to get all the food/drink/fun Los Angeles has to offer.
Jeff Miller is the editor of Thrillist LA and loves a good immersive theater experience. Follow him at @jeffmillerla on Instagram and @ThrillistLA on Twitter.