The Pacific Seas at Clifton's Opens This Week, Is the New Tiki Bar of Your Dreams
Los Angeles has had a long and boozy love affair with Tiki bars, and now there's a new Polynesian paradise worthy of our affection that draws inspiration from multiple LA legends. The Pacific Seas, the much-anticipated new Tiki bar inside of Clifton's Cafeteria, is finally ready to fulfill your Tiki dreams this week -- and it's totally been worth the wait.
Hidden away inside the historic Clifton's, you'll find incredible Tiki designs both new and old, Polynesian-inspired performances and food, and of course, top-notch Tiki cocktails -- both classic and innovative. The new space taps into the history of Clifton's original Pacific Seas restaurant that opened in 1932 in Downtown LA, featuring décor dedicated to the Golden Age of Travel from the long-gone spot as well as from past Tiki legends such as Bahooka, Trader Vic's, and Tiki Bob's.
You'll get to the bar via a secret staircase, and here's a sneak peek at what you'll encounter there:
Is that a full-sized vintage Chris-Craft mahogany speedboat jutting out from the bar? Yes, yes it is... which Andrew Meieran, Clifton's owner and renovator-in-chief, explains was no easy feat to get into the fourth floor of the historic building on Broadway. While bringing his vision of the bar to life was met with challenges along the way, he ultimately prevailed, thanks in part to a talented Tiki team he assembled.
"By far the biggest challenge has been finding people who still retain the lost art of Tiki construction," Meieran explains. "I was lucky enough to work with Bamboo Ben [Bassham], who is one of the few people in the world who exemplifies not only the spirit of Tiki and Polynesian cultural heritage (his family is legendary and his knowledge unsurpassed), but is a true craftsman able to create authentic Polynesian structures and details. Sammy Bean, from the legendary Jim Beam family, is the most gifted muralist on the planet. He was able to take inspiration from the fabled artifacts and dream-like surroundings and translate that into transportive imagery -- a gift that embodies the true heart of Tiki and exotic bar culture." Bean's sunset mural can be seen behind the bar.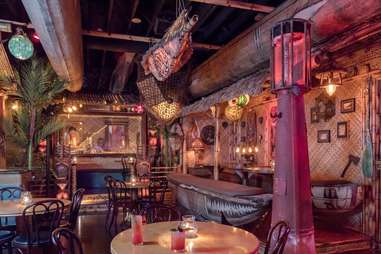 All throughout the bar, you'll encounter the craftsmanship of Bamboo Ben and Sammy Bean, as well as historic artifacts that Meieran has collected over the years, both from former LA Tiki favorites as well as places around the world. "The inspiration comes from a lifetime of travel and daydreams," Meieran says. "I was lucky enough to travel extensively throughout my life, and I've collected many items from a vast array of exotic places. I wanted to capture the wonder of travel, the mystery of new places, and the sense of anticipation and amazement one feels when they embark on a new adventure. I also wanted to capture the pleasure of dreaming of future excursions and the experiences they might hold -- without the need to leave Downtown LA!"
This seems like a good place to dream of future exotic excursions -- especially while sipping a Mai Tai.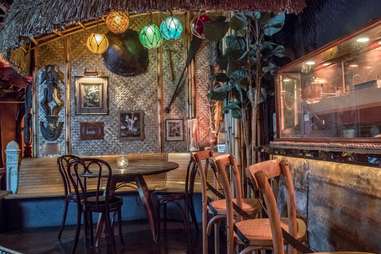 As does this corner with its Tiki and Polynesian ephemera. "The Pacific Seas is a place to house all the collections of my travels in a way that celebrates not only the items themselves, but the exploration that led to their discovery," Meieran explains. "The design in essence celebrates the Golden Era of Travel -- a time when the world opened up to exploration and people were first able to realize their most romantic of dreams."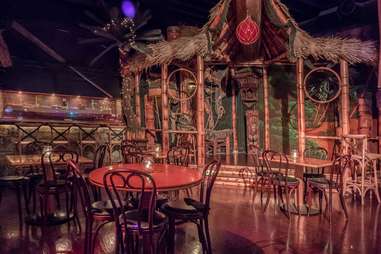 Or you may want to settle in for the evening at a table over here, especially once the live entertainment gets underway, which Meieran says will include Polynesian performers, bands, DJs, and the "occasional mermaid."
And you're probably wondering about those delicious Tiki cocktails...
While the full drink menu is still under wraps, you can expect classics designed to make you feel like you've been whisked away to a tropical beach, including a Mai Tai that stays true to the original Trader Vic's recipe, as well as a Fog Cutter, a Pacific Seas Daiquiri, plus original in-house signature recipes.
Served from that Chris-Craft boat, and...
...sometimes on fire, obviously.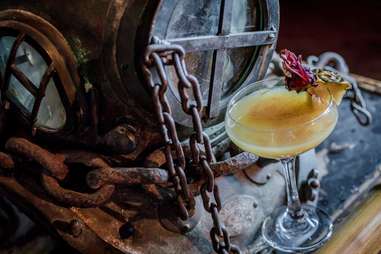 While others might require a deep dive.
You'll also find a huge collection of rums, including many hard-to-find varieties...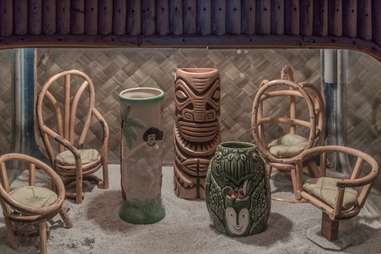 ...as well as Art Deco Tiki mugs, including ones designed by cult legend "The Pizz."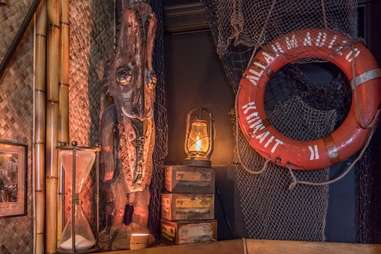 And in case you fall overboard, this guy is here to throw you a life preserver.
Should you get hungry while enjoying those Tiki cocktails -- and you likely will -- Clifton's chef, Andrew Pastore, has a new menu lined up just for Pacific Seas, which includes a Pineapple Hoki-Poki Platter with bluefin tuna served in a pineapple shell along with compressed watermelon, Thai basil, heirloom tomato skewers, wonton crisps, and truffle soy ponzu, and excellently named dishes like Lobster Dynamite, which features a poached Maine lobster stuffed with scallops and avocado; or the Zombie Fish, a crispy whole red snapper with vegetables topped with spicy soy teriyaki.
"The food at Pacific Seas is heavily inspired by travels throughout the world," explains Pastore. "It is not just a celebration of food, but a celebration of exploration and discovery of unique culinary traditions. The menu adds to the experience by bringing some remarkable sensory additions to the immersive environment. Don't expect the standard Tiki food. Expect to be surprised as you would be when you venture into the world to discover new and wondrous things."
"I'm truly excited about the return of classic exotic bar culture to its birthplace in Los Angeles," Meieran says. "The idea of being whisked away to romantic distant lands by merely venturing out for a cocktail has largely been lost for generations -- a castaway left adrift by changing tastes and attitudes. The Pacific Seas exemplifies this misplaced tradition, and it's thrilling to see people once again transported to a world they thought only existed in their dreams and imagination."
We're pretty excited as well.
Sign up here for our daily LA email and be the first to get all the food/drink/fun Los Angeles has to offer.
Danny Jensen is Thrillist LA's Interim Editor who you will most likely find sipping Mai Tais with mermaids at Pacific Seas. Send him a postcard on Twitter and Instagram.