These are LA's 13 Bad Decision Bars
The Bad Decision Bar. We've all been there before, asleep in the bathroom, with egg rolls in our pockets, and... wait... these aren't my pants. Here in LA, there are exactly 13 of these so-called "Bad Decision Bars", where you're pretty much guaranteed to do something you'll regret/secretly be proud of.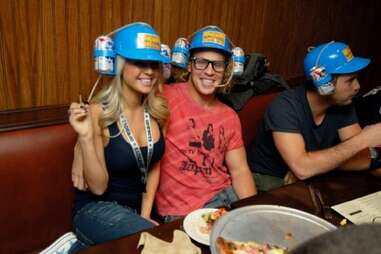 Happy Ending
Hollywood
They've got sand buckets of Long Islands, a ping pong ball vending machine for beer pong, a Wheel of Chance you can spin for cheaper alcohol ($3 Donkey Punch shots!), and a Lobster Crane game. WHAT COULD POSSIBLY GO WRONG?!?

Power House
Hollywood
The only thing worse than staring at Mini Mr. T when you're inside? Staring at literally anyone else inside.

Hank's Bar
Downtown
"Hey, we're Downtown and a few rounds in. Let's take a walk and see what's behind this nondescript door-OHMYGOD."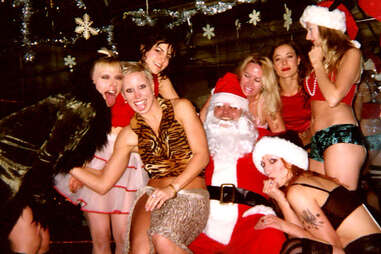 Jumbo's Clown Room
Los Feliz
Courtney Love notoriously was a "dancer" here when she moved to LA.

Sam's Hofbrau
Downtown
Courtney Love was too thin and good-looking to get a job as a "dancer" here when she moved to LA.

The Overpass
Koreatown
This [semi-legal] [bar slash performance venue] is where [hard partiers] go [after-hours] to do [unspeakable things to each other].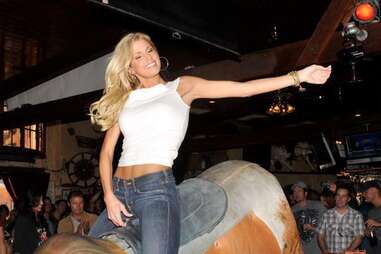 Saddle Ranch
Universal City
You never mean to ride the mechanical bull, or eat three of the cotton candies, or talk to the girl in the shirt-dress, but then you lose out on the third lead in an ad for herpes cream, and...
Kibitz Room
Beverly Grove
It's not clear which decision is worse: the one where you order your fifth $5 tequila drink, or the one where you decided to stick around to see if this next band's better than the first one. Either way, your fingers will smell like pastrami when you wake up.
La Cita
Downtown
Note-to-self for next time: though there are mariachi dancers here, you are not one, nor should you try to be one, ever again.
James' Beach
Venice
"So, that means you're 15 years older than me? That's not so bad".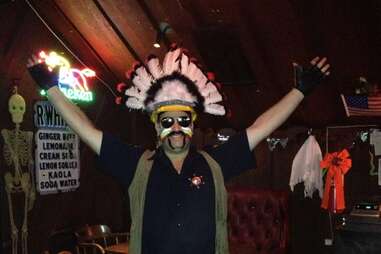 Brass Monkey
Koreatown
Because, karaoke bar where people sing "Gangnam Style".
The Gaslite
Santa Monica
Because, karaoke bar where American Idol hopefuls (!!!) sing "Gangnam Style".
Busby's East
Mid-Wilshire
Somehow, "dropping by for a couple hours to watch the Lakers game and maybe have a couple of shots of cheap tequila" always turns into "trying to walk-thru the Wilshire Jack in the Box drive-thru".