The Weekend Playbook: Drinking wine with Maynard from Tool. Obviously.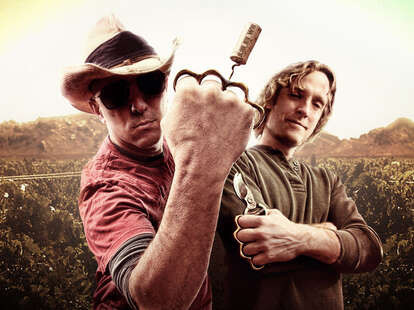 Event of the weekThe dude that fronts Tool and A Perfect Circle is (seriously!) also the owner of a serious vineyard: hang with him and drink his wine at a pairing dinner at Franklin and Co on Wednesday the 24th. Make a rezzie by calling 323.463.1552, and check out more info here
Thursday, July 18th You probably don't remember the first time around, but the China Club LA (a music jam that once included the likes of BB King, Don Henley, and, oh, the Boss) is back after 25yrs at Tru Hollywood. Get all the deets here
Friday, July 19thThe totally quiet dance party Silent Frisco is back at The Wilshire with a '70s/'80s/'90s music mashup. Get the soul train moving here
Saturday, July 20thThe absurdist sitcom re-creators Sock Puppet Sitcom Theater are back at the Echo with their take on, um, Mary Tyler Moore??? Get over to The Echo—you're gonna make it after all
Chinatown Summer Nights hits again this week Downtown: you'll find an LA Weekly music stage, Iron Chef-style cooking competitions, an outdoor craft beer garden, and lotsa food trucks. Find all the participants, and more, here.
Sunday, July 22Get on down to Manhattan Beach tonight for a special four-course, Southern-style bourbon dinner at Tin Roof Bistro with drinks from Buffalo Trace. Call 310-546-6250 x. 103 for a rezzie or get more info here.
Monday, July 22ndIf you've somehow convinced a date to hang with you on a Monday, try Sirena's new Monday night thing: "Cioppino for Two" (wood oven-baked cioppino, garlic bread, and a bottle of rose, all for 60 bucks). See what else they're serving up here
Tuesday, July 23rd And then, if she's dumped you by Tuesday, check out "Matt Davis Gets a Girlfriend", UCB's one-man musical about the horrors of dating in LA. Get your tix here, and afterward, head over to the Oaks Gourmet Market, where they've got a new Summer menu with picks like bahn mi and Oakfire pizza
New oontzery the Cosmo's blowing up on Tuesdays, with a weekly party starting NOW. Or Tuesday, or whatever. Follow who's spinning on Facebook
OngoingCheck out the new weekday happy hour at Beverly Hills' Carson House, where you'll get $5 drinkies and $6 apps (like mini chicken sloppy Joes and personal pizzas). Find out what's on tap
The W Westwood is throwing new blowout Wet Weekends pool parties, complete with live DJ. Reserve your spot here
Local Lady We Love, and Where to Meet Her
You can see cutie redhead Megan Duffy in the new horror movie Maniac, and in commercials for Burger King and Progresso (where she talks about her very-real-life love for bacon -- which's also her nickname, which's also a sweet-ass nickname), but the thing that makes her the mostest rad is that she makes her own beef jerky. For real.

When she's not rocking dance floors at live-music meccas like the Echo and Satellite, she's usually chowing down at Figaro and Champagne-ing at La Poubelle; she's also followable in fake life @TheMeganDuffy.