12 Things You Didn't Know About Tom Bergin's
Look, we all know that a lap around the bar at Bergin's is called the Indy 500 (because you can go around and around while accomplishing absolutely nothing), but -- as the venerable institution celebrates its 80th anniversary -- we thought it was time to dig a little deeper for some of the stories behind the shamrocks.
Tom Bergin's
1. President Reagan once received a shamrock from TB's... in the Oval Office
It happened in 1983 on St. Patrick's Day, and he's not the only Cali politician who has a link to the bar: Mayor Garcetti bartended there for St. Patrick's Day in 2014.
 
2. One of the booths essentially belonged to Cary Grant
His shamrock is still there, too.
 
3. Bing Crosby, John Wayne, and... Julia Roberts have shamrocks
Kiefer Sutherland also has one, but that makes absolute sense.
 
4. There's no set way to get a shamrock
There used to be a punch card... and then there wasn't. There used to be a set number of drinks... and now there isn't. Basically, they have to really, really, really like you. Like, a lot. There was a period of my life when I was there four times a week, and I don't have a shamrock. So, like, five times a week at least?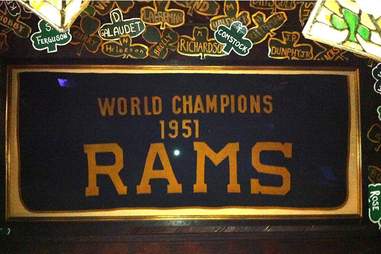 Tom Bergin's
5. They hosted the 1951 Los Angeles Rams World Championship Dinner
And the banner that proves it still hangs above the bar, hopefully to be joined soon by other LA championship football banners... right? RIGHT??
 
6. They literally were the first place in the US to serve Irish coffee
San Francisco columnist Stanton Delaplane brought it over from Shannon Airport in London in 1938 -- right after it was created. The recipe contains dark roast coffee, simple syrup, heavy cream, and Tullamore DEW whiskey, although after about three of them, you'll be saying Tullamore DON'T.
 
7. There have been four owners since bar opened
It closed in 2013 -- seemingly for good -- until former regular Derek Schreck rescued it. Thanks, Derek! Can we buy you an Irish coffee??
Tom Bergin's
8. The original owner's name was... you guessed it... Frank! 
No, actually, it was Tom Bergin. But you bought it for a minute, right?
 
9. The bar was founded in 1936
That's just three years after the end of prohibition, and just 41 years before the first Star Wars movie!
Tom Bergin's
10. Tom Bergin's family also owned a famous bar in Boston
It's called the Old Horseshoe Tavern, and it was founded in 1806 in Haymarket Square. 

11. The iconic horseshoe bar? It was the inspiration for the bar in Cheers.
Which explains why it feels like home. Well, that and the whiskey.
Alen Lin
12. There's a secret bar upstairs that's not open yet
Yes, seriously, it's called Vestal, and we've been there. It's beautiful, and looks like the inside of a church, but, like one dedicated to whiskey. Yes, seriously. It'll be open soon. 
Sign up here for our daily LA email and be the first to get all the food/drink/fun Los Angeles has to offer.
Jeff Miller has spent more time at Bergin's than any other bar in LA. He does not have a shamrock. Find out if he ever gets one at @jeffmillerla on Instagram or @ThrillistLA on Twitter.