Check out the best patio on the strip
Right down the street from The Roxy, Pearl's is a Sunset cocktail barstaurant with perhaps the sickest patio on the Strip. Bonus: it doesn't cost a bajillion dollars to get in it. Double bonus: we're going to tell you exactly how to hit it.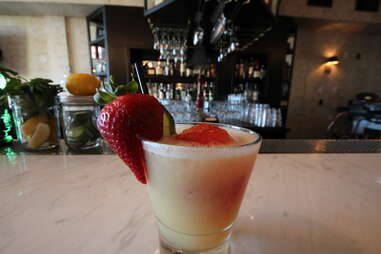 Start in the downstairs bar with their signature drink, which features a floating ice sphere that's lime-y, so the drink gets zingier as it melts. There's also seating down here, but why get stuck inside when...
... you can eat meatball spaghetti in this crazy-unique outdoor garden area, which's got a swingset, a photo booth, and enough leafy greens that you won't even need to feel guilty about not eating salad?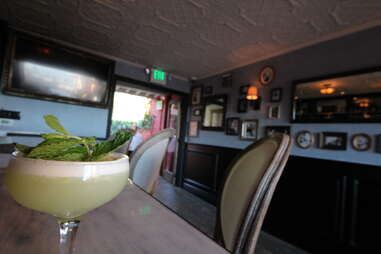 Hit the bar upstairs -- decorated with all sorts of old photos -- for this Villanova, which's got gin and the just-launched Pavan liquor, made with Muscat grapes and orange blossom (so naturally, you'll want to have Six).
Finally, enjoy some meat right on the patio: you can get lamb chops or hanger steak, or -- and let's be honest, this is what you're gonna do -- this off-menu platter of both.