This place has WHISKEY BURGERS
Elizabeth Daniels
Elizabeth Daniels
Not just where all the guys who also appeared in Wet Hot American Summer hang out when they're all together, the State Social House has replaced Red Rocks on Sunset, with an Americana-themed dining room, an upstairs lounge/piano bar and, um, just a little something called WHISKEY BURGERS.
Speaking of that devilish burger, you're definitely going to want to chow on this guy, which gets its name from the Jameson they use in its onion "jam"; it's also topped with Gruyere, so this is no String Cheese Incident.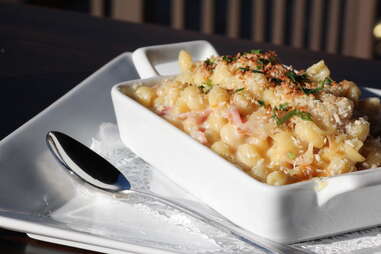 While you're eating whiskey and burgers, you might as well hit up the mac too, since it'll help tone your midsection thanks to its mix of cheddar, Gruyere, Gouda & bacon.
Since, duh, you're still looking at it, wash all that goodness down with the Sunset Strip, a tequila cocktail w/ mint, sugar, grapefruit & fresh lime.
When you're done, head to the upstairs lounge, where there'll likely be someone tickling the ivories while you're trying to figure out how to tickle some tonsils.
When you realize that action's unlikely, wash down your sorrow with a beer cocktail, like this Ginger (Sierra Nevada w/ lemonade and ginger beer).
Then sop it up with this GARGANTUAN PRETZEL. Why? Because it's the size of an 'effin head. And it's glorious.