11 Places You Can Legally Drink Outdoors in LA (That Aren't Bars)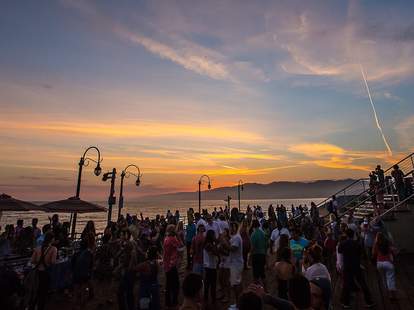 The only thing better than drinking in LA? Drinking outdoors in LA. And sure, you could do it at any number of awesome al fresco bar options (hello, pool bars), but you could also not do that, and instead boldly drink where most men didn't know they could drink before. Here are 11 places you can legally drink outdoors in LA that AREN'T bars.
 
Long Beach
Boozing on a boat is the closest you'll get to feeling like Biggie, other than, like, being 300lbs. Thankfully, fattie, Long Beach Boat Rentals has electric boats available for rent by the hour and a BYOB policy, so you can get a slow-mo tour of the harbor while tossing back a cold one (or three) -- so long as you're not the driver. (Not it!)
Hushconcerts
Santa Monica
If you can't booze on the water, why not booze near the water at HushConcerts' silent disco dance parties on the Santa Monica Pier. This summer's lineup includes reggae, disco, and funk-themed nights, and a VIP ticket will snag you access to a lounge with hosted beer, wine, and margs.
Santa Anita Park
Santa Anita
This place is sort of like Vegas, except without the buffets, foot-long margaritas, and EDM, and with way more horse races, giant hats, and, duh, beers. Added bonus: the VIP-ish Chandelier Room usually has top LA chefs and bands, as well as a glass of Champagne, included with the ticket price.
Barnsdall Art Park
Silver Lake
If views of the Hollywood sign and Griffith Observatory don't convince you to hit up Barnsdall Art Park's Friday summer nights, then the fancy artisan wines should do the trick. Claim a patch of cool grassy real estate, sip an earthy red, and call an Uber to take your redded-up self home once the sun's set.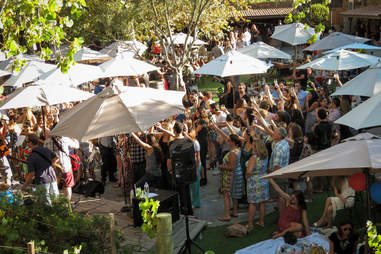 Malibu Wines
Malibu
How Malibu Wines operates in a nutshell: with the promise of plenty of attractive people-watching, picnicking (feel free to bring your own cheese and crackers here), and, most importantly, bottles of fine Cabernet, it'll lure a bunch of boozers to make the trek up to the secluded canyons. In case you're wondering, it works.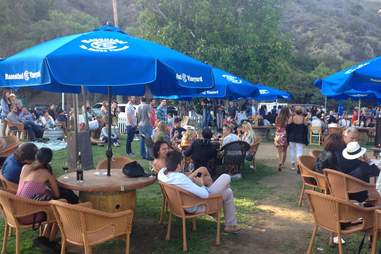 Rosenthal Wines
Malibu
Aside from the fact that you can also BYOP (bring your own picnic) here, Rosenthal's got a few other things going for it: the place is basically across the street from the beach, meaning your wine's accompanied by unparalleled ocean views, and it's not that far up PCH, meaning the drive is fairly tolerable.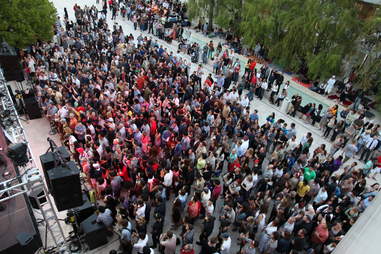 Getty Center
Bel Air
The Getty Center, an architectural marvel with prestigious art collections, remains one of the city's most beloved cultural institutions. It's also a great place to choose to drink, especially during the free summer series, Saturdays Off the 405. No outside alcohol's allowed, but you can guzzle beer and wine in the museum courtyard while listening to up-and-coming bands.
Dana Point
Doheny's worth the drive down to Orange County, since it's one of the few beaches that allows alcohol (specifically at reserved picnic sites in the park and campground areas). Complete an Alcohol Waiver Form, pay the fee, then load up on BBQ and icy brews for some serious beachside boozing.
Beach Barcycle
Westside
Full disclosure: this one is kind of cheating. You don't actually get to drink while pedaling this bar on wheels (or at least you're not supposed to), but you and your friends will stop by at least three Venice Beach and/or Santa Monica watering holes to get appropriately buzzy. While the contraption carries eight people, it only travels about five miles an hour, so bar crawl is pretty accurate.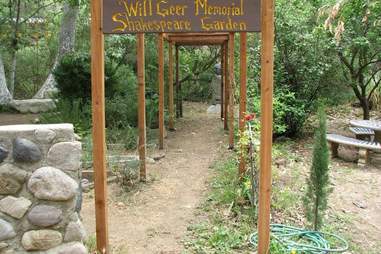 Geer's Theatricum Botanicum
Santa Monica
If you ever feel like getting tipsy and cultured at the same time, head to this outdoor theater in the Topanga mountains. The calendar's full of Shakespearean plays and other performances your English major friends will nod approvingly to when suggested, which you can make instantly more low-brow by bringing in your own booze (FWIW: no alcohol is sold inside, but you're encouraged to, uh, picnic pre-show).
Los Angeles Zoo & Botanical Gardens
Los Feliz
A few years back, someone figured out that a visit to the LA Zoo -- without the scorching sun and all the kiddos underfoot -- could be a good time. That's why every summer it hosts after-hours, adult-ish affairs like Roaring Nights (a live music series with a full bar, zookeeper talks, and a trip to a real petting zoo) and Brew at the LA Zoo (because combining craft beer and the crocodile exhibit is clearly a great idea).
Sign up here for our daily LA email and be the first to get all the food/drink/fun Los Angeles has to offer.
Tiffany Tse is a freelance contributor for Thrillist, and can't wait to knock back Goose Island IPAs by the gorilla reserve. Check out what's she doing on Twitter at @twinksy and Instagram at @twinksy.