If you're looking for a perfectly served Johnnie Walker drink -- where everything's right from the ice to the garnish -- these bars will do you right, every time.
Previous Venue
Next Venue
Venue Description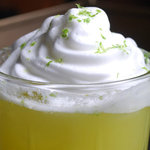 1. Warwick
6507 W Sunset Blvd, Los Angeles, CA 90028 (Hollywood)
Tableside cocktails are this joint's jam -- Warwick's got a swanky, old skool-LA vibe with unique libations and a noteworthy crowd on any weekend night.
Previous Venue
Next Venue
Venue Description
2. Aventine Hollywood
1607 N. Cahuenga Blvd., Hollywood, CA 90028 (Hollywood)
Named after the raddest of the seven hills Rome was built on (sorry Esquiline), Aventine's a date-ready Italian trattoria via San Fran with an eye-bonering patio complete with its own bar, Victorian-trimmed leather couches, and a pair of giant Christmas-light-lit olive trees. Food's all bootsy, including pancetta pizza (w/ roasted Brussels sprouts, caramelized onions, and roasted hazelnuts), and entrees like grilled lamb chop w/ balsamic mint reduction and kumquat confit.
Previous Venue
Next Venue
Venue Description
3. The Churchill
8384 W 3rd St, Los Angeles, CA 90048 (Mid Wilshire)
Because... awesome, Churchill's hired a pinup-girl-esque SoHo House/Harvard & Stone drank-slanger to update their menu. Her sippers include the reposado/ Aperol/ amaro/ mescal "Thirsty In LA"; and the pisco/ pineapple/ egg whites/ bitters/ cinnamon "Grapes of Wrath", which no doubt will help you through your next Great Depression.