Forget those "#RoséAllDay" tank tops: The new once-forgotten wine getting its own LA renaissance is sherry, as bars and restaurants are featuring the boozy beverage by the glass and mixing it into craft cocktails. We investigated just how much the sherry trend is growing, why it's not just your 70-year-old aunt sipping it anymore, and where are the best places to drink it in LA.
Sherry's long been the underdog of the wine world. Think of this fortified wine as Laney from She's All That: already cool deep down before the makeover but nobody really knew until the glasses came off. This Spanish wine has gotten a bad rap over the last few decades, viewed by many as that stodgy, sickeningly sweet dessert wine -- the cream sherry kind -- that grandma would pull out of her dusty cabinet every now and then. But contrary to popular belief, sherry has a bevy of different varieties, many of which are dry, light, and crisp, like the saline-tinged fino, fresh manzanilla, or nutty amontillado. But if you do want to go the sugary route, there are way more options than just the cream sherry, such as the full-bodied oloroso and the intensely sweet-like-raisins dessert wine Pedro Ximénez.
Recommended Video
Thrillist's Best (and the Rest): What You Actually Need to Know About Natural Wine
Since sherry's a fortified wine -- meaning a small amount of grape spirit (oftentimes brandy) is added -- it has a higher alcohol content than your average wine, meaning a sip goes a long way. And it makes for a good addition to cocktails as one of the base spirits since it has a wide range of complex flavor profiles. Bartenders have most recently been using sherry as the hip, "it" ingredient to their saucy concoctions. In and around LA, you'll usually be able to find some sherry cocktails on the menus at The Edmon, Belcampo Santa Monica, Normandie Club, and Cassia.
"It makes a cocktail more sessionable, a little softer, a little friendlier," says sommelier/barman Paul Sanguinetti, who's the brand ambassador for Lustau sherry and was formerly the beverage director of Patina Restaurant Group.
Because sherry has a lower ABV than distilled spirits, when it gets added to a cocktail, it makes for a lighter beverage, the kind that won't as easily knock you off your butt or leave you with a wicked hangover the next day, like let's say, the boozy Manhattan.
Sanguinetti credits the craft cocktail scene for bringing back the love of sherry. "Along with [the growth of the craft cocktail market] comes the demand for ingredients in cocktails, and sherry's a key flavor behind the bar," he says. "I think the overall growth of the cocktail scene, with consumers being more interested in going out more and buying more, we're seeing the growth."
Adding sherry to cocktails isn't a new thing: The sherry cobbler, an invention of the 19th century, was the "Moscow mule of its day," according to Sanguinetti. The revolutionary cocktail, which was served on crushed ice, even is credited for popularizing the use of the straw, something that wasn't the norm at the time.
While sherry's been produced for centuries, its heyday was from the 1800s to 1950s. "If you watch a lot of old movies, a lot of the time, the female star will sit at the bar and order a glass of sherry," he says. "So, it was sort of a fashionable thing for a long time, [but] that sort of fell out of fashion -- and now it's coming back into fashion."
Sanguinetti's seen a resurgence in popularity of the Spanish wine over the last five years, not just in its traditional UK market, but also in Germany and the United States. Back in 2011, sherry purveyors were also starting to notice sales ramp up, something they dubbed the "Downton effect." They credited the sales bump to the influential rich British folk from Downton Abbey, who were always sipping on a glass before dinner on the show -- so, in a way, we have the Dowager Countess of Grantham to thank for the sherry revival.
This doesn't mean it's been a runaway hit: Sherry is still a commonly misunderstood and mysterious wine among the masses, but, Sanguinetti says, because bartenders have been adding sherry to their cocktails, the average consumer -- mostly a younger crowd -- is starting to pick up on the trend and explore it. If you ask for a glass of sherry or sherry cocktail at the bar, you might just impress your date -- and will likely get a fist-bump from the bartender.
What's most interesting is that sherry sales in general have dropped, but have jumped up in the sales of premium, high-end bottles. Wine Spectator reported that the United States has been importing less sherry -- a drop of 38 percent from 2002 to 2011, but that sales of specific sherry varietals have risen: Americans were buying 94,000 liters of amontillado in 2006, compared to 146,000 liters in 2011. And for a premium brand like González Byass, their US sales tripled from 2003 to 2013.
It's not just bars that have been growing warmer to the sherry trend, but restaurants in LA have been finding that the versatile sherry pairs well with all kinds of food, like cured meats, oysters, and olives. "The general rule of thumb is if it swims, pair it with fino and manzanilla," Sanguinetti says. "If it flies, amontillado; if it runs -- [like] cow, lamb, goat -- [match those with] oloroso and palo cortado."
But if you want to delve deeper into sherry with a wine flight or get down and dirty with some cocktails, look no further as we've got the details on some of the best places to get sherry in LA.
Best sherry night
Marvin
Address and Info
Every Tuesday starting at 6pm, the folks behind this French wine bar and restaurant give their patrons a chance to get initiated into the world of sherry by offering a handful of by-the-glass options that cover the dry-to-sweet sherry varietals. Guests can also get some small Spanish bites to complement the sherries, from jamón to Castelvetrano olives and the ridiculously good Spanish canned octopus (trust us on this one).
Best bar for winter sherry cocktails
Big Bar
Address and Info
Big Bar's bar manager Cari Hah always has a few sherry cocktails up her sleeve, and it's no different with her new winter cocktails menu. She has some sherry-based libations to get you into the holiday spirit, like her Nog Actually, a creamy nutmeg and cinnamon-laced heavy hitter made with Lustau amontillado sherry, a serious list of spirits from rum to cognac, and Biscotti liqueur. Be on the lookout for her Mount Crumpit and "Jack and Coke" drinks, which both also use Lustau sherries.
Best bar for a flight of sherry
Fundamental LA
Address and Info
If you want to get your learn on, Alicia Kemper, the wine director at Fundamental LA, has a well-curated list of her favorite sherries, many of which come from smaller productions, like Bodegas Rey Fernando de Castilla. You can get a flight of three sherries for $18, and try the whole spectrum -- from "fino (light and dry) to Pedro Ximénez (rich and syrupy)," Kemper says.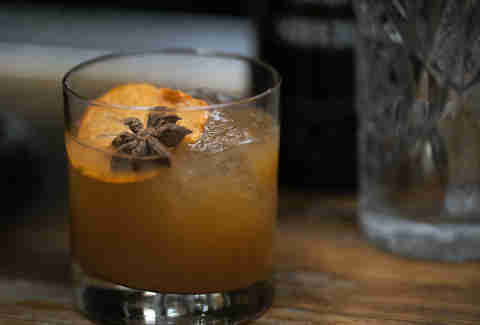 Best outdoor patio to enjoy a glass of sherry
Cliff's Edge
Address and Info
LA has its perks, like how our great weather allows for al-fresco drinking all year long. Cliff's Edge not only has a magical patio that makes you feel like you're dining in a remote jungle, they also happen to have a serious list of over a dozen sherry contenders by the glass to choose from. They also just added a Mulled Sherry cocktail to the menu with bourbon, persimmon honey, and lemon. And hey, Cliff's Edge made it on Wine Enthusiast magazine's Best 100 US Wine Restaurants list this year, so they have some street cred.
Best spot for sherry aperitifs and digestifs
Eveleigh
Address and Info
If you want to live like the French do, Eveleigh's head bartender China Morbosa has created a full menu dedicated to aperitifs and digestifs. Here you'll find a variety of sherries, but also unique sherry cocktails like the Earl Grey Cobbler that's made with earl grey amontillado sherry and bergamot bitters. The drinks pair best with Eveleigh's house-made charcuteries.
Best bar to get sherry on tap
Moruno
Address and Info
If you like beer on draft, how about sherry on tap? This casual tapas bar in Grand Central Market might just be the first spot in Southern California that's pouring sherry from kegs of Bodegas Yuste "Aurora" Manzanilla. The beverage pairs best with Moruno's marinated anchovies with Beurre de Baratte. But if manzanillas aren't your thing, you can snag other sherries that come straight from a bottle instead, like a amontillado that pairs well with Moruno's rotisserie chicken, or an Oloroso with its roasted butternut squash.
Best restaurant to get sherry by the bottle
Simbal
Address and Info
More often than not, you'll find that you can only purchase sherry by the glass at bars and restaurants, but at Simbal, General Manager and Wine Director Ron Carey, offers sherry by the bottle. He says he always carries at least three to four sherries, "representing each region within the Sherry Triangle" (the area in Spain where sherry is produced). So, if you have a group that's all down to try sherry to go along with the bold flavors of Chef Shawn Pham's Southeast Asian cuisine, it might just do you well to order a bottle for the table.
Best sherry and food pairings
Otium
Address and Info
At the swanky Otium by the Broad Museum, you'll find that the restaurant not only carries sherry by the glass and bottles, but it also puts them in cocktails, featuring as many different styles of the Spanish wine that their bartenders can. And the food pairs quite perfectly with the drinks. Bar Director Chris Amirault gives some tips on Otium's food-and-sherry pairings: "The salty and dry nature of fino and manzanilla sherry pairs excellently with the raw bar items such as our hamachi with avocado, dill and coriander; or our kurodai with shiso and yuzu. For something heartier, dry-aged beef paired with a bold and full-bodied sherry like palo cortado or an oloroso. For dessert, simply a glass of amontillado alongside our chocolate four ways." And when in doubt, you can always ask their sommelier for some tips.
Sign up here for our daily LA email and be the first to get all the food/drink/fun Los Angeles has to offer.