A Step-by-Step Guide to an Epic Bardstown Road Bar Crawl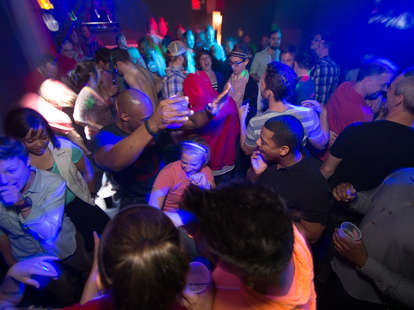 Nowhere Bar

| Will Cravens
Nowhere Bar

| Will Cravens
Long before the NuLu neighborhood became the place to see and be seen -- even prior to the restaurant boom of Germantown and Schnitzelburg -- there was the Highlands. Defined by the eclectic shops, restaurants, and bars of Bardstown Rd, many a Louisvillian has cut their bar-going teeth on this stretch of the city that truly defines the adage "Keep Louisville Weird." You're as likely to encounter someone sporting a mohawk and gliding by on a skateboard as you are a straitlaced business type with money to burn. A full night out on Bardstown Rd is basically a rite of passage for anyone who chooses to call the 'Ville home, and while there are too many watering holes on this route to count, here's our suggested itinerary for drinking your way up and down Louisville's most popular street, and getting a good sampling of the diversity this area has to offer.
2701 Bardstown Rd
You can't really design a proper Bardstown Rd bar crawl without including the Bambi, arguably Louisville's most well-known dive. (It already has a bar crawl named after it, after all.) Prep for what is going to be an intensive night of drinking by fueling up on an "almost famous" Bambi burger, and take advantage of whatever drink special is on offer that night. Once you've taken in the Bambi's distinctive ambiance, continue wending your way north...
1607 Bardstown Rd
Sticking first with the dive bars, visit The Hideaway Saloon, which is currently celebrating its 20th year in business. The name speaks to the nearly hidden staircase tucked off of Bardstown Rd, leading to this relatively gritty bar that has garnered a cult following, thanks to its live music offerings and plethora of gaming events -- think ping-pong tournaments, video-game competitions, and plenty of free pool. Shots are on special for happy hour (4-8pm daily), so you can get your blood flowing before heading just across the street for something a bit more upscale…
1576 Bardstown Rd
Now it's time to trade in that wine flight for a sampling of beers crafted at the one and only Cumberland Brews. This microbrewery has become a mainstay for Highland dwellers, and it's perfect for a sample-sized order of two -- or 10 -- of whichever current beers on tap pique your interest. Determine your favorites, and make a plan to come back for a full pint during your next visit. For now, the bar crawl continues…
1606 Bardstown Rd
LouVino's tagline boasts a "small plates, big wine" mentality, and it delivers, with a lengthy and varied list of wines by the glass that are ideal for washing down orders of addictive duck fat fries served with white truffle oil, and signature fried chicken tacos topped with garlic mashed potatoes, cheddar cheese, and gravy. Snag a spot at the bar, and treat yourself to one of the suggested wine flights, each named for a famous Louisvillian.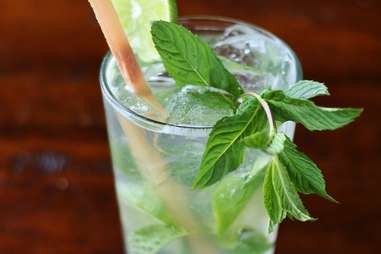 1538 Bardstown Rd
A short stroll north on Bardstown Rd will take you to Seviche, a perennial favorite fine-dining spot for locals, where the ceviche is always fresh and inventive: the signature Tuna Old Fashioned ceviche, for instance, combines bluegrass soy, Kentucky bourbon, and pineapple -- good luck finding that in any other part of the world. Sip one of their delightful Ferrari margaritas, then continue on your merry way...
1133 Bardstown Rd
It's high time we turned things up a notch on this bar crawl, and there is no better place to let the music energize you than at Nowhere Bar, where you can hit the dance floor or show off your pool skills at one of the billiard tables. If you happen to be completing this bar hunt on a Monday or Tuesday night, consider yourself lucky (or profoundly unfortunate, depending on who's singing) -- karaoke kicks off at 10pm! And if you're taking a Friday night tour, hit up the karaoke scene just down the road…
1056 Bardstown Rd
The karaoke scene is alive and well here on Friday nights, although this spot tends to attract a colorful crowd all through the week -- including metal music enthusiasts on dedicated Metal Mondays, and aspiring musicians for open mic night on Wednesdays. The bourbon list is relatively lengthy, and pours are generous, so order your favorite like a true Kentuckian -- straight or on the rocks -- and enjoy the people watching. Once you've sung your go-to, escape to somewhere more mellow, just down the road…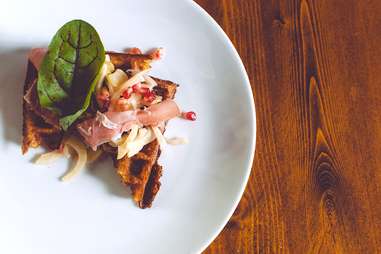 1034 Bardstown Rd
If the weather permits, the beer garden at Holy Grale is an oasis, a private outdoor space trimmed with flickering Edison bulbs that add just the right amount of ambiance for enjoying one of the countless craft beers flowing from the Holy Grale's taps. The indoor space of this converted centuries-old church is also pretty stunning. Ask the bartender to give you a pour of whatever they choose, and sit back and appreciate the love and creativity that went into creating this Bardstown Rd gem.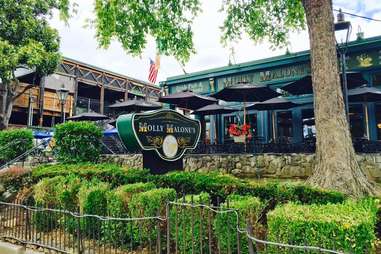 933 Baxter Ave
When locals refer to Bardstown Rd, Baxter Ave is encompassed in the term -- before the streets split at Highland Ave, Baxter happens to be home to the Highlands' trio of Irish pubs, Flanagan's, O'Shea's, and the one and only Molly Malone's. All three play host to a party-ready crowd on the weekend, and this little strip of the Highlands is where to go if you want to throw down, college-style. Molly's earns a place on our list given the various seating areas it boasts, including a large, multi-level outdoor patio. Order a Guinness before wrapping up your night less than a block away…
916 Baxter Ave
Louisville's bars don't shut down until the wee hours of the morning (4am, to be exact), so there's no better way to celebrate last call/welcome the new day than with one of the Outlook Inn's famous Bloody Marys. This spot has been a Louisville tradition since 1974, and it's the perfect spot to toast your bar crawl accomplishment, then call a car -- at this point, it's time to chug a glass of water and prepare yourself for a late brunch.

Sign up here for our daily Louisville email and be the first to get all the food/drink/fun in town.
Lindsey McClave is a food, wine, and travel writer who happily lives within walking distance of Bardstown Rd. Follow her food, wine, and travel adventures on Twitter at @FoodieGirlKY.