The 10 Kentucky Bourbons You Must Try Before You Die
It's safe to say that bourbon has (finally, and deservedly) come into vogue. This is the Gilded Age of whiskey, an age most Louisville locals love. Whether you're a longtime bourbon lover or merely an eager novice, it's the prime time to educate yourself on Kentucky's native spirit. So here, fellow bourbon-ites, are some local options you must try before you die, in no particular order.
Four Roses Small Batch
Price: Approximately $30
Notes: Mellow and moderately sweet. Caramel and spiced fruit.
Four Roses Small Batch is a blend of four different original Four Roses bourbon recipes, each selected by a Master Distiller at the height of maturity. Think about all four of those barrels as you sip; you'll have time to reflect since the finish on this one is so long and smooth.
John E. Fitzgerald Larceny
Price: Approximately $34
Notes: Buttery caramel, fresh bread, light honeysuckle.
Larceny is a fabulous wheated bourbon to whet your whistle, and it's got fantastic maple-syrupy legs when swirled in a good, heavy bourbon glass. You're definitely getting a lot of sensory bang for your bourbon buck here.  
Pappy Van Winkle Family Reserve 23yr
Price: Approximately $249.99-$2,699.94 (seriously)
Notes: Remember how F. Scott Fitzgerald claimed Daisy Buchanan had a voice that was "full of money?" That's what Pappy tastes like. Let me explain...
The 23-year stuff is prohibitively expensive. People get crazy about Pappy and treat it like the holy grail of bourbon, sometimes waiting years to get their hands on a bottle. And after that much hype and anticipation, it better be good, right? Well, don't worry. It's actually really delicious. Decide for yourself, if you can manage to get your hands on some.
Willett Pot Still Reserve
Price: Approximately $36
Notes: Honey caramel and vanilla.
Not only does the pot still-shaped glass bottle make for a beautiful bar display, but the whiskey within tastes as pretty as the packaging.
Angel's Envy

| Sean Kelly Conway/Angel's Envy
Angel's Envy Cask Strength
Price: Approximately $277
Notes: Loud and woody, rich, tropical.
Cask-strength bourbon has serious bite, but if you can make it past the first sip without wincing, you deserve to savor this savage swig.
Elijah Craig 18 Year Old Single Barrel
Price: $200-$300
Notes: Warm, spicy grains. Charred and roasted.
It's the oldest single barrel bourbon available in the world. Isn't that enough reason to give it a try?
Buffalo Trace Old Weller Antique

| Flickr/Peter Anderson
Buffalo Trace Old Weller Antique
Price: Approximately $25
Notes: Butterscotch and spice, oak.
Old Weller Antique is surprisingly well-aged for a bourbon that's only been aged seven years. It's basically a flavor prodigy. With its smooth finish, it's the perfect choice for those looking to get into the bourbon game.
Bulleit Bourbon Frontier Whiskey

| Flickr/Trevor Roberson
Bulleit Frontier Whiskey
Price: Approximately $30
Notes: Spicy maple wood with nutmeg.
This is a fine, upstanding everyday bourbon, a spicy, high-rye pour that also stands out well in a cocktail. If you must mix your bourbon, at least choose one that's up to the challenge, like Bulleit.
Blanton's Special Reserve
Price: Approximately $45
Notes: Vanilla, with dry citrus and a hint of apple blossom.
Honestly, it's the bottle that does it for us. Yes, the bourbon within is great, but the bottle is truly genius. That gemstone cut scalloped around the top, the rounded bottom, the adorable little sterling racehorse on top -- Blanton's bottle is the belle of the bourbon ball!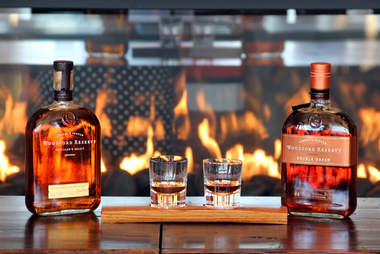 Woodford Reserve Double Oaked

| Flickr/Steve Beshear
Woodford Reserve Double Oaked
Price: Approximately $55
Notes: Butterscotch, allspice, caramel. Thick, sweet, and woodsy.  
Woodford Reserve Double Oaked is matured in separate oak barrels that are toasted, then charred, which infuses the resulting spirit with tons of sweet oaky taste. The resulting Double Oaked elixir is the perfect dessert bourbon.
Sign up here for our daily Louisville email and be the first to get all the food/drink/fun in town.
Elizabeth Myers is a writer based in Louisville who enjoys bourbon in responsible quantities, and encourages you to do the same. Follow her for further heavy-handed literary references at @louisvillenoms on Twitter, Instagram, or Snapchat.