Classic Cocktails That Seriously Taste Better With Kentucky Bourbon, According to Local Bartenders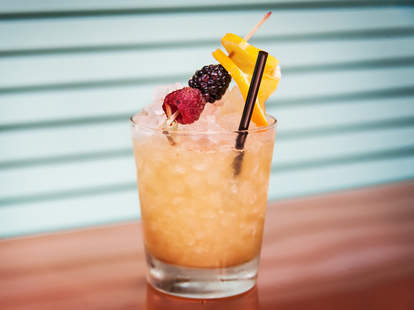 With the great bourbon boom, America's native spirit has worked its way into cocktails usually reserved for the likes of gin and vodka. Even the infamous mint julep was originally a brandy drink, made over with a taste of the Bluegrass State. Recently, a number of other non-bourbon cocktails have worked their way onto whiskey bar menus, replacing their original spirits with the rich taste of bourbon.
You can use bourbon in place of Scotch
"There are, like, a bajillion options here. To Kentuckians, virtually anything is apt to benefit from a bourbon upgrade. Little tweaks, like replacing rye or Scotch with bourbon, can be great. Consider a bourbon variation on the classic Blood and Sand -- especially when a particular flavor profile of bourbon is selected to complement the original recipe or build."
-- Matthew Farley, Joy Luck and Gospel Bird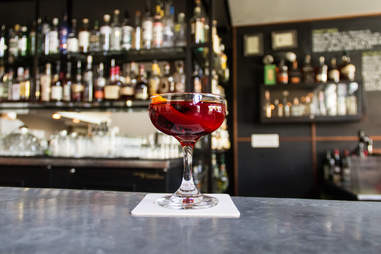 Negroni

| Andy Kryza/Thrillist
... or even as a perfectly legit substitute for gin
"One of my all-time favorites to sub bourbon into: the Pink Lady. In place of the gin, I suggest choosing a lighter, more oaky, low-proof bourbon. It will marry well with the apple brandy, giving it a very fall-forward, apple-spice backbone. The lemon lightens up the concoction, and the true grenadine will give it a berry-forward pink hue. Egg white creates a light, frothy mouthfeel."
-- Ashley Towning, beverage director at Red Lane Jane
"A Negroni made with bourbon is called a Boulevardier. In this version, the flavors all balance and play off one another really well. Sweet vermouth, Campari, and bourbon sort of create this Venn diagram of flavor: the bitterness from the Campari; the sweet, musty flavor of the vermouth; and the complexity of the bourbon with vanilla and spice and oak. These flavors really work well together."
-- Jeremy Salmon, lead bartender, Garage Bar
"It's hard to mess with the classics! I'm not sure that I want to be quoted saying that this gin classic is better with bourbon, but a Tom Collins variation with bourbon instead of gin is delicious, and ordered regularly at our bars. With gin, the botanicals and herbal notes would mirror each other, but with bourbon, the caramel, vanilla, and toasted wood notes would balance out the bittersweet notes of the Campari." 
-- Susie Hoyt, Beverage Director at The Silver Dollar and The Pearl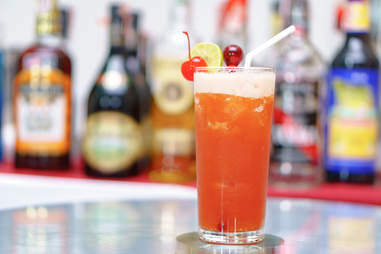 Mai Tai

| BonNontawat/Shutterstock
Remove the rum
"A Hotel Nacional made with bourbon -- which I've seen called a Kentucky National -- is perfect. Take a shot of bourbon and serve it on the rocks with really syrupy Luxardo cherries. Drink outside in the sun with tacos. High-proof bourbons work here, especially ones with caramel and baking spice notes that come through with the Angostura. "
-- Eron Plevan, Copper & Kings
"Go for a bourbon Mai Tai! Earthy, fruity, bittersweet finish, but the bourbon really adds an extra layer of spiciness -- even better if you want to try it with a rye."
-- Celeste Downey, Angel's Envy
Better than brandy
"I think bourbon is an excellent substitute for brandy, since bourbon pairs so nicely with citrus. I really enjoy a bourbon sidecar."
--Todd Fluhr, Brendon's Catch 23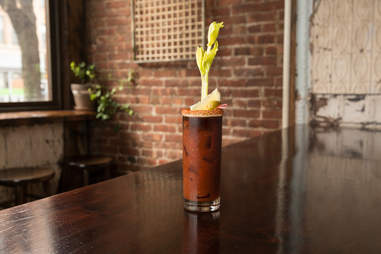 Cole Saladino/Thrillist
Void out vodka
"It's not exactly reinventing the wheel, but good Bloody Marys are perfect candidates for bourbonizing. Depending on the mix, high-rye, wheated, or smokier bourbons can all add great layers of complexity to what is otherwise pretty standard fare. Scotch can do great work in the place of boring old vodka in Bloody Marys, too."
--Matthew Farley
Sign up here for our daily Louisville email and be the first to get all the food/drink/fun in town.
Michelle Eigenheer is a Louisville-based writer who is interested in giving basically any drink a bourbon upgrade.