Living in whiskey country, you would be forgiven for thinking that after turning 30, your liver would have turned into a small diamond, and that there would be nowhere you couldn't grab a drink in. And you would be wrong. Because these eight spots are now definitely out of bounds...
 
Old Louisville
A local treasure -- especially for those old enough to remember the Ramones -- the Mag Bar has many fans. It's so cozy and familiar that after many years, some folks forget that they aren't still 24 -- and the newer, younger regulars aren't impressed with the old stories any more.
Downtown
The multi-block-long tourist trap allows you to choose between wasting brain cells at a Hard Rock Café, the confusingly slick Maker's Mark Bourbon House & Lounge, dueling piano bar Howl at the Moon, PBR (Professional Bull Riders), a TGI Friday's, and many more... we know, we had you at "a Hard Rock Café."
 
The Highlands
A fine establishment, certainly, yet this Bardstown Rd "video bar" is too popular with recent grads who enjoy "Tipsy Tuesdays Karaoke," "GlitterTitz Fridays," and such events that require extra stamina. Who needs all that?
St. Joseph
One of the finest places in town is friendlier to older folks during lunch, or in the evenings until 9 or 10pm. When they go to bed, however, Z-bar is at its boldest with great bands or DJs such as the aforementioned GlitterTitz DJz.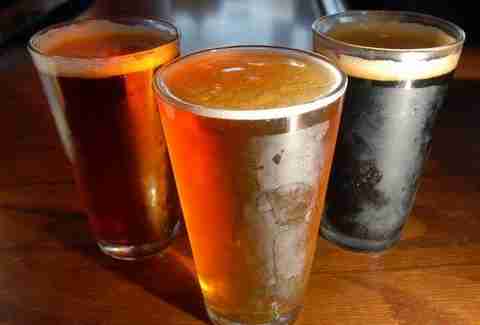 Multiple locations
A classic starter bar for those just too young to know what a real bar is, let alone an Irish pub, it's a harmless theme park but no place for anyone who's been to three or more St. Patrick's parades. 
 
The Highlands
Accidents happen, so something good probably happened at Cahoots once. This once-beloved neighborhood hangout has devolved into a den of destruction, meaning it's a fun place if you're someone who needs to learn lessons the hard way (and can survive, like Keith Richards).
Multiple locations
Pubs and billiards are timeless things, in theory, but this St. Matthews attempt and its off-Downtown spin-off adds touring rappers and metal bands to its usual local cover acts and events such as "Thirsty Thursday on the Monster Dome Deck."
 
The Highlands
This venerable dive looks like it should be a lot of fun, and it is -- if you enjoy listening to karaoke attacks on Kelly Clarkson or Jimmy Buffett for several hours and don't have to be back in class until Tuesday at 11am.
Sign up here for our daily Louisville email and be the first to get all the food/drink/fun in town.