The Best Speakeasy-Themed Bars in Louisville
Sometimes called a "blind pig," speakeasy clubs -- so named because it was necessary to speak quietly about them in public -- came into prominence during American Prohibition, a dark time when drinking, selling, or making alcoholic beverages was illegal. While these clubs typically were well known to those with the intent to drink, often they were camouflaged with some sort of a front business and definitely no signage declaring an illegal saloon inside.
In the modern day, speakeasy-themed bars have become trendy as a nod to the past, coinciding with the rising popularity of craft cocktails in Louisville's bar scene. Many of these establishments go all-out with the Prohibition theme, featuring antique decor and even bar staff dressed in vintage costume, adding extra flair to classic cocktail programs.
Are these contemporary clubs true speakeasies? Not really, because alcohol hasn't been illegal in 85 years -- but it's still fun to take a step back in time, even if it's only make-believe.
Here are a few notable stops to check out in Louisville.
Butchertown
The unlikely location of this cool space -- it's situated above a pizza joint and across from a processing plant -- makes it all the more intriguing. Wood paneling behind the bar and a large, illuminated "Pizza Carry Out" sign cast a retro vibe, balanced with more modern touches like exposed bulb lighting. You can sit at the bar or on a vintage couch with your feet propped up on an old trunk, sip classic cocktails, share a small plate with a friend, and listen to live jazz. To get there, just look for the stairs in the back of Butchertown Pizza Hall.
Downtown
True to speakeasy tradition, if you don't know where Hell or High Water is, you probably won't find it. Behind the stretch of East Main Street known as Whiskey Row, look for a round, white light with the words "Hello Curio" printed on it. Inside, it's a small shop of vintage Kentucky curiosities, but a "secret" door leads downstairs to a lush lounge, where the scene is quiet and elegant, and cocktails have names like "Riddle Me This" and "Chicago Overcoat." (But don't worry, you won't encounter any Chicago gangsters here.) Oh and since seats are limited, reservations are strongly encouraged.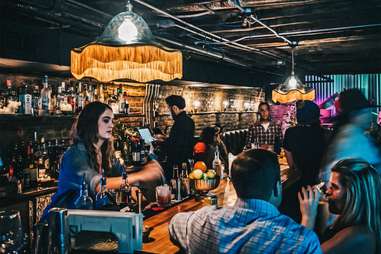 Downtown
By day, Another Place Sandwich Shop hosts a busy lunch crowd, but by night, the basement comes alive as Jimmy Can't Dance, a New Orleans-themed jazz bar. Local and touring musicians alike play the stage in the dark, underground space as bartenders mix classic cocktails. Sip a drink under the blue neon light proclaiming "We're all animals," unwind to the jazz tunes, and everything above ground will cease to matter.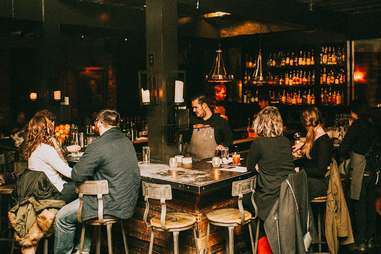 Butchertown
There's more than one hidden bar in Butchertown. Just walk one block west from Cabel Street to Lola, a lounge space above the upscale eatery Butchertown Grocery. Lola is actually an extension of the restaurant, with the same menu available upstairs if a formal meal isn't what you're after. Whether you're eating or not, the "come-as-you-are" space is always a good place to enjoy live music and bold cocktails. Cozy and inviting, the exposed brick walls, windows that overlook the neighborhood, tidy bar, raftered ceiling, and comfy couches and chairs make it a chic place to sip your Old Fashioned.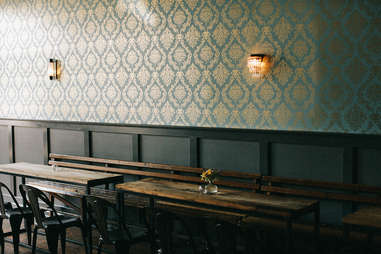 Downtown
Situated next to a pseudo strip club and its "Girls, girls, girls" sign out front, Meta is hidden in plain sight, in a way, and bills itself as an "upscale speakeasy." The curious-looking building certainly doesn't attract much attention from the street, although a converted old neon sign points the way. Inside, the decor is quirky -- part of the floor is made of a layer of pennies and vintage-style wallpaper surrounds the space. A sizable, marble-topped bar is where you'll get your drink on, be it a featured sake or a cool mixed drink (like the Bikini Punch or Dead Hemingway) from Meta's unique, tiered cocktail menu that traces its house creations to the classic it's inspired by.
Germantown
You'd never spot this bar from the street. The small brick building not far from the railroad tracks could be abandoned; only an inconspicuous plaque identifies it as a business called "Mr. Lee's." But the darkness within (the space is illuminated only by candles and wall sconces) gives way to a horseshoe-shaped bar, a narrow lounge, and a truly mysterious vibe. When seated, you are greeted with an amuse-bouche and a short menu of cocktails that is ever-rotating based on the freshest available ingredients. House-made bitters and carbonated beverages offer flavors from lavender to rhubarb, and the service is always attentive and friendly.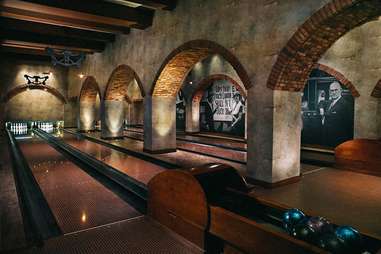 Downtown
A bowling alley was probably as good a place as any to hide a speakeasy during Prohibition, and that's the setup the Omni Hotel has chosen with Pin + Proof. This Prohibition-themed lounge is accessible only through an entrance in an alley behind the hotel. Once inside, you'll find a handful of bowling lanes lined by brick archways, plus an opulent bar and lounge space with vintage decor and furniture that takes you back in time, be it red leather booths or tufted couches -- the perfect spot to sit and sip on a Bee's Knees, a Manhattan, or an Old Fashioned.
NuLu
Taj isn't tucked away in a secret room, although its awning merely trumpets "807" (the street number of the historic building) with a fleur de lis. Regardless of its location in a bustling neighborhood filled with boutiques, breweries, and more, the bar has a speakeasy feel to it. The dark space, coated in wood and brick, is gently illuminated by funky light fixtures suspended from an old door affixed to the ceiling. Retro photos line the walls, as does a wooden carving of the city skyline (the beer taps are also hand-carved out of wood). If you want some fresh air, make your way down the back hallway to an outdoor space with a bit more elbow room for tipping back a house cocktail, such as a Taj Mule or the frozen slushie drink of the day.