Seeing as Louisville is home to half the whiskey in the known universe (and one of the best beer bars to boot), you wouldn't be crazy for thinking that there might be, if anything, TOO many great bars -- because when you're that spoiled by choices, sometimes even a few of the truly excellent places can slip through the cracks. From a dog-friendly wine spot, to a local comedy hub, to one of the best bourbon collections in town, these are those places:
Downtown
Given the sheer size of the Galt House Hotel, it's easy to see why their small but impressively stocked bourbon bar, Jockey Silks, could be overlooked by locals. Yet there it is, tucked within the depths of this convention hotel, bartenders just waiting to pour you one of the over 150 bourbons on hand. The next time you're downtown, brave the throngs of convention-goers crowding the lobby and make a beeline for Jockey Silks. Order a flight and relish in the glory that is Kentucky's native spirit.
Germantown
Four Pegs took up shop on the corner of Goss and Spratt Streets in November of 2011, adding to Germantown's burgeoning cool-factor and impressing patrons with their chicken and waffles and eclectic, ever changing beer selection. Four years later they have developed a low-key following, the stools at the massive wooden bar are rarely empty, yet there always seems to be a seat available in house. Plan to visit on a Thursday night to take in open mic night, when amateurs gather to show off their guitar -- and sometimes harmonica -- skills.
NuLu
There's little doubt that the Holy Grale is one of, if not the, most popular bars in town, and rightly so. However, let us not forget about the Holy Grale's big brother, The Beer Store, as this is where the legacy of the Beer Store, Holy Grale, Gralehaus trinity was born. Tucked in a shotgun space in NuLu, there is a European vibe to this chairless bar, and while it may not be located in a restored church, it's hard to dispute the beauty of the rows of beer bottles neatly lining the walls. Don't miss the hidden patio in the back during warmer weather.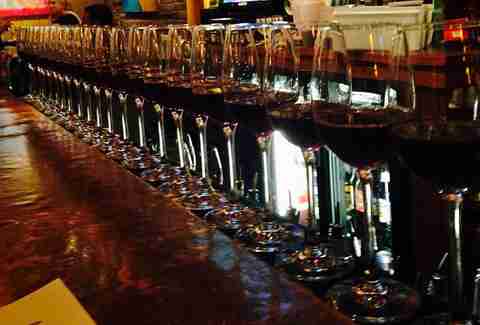 East End/La Grange Rd.
The east end's local bar and restaurant game is sorely lacking, which is complete crap given the vast number of people choosing to put down roots on the outskirts of the city. This makes us that much more thankful for establishments like Brix Wine Bar, which bucked the Highlands/St. Matthews/NuLu popularity contest and chose instead to set up shop on La Grange Rd, bringing an extensive wine list and delicious food to those living off of the Gene Snyder. Let the bartender guide you toward the best wine to pair with two of their most popular dishes, the brie encroute and the crab cakes.
Highlands
This Highlands bar and performance venue pays homage to the Bard himself, Shakespeare, in both name and spirit, with a weekly mix of live theater, stand-up comedy, and musical performances on offer. If you aren't in the Louisville theater scene this spot may be off your radar -- but it shouldn't. There's a ton of talent under the Bardstown's roof. Insider tip? Make sure to visit when Stand-Up Comedian Sean Smith is on the schedule, a hysterically talented Louisville local with a rising star.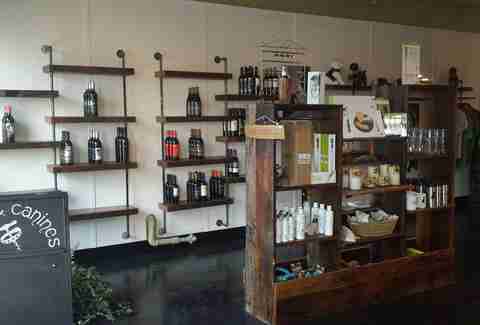 Douglass Loop
If you are a dog lover and haven't yet discovered Vines and Canines you need to grab the leash and your pooch and head straight to Douglass Loop. Vines and Canines is completely dog friendly, from the large patio to the interior wine shop, where a small but beautifully curated selection of wine is on sale and a rotating list of both familiar and exotic grape varietals are available by the glass. There are treats on hand for man's best friend as well, who will enjoy mixing and mingling with the horde of canines that frequent Louisville's most dog-friendly establishment.
Crescent Hill
Patrick's is the Beer Depot's divey neighbor, and it gets a lot of things right -- the liquor flows cheaply, you can shoot pool before singing karaoke on Friday and Saturday evenings, and the urinals are armed with swinging, saloon-style doors. What more could you want? Seriously, we want to know, because at the moment, this place isn't getting the love it so rightly deserves.
Shively
Let's face it... unless you live near Dixie Highway, it's hard to muster up the motivation to brave one of Louisville's most traffic logged, less than beautiful thoroughfares. That's likely why Bud's is a relatively unfamiliar neighborhood joint, but it's South End location should not mean this classic tavern goes overlooked. With cold beer, plenty of liquor and solid comfort food, Bud's is a shining star in Shively's cap and plays host to a variety of live music acts. Between that and the game-day drink specials, we can't think of a better reason to head south on Dixie Highway.