The 17 Best Beer Bars in Louisville
In other parts of the world, human beings are made up of 80% water. In Louisville, they're made up of 80% whiskey and 20% beer. And if you're going to keep that critical balance in check, you need to know where to find the finest suds spots in town. So without further ado, here are Louisville's finest beer bars...
Germantown
Once an unironic biker bar, Nach Bar brought Germantown into the modern era with its 2007 opening. Now an unironic hipster haven, Nach Bar offers a smartly curated selection, a dog-friendly backyard, and a jumpin' jukebox. And you never know which touring musicians might drop by after a show.
The Highlands
Life in the once-legendary Highlands neighborhood has become less weird lately. But Holy Grale and its conjoined coffee-and-brunch sibling, Gralehaus, are doing all they can to keep it lively. You'll want to come here for the most exciting, unpronounceable (for Americans) beers from across the globe, plus amazing meals, whether you sit inside (a converted church), or out in the legendary backyard.

The Highlands
Another survivor of the Highlands-chain-nightmare era of today, Cumberland has thrived for a while as an excellent neighborhood bar that also produces some good titles of its own. Parking and seating can be problematic, but it's worth a try.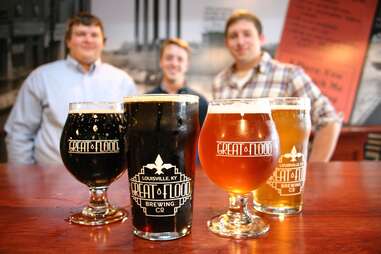 The Highlands
These young folks just celebrated their first anniversary, but drew big crowds in their neighborhood from day one. To celebrate, they shared their bourbon barrel-aged beers to thank those who could just be drinking bourbon. They're making it happen on their own, by showing off smart skills when it comes to selecting greatest hits from fellow brewers.

Various locations
Another long-serving vet, the Bluegrass Brewing Co. mixes a family-friendly feel and party vibes for both its Downtown and East End patrons. What was once brand new has settled into something familiar and comfy; it's won the awards, and influenced many others, and has little left to prove.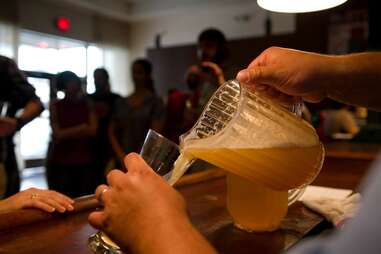 Downtown
It's to their credit that no one saw these guys coming. Launched in a prime spot next to the minor league baseball park Louisville Slugger Field, ATG made its name with smoked beers, smokehouse food, eye-popping art design, and inscrutable drink names. Now selling to frothing fans around the world, it's expanding faster than most of its peers.

Butchertown
World traveler Sergio has assembled a collection or more than 1,000 beers, many of which you won't find elsewhere in the region. The bar has all the style of your weird uncle's basement, which makes it doubly entertaining. To be a beer lover is to know Sergio's.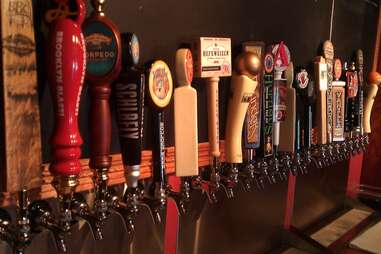 The Highlands
This humble pub doesn't get as much recognition in a busy beer scene. But it offers a nice night out, with plentiful craft options and notable pub grub. Plus, it's next to Cumberland Brewery, oddly, so you can sample both without much effort.

Downtown
Don't let the name lead you astray from that hard-to-find beer. While the Whiskey Bar has made its name through expertly serving up our native specialty, the folks here also know their beer better than you will for another decade. Plus, a back room offers live music by the pound.
New Albany, IN
The granddaddy of the local scene, the NABC makes age look good. In two New Albany locations with very different vibes, Baylor's baby isn't as unique as it once seemed, and that's a great thing. Still, go there for endless amounts of great choices (including its own popular creations), and ask for a Bud Light just to watch stunned faces shoot daggers into you.

St. Joseph's
Touring musicians are always on hand at what is the most consistently and progressively cool club around for live new music. Its beer selection couldn't be anything but on fleek, and it pairs well with the interior design (including a well-known collection of dozens of pinball and arcade games).
Crescent Hill
In Kentucky, the talent for creating world-class beverages doesn't stop at bourbon. The owners of Craft House pay well-deserved praise to the various beers of the Bluegrass State (such as Goodwood Brewing Company) at this Crescent Hill establishment, which opened back in August 2014. The restaurant holds 40 Kentucky brews on tap at all times, and has a menu featuring locally sourced ingredients. Grab yourself a beer and either the buffalo wings or the unique take on poutine (with braised beef) if you're looking for some local favorites.

Germantown
With regular trivia nights, a weekly open mic, and frequent "tap takeovers" featuring some of the restaurant's favorite beers on tap (sometimes with a theme), this stop is a real go-to for Germantown and neighboring Highlands and Schnitzelburg residents alike. Why? Well, between the regularly rotating 12 taps, and constant sneak peeks of what events are soon to come (be it a locally brewed favorite or a quirky craft IPA you've never heard of), Four Pegs gives you plenty of reason to stop by.
NuLu
The Beer Store shares an owner with The Holy Grale, and is perhaps one of the most legit places to buy beer in the whole state. (Honestly, it's called the Beer Store.) It has a seemingly endless supply of hard-to-find bottles (Country Boy Sinkhole Stout anyone?) mixed with a great array of canned beer and eight rotating taps. This place is a must-stop when in NuLu. Insider tip: don't miss the hidden back patio. It's the ideal spot to drink away a couple of hours.

Schnitzelburg
Schnitzelburg is gaining steam as a prime place to eat, drink, and be seen in Louisville. Much of that is thanks to the recent opening of Monnik Beer Company. This place holds a variety of house-crafted brews offered in samples, full pours, or growlers, and even has a recently opened patio. So it's pretty easy to see why people are flocking to one of the city's newest restaurants located in one of the oldest neighborhoods in town.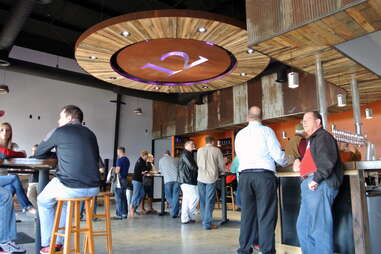 Jeffersonville
The first spin-off of the Indianapolis brewer has the best view of all the bars, on the water, looking at Louisville from the sunny side of the walking bridge. Go here for some unique creations (try the Walkabout) and delicious food options. And get a taste of what the outside world has to offer!

The Highlands
The most traditional bar on this list has been a staple in an area teeming with bars for many years (and located down the block from sibling O'Shea's Irish Pub, which is also a fine option). You can try a little of a lot of things here, and everyone here has craved a cold one with their burger at some time or another.

Sign up here for our daily Louisville email and be the first to get all the food/drink/fun in town.
Food and travel writer Lindsey McClave knows that there is more to Kentucky than a good bourbon. Follow her eating and drinking adventures on Twitter -- @foodiegirlky.