For the most part, it's frowned upon to have booze at the breakfast hour... that is unless it's a Bloody Mary, in which case it might actually BE your breakfast. When you find yourself in need of their restorative powers in Louisville, here's where to go...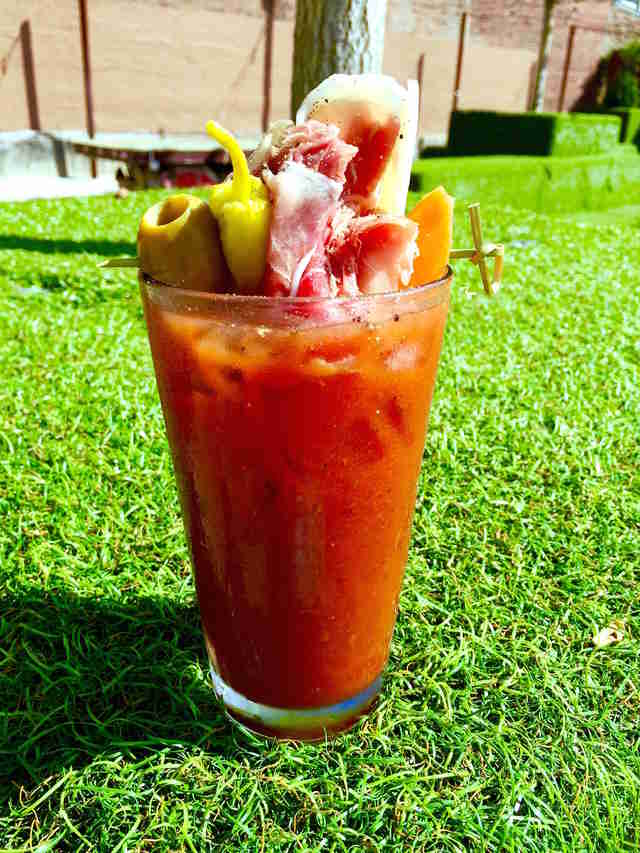 Who knew Bloody Marys and Kentucky country ham were the perfect pair? We can thank Garage Bar for this act of brilliance, its original Butchertown Bloody a clever twist on the typical vodka + tomato juice + olive we've come to know and love. Locally distilled brandy courtesy of Copper and Kings replaces the clear booze in this scenario and is shaken with a spicy house-made tomato base, the aforementioned Kentucky country ham a proverbial cherry on top.
Since its creation in 1974, the Bloody Mary at the Outlook Inn has set the bar for what it means to be a good -- nay, great -- Bloody Mary in this city. The secret? Well, the bar won't share all of the details, but it doe attribute a great deal of its flavor to the fact that every single Bloody Mary is handmade, on the spot. The mix is never batched, not even during the insanity of the Derby or the debauchery that is the Highlands St. Paddy's Day Parade. We have our suspicions that the copious amount of vodka included in the recipe doesn't hurt its popularity either...
If you need one reason to go Downtown for brunch here it is: the Bristol's Bloody Mary bar. Only offered at its Main St digs, the Bloody Mary bar is served every Saturday and Sunday until 3pm and comes with all of the traditional trappings, allowing you to spice, pickle, and veg up your Bloody to whatever level your heart desires.
When Chef Anthony Lamas puts his mind to something there is no doubt it is going to be amazing. Such is the case with Seviche's Chef's Bloody Mary, crafted with the signature Bloody Mary mix Chef Lamas created in conjunction with American Beverage Marketers. Add a colorful and spicy rim of Tajín Clásico seasoning to the glass and stuff it to the brim with veggies pickled in-house and you'll be settling in for seconds in no time, a fresh order of the tuna old-fashioned seviche coming right up.
Voted Louisville's best Bloody Mary at the Finlandia Bloody Mary contest, which takes place every year during the Derby Festival, Against the Grain takes authenticity to the max, putting an original touch on every element of its Bloody, including the vodka. Macerated with fresh herbs and vegetables, the vodka is blended with house-made tomato mix and served with a variety of toppings, each pickled, smoked, cured, and offered up on Sundays, buffet style.
The Creole flair of Selena's Bloody Mary is what sets it apart, an added kick expressed thanks to the Absolut Peppar vodka used to craft this reasonably priced hangover must. A touch of Cajun seasoning in the mix adds that certain something to this hair-of-the-dog drink that is oh so necessary on a Saturday morning after a late night at the bars.
With one of the best brunch menus in the city, it should come as no surprise that Blue Dog makes a damn good Bloody Mary. An ideal match for its poached egg and bacon pizza with arugula, Blue Dog uses Tito's vodka to spike its tomato juice and garnishes each cocktail with pickled green beans, lime, and a Tomolive. What do we love most about the Bloody Mary at Blue Dog? The shot of Stillwater Classique that comes along with it.
We've got to hand it to the Village Anchor -- it's created a Bloody Mary for nearly every day of the week, with five original creations gracing the brunch menu. If you like to keep it classic, the Proud Mary is for you, or go for the Bloody Bourbon if you're looking for something completely different. The BLT Mary is a crowd favorite, with bacon making an appearance in three forms: infused in the vodka, bacon salt added to the rim, and a slice of bacon for garnish.
Sign up here for our daily Louisville email and be the first to get all the food/drink/fun in town.
Lindsey McClave is a Louisville writer who is considering creating a hangover just for an excuse to drink these. Follow her progress at @FoodieGirlKY.