Louisville's 8 best bourbon bars
The spirit of Louisville is bourbon, and Louisvillians will judge you (harshly, if necessary) both by your favorite bottle, and whether you think Early Times is bourbon (it's not). We make it, we drink it, and we have been known to stand in line at the liquor store waiting for the release of a rare bottle. Just to be clear: we are really, really serious about the brown stuff here. Hence why picking the best spots in town to have it was not easy...
Downtown
Haymarket Whiskey Bar more than earns its brown booze credentials thanks to more than 100 bourbons and almost 200 whiskeys thrown on top of that -- as well as putting on live music four-plus nights a week. Visit for the décor alone: '80s memorabilia, Star Wars posters, old pinball machines, and a frankly gorgeous green glass bar.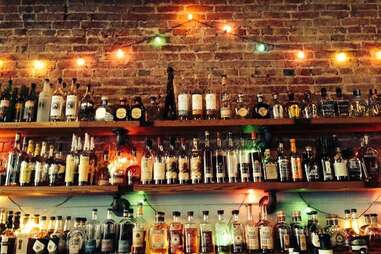 Clifton
Located in a renovated firehouse (they even kept the pole), Louisville's most genuine honky tonk serves amazing bourbon cocktails like the standout Gold Rush (made simply with lemon, Old Fitzgerald, and honey) while spinning Merle Haggard, and generally making you feel like you just finished a shift at the ranch.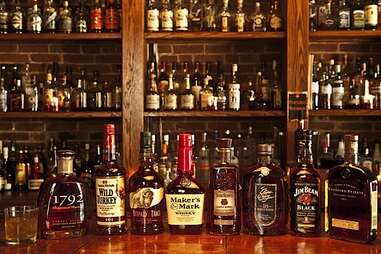 Clifton
Set in a building that dates back to 1877 (that's more than 130 years), Bistro's truly world-class selection boasts over 130 bottles, many of which can be sampled via their amazing flights -- the "Traditional", for instance, hits you with Jim Beam White Label, Wild Turkey, and Ancient Age; while the "Wheated" lines up Old Fitzgerald Prime, Weller Special Antique, and Maker's Mark.
Downtown
The 21c Museum/Hotel and the attached Proof on Main restaurant are upscale bastions of modern art and culture in Louisville. Proof Bar -- sandwiched between the two -- has an incredible bourbon selection, including some numbers bottled exclusively for Proof on Main, including. both Woodford Reserve & Van Winkle. Also? The attached museum is open 24 hours a day, and the cocktail menu is regularly updated with new drinks inspired by the artwork.
Downtown
Drinking at the Old Seelbach Bar feels like stepping into a scene from The Great Gatsby (the good one), which is fitting since the Seelbach Hotel literally served as inspiration for F. Scott Fitzgerald's masterpiece. The Seelbach's signature cocktail is an appropriately decadent bourbon & Champagne combo (invented immediately before Prohibition almost killed it, and rediscovered in the '90s), but you'll also find dozens of rare numbers available by the glass.
Downtown
Down One's bourbon list is so large, with 120 bourbons alone, it is divided into eras (Pre-Prohibition, Post-Prohibition, and Modern), all of which find their way into their cocktail menu. At the top of that, you'll even find a Manhattan made with their own Down One Single Barrel bourbon; a proprietary bottling of 10-year-old Knob Creek, and a sure sign a bar is taking its bourbon seriously.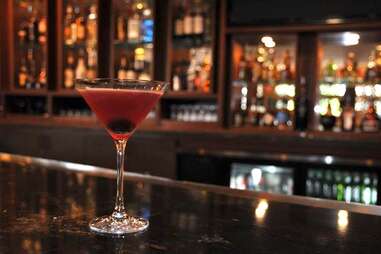 Jeffersontown
Louisville's Marriott East is a bourbon-themed hotel, and their bar and restaurant, Charr'd, has bourbon barbecue sauce, bourbon butter, bourbon-smoked wings, a bourbon-marinated Portobello sandwich... the list goes on. Oh, and there's some liquid bourbon, too. Over 130 bottles of it.
Downtown
The only establishment on this list with the distinction of being located on Whiskey Row, Doc Crow's serves down-home Southern fare, raw oysters, and a wide selection of whiskey and bourbon. They also make excellent mint julep lemonade, and carry bourbon barrel-aged beers to boot.
Sign up here for our daily Louisville email and be the first to get all the food/drink/fun in town.