Sorry, whiskey, there's a new sheriff in town. OK, maybe not a sheriff, but at least a deputy. Craft beer has been on the rise for years now, and shows no signs of slowing down, even in bourbon country. And these are the breweries that are proving it:
Downtown
The folks at Against the Grain Brewery never cease to amaze us. Their rise has been rapid, to say the least, and their ability to turn out new beers every week has never wavered. They are a trough of creativity and, luckily for us, have a pretty irreverent sense of humor. Take one look at their colorfully designed labels and tongue-in-cheek beer names and you'll catch our drift.
Key beer: Too many to name, but their Citra Ass Down American IPA offering is always a favorite and is generally available by the 22oz bottle.
Taproom? Yes, Against the Grain's restaurant is ample in size and their extensive, Main St facing patio is the place to be in the summer. Open Monday through Thursday, 11-midnight, Friday and Saturday 11-2am, and Sundays from 10am-10pm.
Schnitzelburg
Many thought the Louisville iteration of Danville's oh-so-popular Beer Engine would never come to be, with construction delays plaguing the project year after year. The doors to Monnik finally opened in November, and their taps have been flowing freely ever since, with crowds lining up to sample their various craft beers as well as the quirky War Fries (served with Dutch mayo, peanut butter, and chopped onions). We're looking forward to warmer temps when we can experience their patio while sipping 2oz pours of each and every brew on offer.
Key beers: The Eagle Skull Saison and their IPA are where it's at
Taproom? Yes, located on the corner of East Burnett and Hickory, Monnik is home to a large dining room and bar with communal table as well as a patio. Open Tuesday through Thursday, 4-midnight, Friday and Saturday 4pm-1am and Sunday from 4pm - 10pm.
Indiana, New Albany
Brewing since 2002, New Albanian has a solid seat at the head of the table when it comes to the Kentuckiana beer scene. Whether you're visiting the Pizzeria and Public House or Bank Street Brewhouse, you'll find plenty of good eats and a tap list ripe with house made brews, including their ever-popular Hoptimus Imperial IPA and the seasonal Citra Ass Clown, their cheeky homage to friendly rival, Against the Grain.
Key beers: Hoptimus, Imperial IPA
Taproom? Two locations... Bank Street Brewhouse is open Tuesday through Sunday from 11am-10pm... the Pizzaria and Public House is open Monday through Sunday from 11am-11pm.
Butchertown
"Producing beer for the masses and for your survival" is their pledge, and they began preparing for our final days in 2012 with the opening of their tap room, which is aptly referred to as The Fallout Shelter. A multitude of taps pour the ever-growing range of beer crafted by Apocalypse using sustainable brewing practices. Food trucks will often take up residence in the adjacent parking lot and pups are encouraged to get in on the fun.
Key beer: Watermelon Crack. It's seasonal, and supplies run out fast
Taproom? Yes, taps only, food trucks visit often. Minimal indoor seating but a large patio. Open Friday from 5-11pm, Saturday from 4-11pm and Sunday from 1-7pm.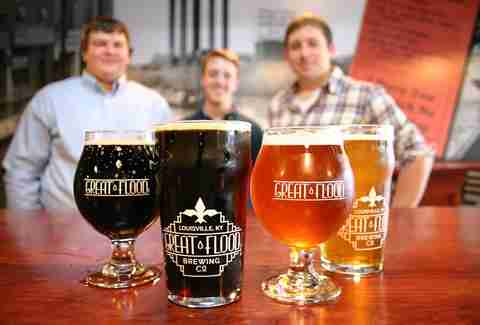 Highlands
Established by three college buddies in 2014, Great Flood quickly became a hotspot in the Douglass Loop corridor of the Highlands neighborhood. Named for the epic flood of 1937, these young brewers are now living their dream and honing their craft brew skills, one new IPA, porter, and ale at a time.
Key beer: '37 Porter
Taproom? Yes, beer only, large interior and outdoor patio, open Monday and Tuesday from 4pm-10pm, Wednesday through Friday from 4pm-midnight, Saturday from 2pm-midnight and Sunday from 1pm-10pm.
NuLu
Wood and limestone water: two of the key ingredients required when crafting a Kentucky bourbon. The Brewers of Goodwood determined that if it was good enough for bourbon, then it was most certainly good for beer, which is why all of their brews begin with limestone water and end with wood. At the helm of this operation are three of Louisville's most experienced Brewmasters, their distinctive creations a direct reflection of their work in the industry since 2001. Previously known as the BBC taproom, the Goodwood watering hole is located at the corner of Clay and Main, on the edge of NuLu.
Key beer: Goodwood Bourbon Barrel stout
Taproom? Yes, relatively small indoor space next to production facility. Open Tuesday through Friday from 4pm-11pm and Saturday from 2pm-11pm.
NuLu
Fresh -- and we mean fresh -- on the Louisville beer scene is Akasha, whose doors have been open since the end of September after a soft opening during the ever popular NuLu Fest. Their beers have been on offer at several local watering holes for some time (including Feast BBQ, conveniently located next door to their new taproom) and are now available to sample and sip at your leisure, six days a week.
Key beer: Word on the street is that the Oatmeal stout is where it's at; however, it's too early to call for this fresh faced brewery.
Taproom? Yes, small and open Tuesday through Thursday from 5pm-10pm, Friday from 5pm-11pm, Saturday from 1pm-11pm and Sunday from 1pm-6pm
Highlands
Cumberland Brewery is as much a part of the fabric of the Highlands as Carmichael's or Guitar Emporium. Their pub fare is on point and always pairs perfectly with one of their original small batch, craft brews. Snag a table on the sidewalk and enjoy the people watching with your porter for maximum enjoyment.
Key beer: Nitro American porter
Taproom? Yes, medium-sized restaurants with a handful of coveted sidewalk tables. Open Monday through Thursday from 4pm-11pm, Friday from 4pm-1am, Saturday from 12pm-1am, and Sunday from 12pm-11pm.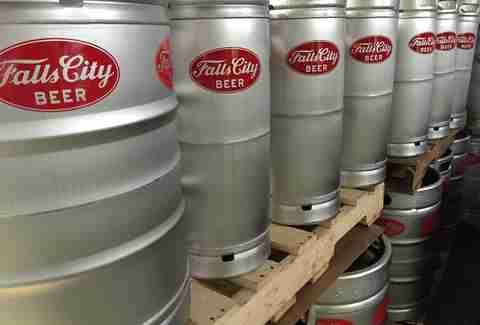 Portland
Falls City Beer carries the badge of being Louisville's very first craft brew, created in 1905, to be exact. Touting their beer as America's most balanced, Falls City moved its brewing operation to Portland last year, partnering with Old 502 Winery and helping to break the infamous Ninth St divide. Head to neighboring Over the 9 restaurant to sample a variety of their creations, including the Hipster Repellant IPA (and make sure to order the duck nachos, which are smothered in Falls City Beer cheese). 
Key beer: Hipster Repellant IPA 
Taproom? No; however, you can sample their beer at restaurants throughout the city, including the neighboring Over the 9 restaurant. 
Sign up here for our daily Louisville email and be the first to get all the food/drink/fun in town.
Food and travel writer Lindsey McClave knows that there is more to Kentucky than a good bourbon. Follow her eating and drinking adventures on Twitter.