The Best Irish Bars in Louisville to Hit on St. Patrick's Day
Choosing an Irish bar in Louisville to celebrate St. Patrick's Day typically starts (and maybe ends) at the intersection of Baxter Ave and Bardstown Rd in The Highlands. Known as Irish Hill, it's basically the pot of gold at the end of the alcohol-induced rainbow, where some of our favorite places are located. Sure, it's not the only area for fine pubs in our city. But it's hard to pass up the opportunity to get a glimpse of the "Shamrock Shake," the dizzy walk bar-goers take when they leave one Irish pub and enter another to continue their celebration. So, to make sure you're also in on the fun, here are some of our favorite Irish pubs in Louisville.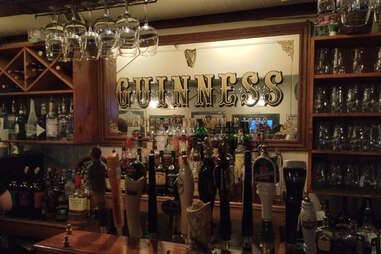 Crescent Hill
Owner Michael Reidy hails from County Clare, Ireland, and the fare at his restaurant is basically just as authentic as his brogue. This year, the Rover celebrates its 23rd anniversary here in Louisville. It's a well-known, locally loved pub to grab both a beer and a hearty Irish meal like lamb-stuffed cabbage or the Welsh Rabbit -- a grown-up grilled cheese on sourdough bread. (It has no actual rabbit in it... just a bit of history). Stop by the Rover and sample its selection of Irish whiskeys, Guinness on tap (shipped from Dublin), and even the wine, bourbon, and single malt Scotch.
Crescent Hill
Patrick's Liquors Bar is the kind of dive where neighbors play pinball and pool while grousing about oil prices and construction traffic. This place gets a little wilder on the weekends when the shots flow and the karaoke kings and queens carouse. Conveniently, Frankfort Avenue Beer Depot and Smokehouse is right next door, with smoked BBQ aplenty for hungry patrons.
The Highlands
Named after a character in the famous Irish song "Cockles and Mussels," Molly Malone's Highlands location is built from the stones of an old pub in Ireland. Both the original Highlands restaurant and the newer St. Matthews location are large and accommodating, offering everything from birthday party space to Sunday brunch (order the Mexican corned beef hash!) to their respective neighborhood patrons. Molly Malone's also regularly shows rugby and "international football." Or, as we know it, soccer.
The Highlands
Flanagan's is one of the Irish bars you can see if you stand at the intersection of Baxter and Bardstown and look down Irish Hill. The place has a mug club that you should most definitely join if you're a lover of beer... or mugs. Basically, members get a card from Flanagan's to calculate how many craft and imported beers they drink at the Ale House. Once that number reaches 100, the "Centurion" gets a handmade, personalized Flanagan's Ale House mug. He or she is then entitled to special discounts on select draft beers. Challenge accepted?
The Highlands
Stop by O'Shea's on any given day and you're likely to see a lively scene of business-casual drinkers mixed with friends gearing up either for some trivia or one of the many bands the place houses. If you're looking to step away from the rowdy Irish pub scene, head out into the Carriage House for more of an Irish speakeasy-type setting... if there is such a thing. During the weekend hours, this place gets a little more party-oriented, entertaining patrons well into the wee hours of the morning with drinks, music, and even some Irish car bombs.
Clifton
Pat's Steakhouse is old school. Like... incredibly old school. Since 1958, it has carefully cultivated the reputation touted in its slogan: "we're not the best because we're the oldest, we're the oldest because we're the best." Pat's is known for filet, white-glove service, and a decades-too-long CASH ONLY policy. Let's put it this way: if a gold-toting leprechaun was in Louisville for St. Patrick's Day, he'd spend it at a bar like this -- all while sipping whiskey and eating some garlic baby frog legs.
Sign up here for our daily Louisville email and be the first to get all the food/drink/fun in town.
Elizabeth Myers is a writer based in Louisville, and is pale enough to convincingly plead Irish ancestry every St. Patrick's Day. Follow her on Twitter @louisvillenoms.