The Best Louisville-Brewed Beers to Drink This Spring
Courtesy of Against The Grain Brewery
Now that we're happily showing winter the door, Louisville patios are quickly filling with patrons who are thirsty for two things: sunshine and some locally crafted beer. Luckily, neither are hard to come by during the springtime here in the 'Ville. Then again, we do have a pretty great beer scene that has had some national recognition, so you can imagine finding the best can be a bit daunting. But it's cool: we've done all the work for you and rounded up the top beers you need to be sipping this spring. You're welcome.

American IPA, 8%
Downtown
ATG gave the Louisville beer scene the jumpstart it needed when it opened its doors nearly five years ago, churning out unique beers with some rather quippy names (lookin' at you, Mmm... D'oh! Nuts and Rico Sauvin). And while the majority of the creative one-offs are never to be seen again, we couldn't be more thrilled to hear the famed Citra Ass Down beer was being reintroduced just in time for spring. A double IPA brewed with city hops, this beer is undoubtedly one of the best coming from ATG. The Portland production facility is really celebrating the season: on April 1st, ATG will lead a behind-the-scenes peek at the inner-workings of their brewing escapades. And no, that's not an April Fool's joke.
Saison, 6.4%
Schnitzelburg
Monnik is one of the newest kids on the Louisville brewery block and is looking to fit right in. The charming location in Schnitzelburg is sure to boast one of the most popular patios in town this coming spring, especially with the best sip for the warm weather: the Voorjaar. It's a saison that is brewed with whole cardamom pods and dry hopped with Czech Saaz (a variety of hop that lends fresh herbal aromas and flavors of lemon and honey). Put this beer in a chilled glass and it's the best choice to welcome back those longer days and warmer nights.

Imperial red ale, 7.5%
New Albany
"Making democracy pointless" is the tagline for this spring favorite. And whether or not you believe democracy already is, you probably won't be focusing on politics after grabbing a sip of this red-colored medium-bodied ale... because it's that damn good. It boasts "assertive but balanced malt and hops" and a generous 7.5% ABV, and is available both on draft and in 22oz. So, whether Republican and Democrat, go out and grab some this spring.
Pale ale, 5.4%
Highlands
Great Flood's Douglass Loop location is a prime spot in Louisville, especially when the patio opens up. Add to that having a glass of the Unified Pale Ale in hand, and we really can't recommend it enough. The malt flavor adds a great taste to this 5.4% ABV beer, making it pretty easy to enjoy a few. It's the perfect brew for either an old pro or someone new to the beer world… especially when you're sitting out on that aforementioned patio doing all the oh-so-cute dog-watching you could possibly imagine.

Saison, 5.2%
NuLu
As the name "wood" suggest (see what we did there?), the brewers of Goodwood believe a little bit of wood treatment in the brewing process goes a long way. It's an essential part of how this place works, making good use of old wine barrels. For this spring favorite, the Red Wine Barrel Saison, Goodwood ages the beer in a variety of wine casks, which is what gives it that distinctive taste. We're talking subtle fruit, barley, and toasted oak. And sure, there's even a hint of red wine.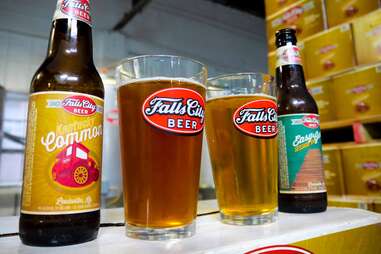 Pre-Prohibition ale, 4%
Portland
Deemed by the old-as-shit Falls City Brewery (established in 1905) as the ideal Derby season beer, the Kentucky Common was a go-to for a vast majority of Louisvillians before Prohibition ruined everyone's fun. But thankfully that ended, and now this smooth and rich ale has been reintroduced to the market, brewed just as it once was: with corn, barley, and rye (this is bourbon country, after all). It is about as "Kentucky" as a local beer can get, so we can't think of better way to bring in the spring than by drinking a few of these.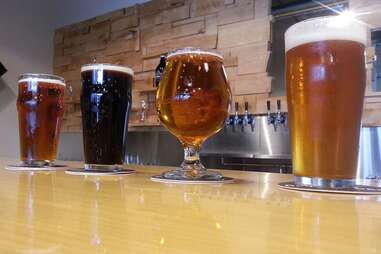 Belgian ale, 4.4%
New Albany
Donum Dei just blew out the candles on their first birthday cake, celebrating a successful freshman year of crafting noteworthy beer just across the bridge in New Albany. The recommended brew of choice for spring is the Enkel Belgian Gold, a single version of a Belgian triple ale boasting some ripe banana flavor along with a 4.4% ABV. This style of beer was originally brewed by monks for consumption during times of fasting, ensuring they wouldn't become too sloppy on an empty stomach. Because you know monks, they like to party.

Fruit beer, 4.5%
Butchertown
Go ahead and mark your calendars: Watermelon Crack's annual release is set for the weekend of May 14th, which just so happens to coincide with the four-year anniversary of Apocalypse Brew Works. It's a beer that'll surely keep you cool as you spend a lazy Saturday afternoon on the brewery's outdoor patio scoping the local food truck scene (because they've been known to gather there when the weather is right).
Sign up here for our daily Louisville email and be the first to get all the food/drink/fun in town.
Food and travel writer Lindsey McClave knows that there is more to Kentucky than a good bourbon. Follow her eating and drinking adventures on Twitter -- @foodiegirlky