Hop Off The Bourbon Trail and Into One of Louisville's Best Dive Bars
Dive bars are the shining beacons of a good time, promising shabby pool tables, cheap drinks, interesting people, and not least of all, some sort of smell that's oddly familiar, but one you'll never be able to nail down. They're the places where you meet friends, lovers, exes, and sometimes, friends of exes. The places where, if you pop in enough, the bartenders begins to know you better than most of your friends.

Luckily for Louisvillians, there are plenty of these watering holes sprinkled throughout the city's many neighborhoods, each with its own personality. Here are some of our most essential dive bars.
Old Louisville
Don't let the name fool you; the only thing Magnolia Bar & Grill serves up is some of the stiffest drinks around complemented by what might be the most impressive jukebox in town. When's the last time you found a jukebox with The Cramps on it? By day, regulars sit along the worn, L-shaped bar clutching longnecks, but by night, the Mag Bar (as it's known) becomes a red-tinted rock club. Either way, the booze is always flowing. Check out the daily specials or order up a Maggie -- a can of PBR and a shot of Cat Maggie Irish whiskey.
Highlands
If you're looking for a place to grab a cold one and watch the game with one of the best burgers in town, then look no further than KK. A staple here, other than reasonably priced bottled beer, is the homemade chili. The walls are covered in sports memorabilia and beer signs, and the bar always seems to have a few people bellied up, often watching those burgers being flipped on the tiny grill. And look alive so you don't trigger the famous Bullshit Button, as there's no bullshit allowed at Kern's Korner. Zero.
Germantown
Fun and quirky, this is a place where you can get a hard-to-find, imported Kolsch or a Coors Banquet. The dank interior features a narrow bar where regulars pile up, face to face with a cooler sign that reads, "No Smiling." The bar leads to a small, brick-lined lounge area where DJs and bands make the place come alive on weekends, but Nachbar is possibly best known for its patio space -- dog-friendly and legendary to the neighborhood. Lined with a rickety, wood-plank privacy fence, the space oozes a fun, laid-back atmosphere for days.
Germantown
Home to one of the best dance parties in the city and some seriously cheap drinks, this venerable spot is a go-to for working class folks and partiers after the sun goes down. The place feels like stepping into the 1960s, with its mirrored bar wall, vintage neon signage, and a taxidermied deer head. Also, the red-and-white-checkered floor has probably been there since the dawn of man. But this is no ordinary dive -- it has tradition and a homespun easiness to it. Plus, you can't go wrong with the vinyl DJ night, and you can even bring your dog. (Bartender Wink loves dogs.)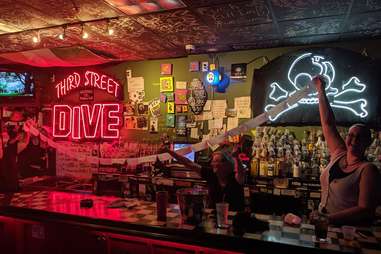 Downtown
Red vinyl chairs, stickers posted haphazardly on the walls and doors, graffiti on the ceiling. Hell, it even has "dive" in the name. In a way, Third Street is a dive bar for the sake of being a dive bar, but it still fits the bill in its second life after moving to another location and reimagining itself with neon signage behind the bar (check out the Jolly Roger) and checkerboard bar top. The place is also a well known as a music venue for indie bands, both local and on tour. If you're not into the music, however, you can always grab a cheap cocktail and shoot some pool.
Highlands
Tucked away in the back of an aging shopping mall, this place is a festival of colorful characters at pretty much any time of the evening, right up until 4am. Even when the Back Door isn't brimming with bar flies from all walks of life, a wall mural depicting the many regulars, past and present, makes the place always feel full and welcoming. But the best part about Back Door? The staff. Not only are they friendly, but they pour heavy (really heavy). That's why they have the best bar food in the city -- to help soak up those four or five house margaritas.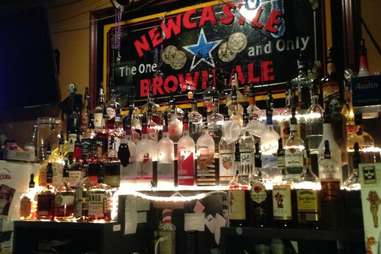 Highlands
The tagline for this dive says it all: "Find it. You'll like it." Yes, it's hidden away down a corridor and up some wooden stairs. But interestingly enough, it's a dive hidden smack dab in the middle of a flashier area of town replete with restaurants and specialty shops. Inside, tile floors and advertising décor abound inside a dank atmosphere. But if the dive bar gloom gets to be too much, check out the patio area for some fresh air or duck into the rec area for ping pong or pool.
Highlands
This staple is another one that seems almost out of place in its bustling, trendy neighborhood. But its durability offers respite from late-night glitz with pool tables, video games, and an L-shaped bar with plenty of room for grizzled regulars. A side room is packed with a pair of pool tables and stand-up arcade machines, and while it may not look like much, check out the bourbon menu at the bar.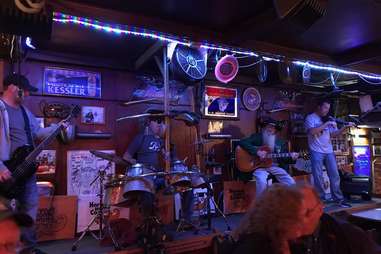 New Albany
Out of the way, but worth the effort, Hugh E. Bir's was founded by a fellow named, well, Hugh who likes cheap, cold bottles of beer and also loves music. The friendly, bearded bar owner, a sort of local celebrity, also loves his establishment, which is adorned with dart boards, booze advertising, and a bar so beat up it may have come over on the Mayflower. Late at night, Hugh is known to take the stage -- which doubles as the bar's shuffleboard table and is decked out with a semi-permanent drum kit that suspends from the ceiling and encases the drummer like something from a sci-fi flick. You really have to see this place to appreciate it, so hop in an Uber and make a night out of it.
Sign up here for our daily Louisville email and be the first to get all the food/drink/fun in town.

Kevin Gibson is a Louisville author who writes about everything from food and beer to the great city he calls home. In his nearly three decades as a writer, he has won numerous awards but doesn't know where most of them are now. He's the author of Unique Eats of Louisville, Secret Louisville, Louisville Beer, and other books. He currently lives in the Clifton neighborhood with his dog, Atticus.