The Louisville Mint Julep You Need This Spring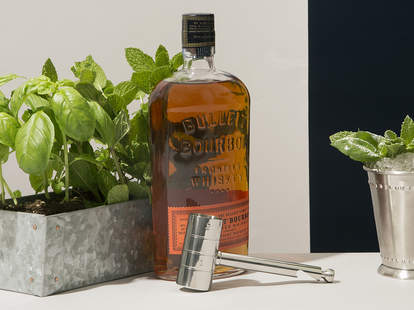 Photo: Eric Helgas/Styling: Ali Nardi
Springtime -- actually any season -- in Louisville calls for bourbon. But if you're not drinking mint juleps right now, you're doing the season and the Kentucky Derby wrong. To expand your repertoire, we asked bartender Chris Maggio for a new take.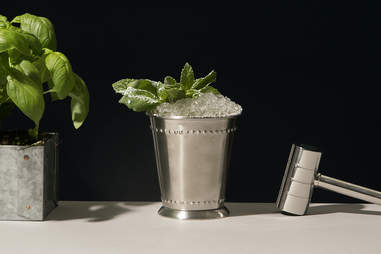 Photo: Eric Helgas/Styling: Ali Nardi
The Crossroads Cooler
INGREDIENTS:
1.33 ounce Bulleit rye or 1.33 ounce of Bulleit bourbon
.25 ounce squeezed fresh lemon
.5 ounce of cucumber simple syrup
6 to 8 basil leaves
4 to 6 mint leaves, depending on size of leaves
Crushed ice
DIRECTIONS:
Pour .5 ounces of cucumber simple syrup and .25 ounces of fresh squeezed lemon into a shaker.
Add mint and basil leaves, and muddle.
Add bourbon and shake like heck.
Strain into a julep cup, stirring in a the cocktail a little at a time as you add crushed ice.
Garnish with small mint and basil sprigs, and optional powdered sugar.