Why Living in Louisville Is Hard If You Hate Bourbon
"I don't like it. I'm not going to pretend to like it, and I'm not going to pander to people who do like it. You can like your alcohol because it's 'cool' and 'trendy' around here... "
This is a snippet of my roommate's go-to bourbon rant. An island in a sea of barrel-aged booze, she's not a fan of the spirit that's so much of Louisville's identity. Me? I'm a bourbon lover, and I've heard this rant on several occasions. But it was only recently that I began to understand that, while Louisville is a great city for whiskey folk, it really sucks for people who just don't like bourbon.
We have so many bourbon bars
Some of the best in America are right here in Louisville. And most other bars, while not officially whiskey bars, have the majority of the shelves full of that smoky, sweet liquor harvested from rick houses all across the entire state.
(Fun fact: here in Kentucky, there are more barrels of bourbon than there are people.)
... and celebrate so few other spirits.
Bars have bourbon aplenty, but if you're a fan of vodka, gin, or basically any other spirit, your options are limited. The arrival of Copper & Kings was a rare gift to those who don't like Louisville's favorite, bringing a brandy distillery to a city soaked in whiskey (it's now distilling gin, too). But still, cocktail menus all over town are bourbon-heavy, therefore beer often becomes the alternative. So it's a good thing we have a lot of hometown breweries.
And only on occasion does the city get a tequila bar or two, like El Camino and Wild Rita's. But again, that's rare.
We have a lot of bourbon pride
The bourbon boom has drawn huge amounts of tourism to Kentucky's Bourbon Trail. With that, old distilleries have restarted production, pulling orphaned barrels out of long-abandoned rick houses and reviving labels that haven't seen the light of day since Prohibition shut them down. Bourbon-centric exhibits, Downtown distilleries, tasting events, Urban Bourbon Trails, and much more have gained popularity, giving the people of Louisville a lot to talk about. So much so that folks are even educating themselves about America's native spirit, learning to appreciate and savor a product that has ingrained itself into the culture and economy of our corner of the world.
... and nobody will shut up about it.
A big part of my roommate's anti-bourbon rant is dedicated to how so many people think they're bourbon experts, throwing around words like "double-oaked" and "bottled-in-bond."
"I think if you went somewhere else and started talking about bourbon like that, people would think you're an asshole," she stresses, while going on about how pretentious it is when someone dives into an unsolicited explanation of what makes a bourbon rye or wheated.
Add to this the social pressure of being a bourbon drinker in Louisville and you have a recipe for an unhappy experience. "I don't like people who shame me for not liking bourbon," she says. "It's trendy to like bourbon. It's cool to be into it around here. But it's only cool because it's expected."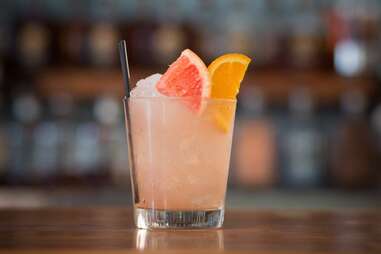 Our craft cocktail game is amazing
Living in a city with an identity and culture deeply entwining with its proximity to booze makes for some incredible bar programs. Forget the Old Fashioned; we have bartenders taking basic drinks and turning them into metaphysical experiences: the Old Fashioned Experience, a sphere of brandy, cherries, and orange served with a pour of bourbon; a dark and smoky spin on the Old Fashioned; a Jell-O shot like you've never had before. This is our scene, and we love it to death. Most of us.
... but things can get complex.
When you don't recognize any of the ingredients in your drink, you might be in a little over your head. When no one recognizes any of the ingredients on the cocktail menu, things may have gotten a little too crafty behind the bar. It's all fun and games until we realize that sometimes, craft cocktails are just about being craft cocktails and they're not actually about the taste.
You'll be forced to find one you like. Because it's Louisville.
When you find the drink you love, it's a gift. "There is one bourbon cocktail I like," my roommate tells me. "The Kentucky Mule at The Silver Dollar. It has an amazing burn and it's not too sweet. It's frosty and perfect."
Here's the hard truth: if you don't like bourbon, but you live in Louisville, sometimes it just comes down to finding a middle ground on the cocktail list. Maybe, like The Kentucky Mule, it's a whiskey spin on a drink you already love. Or, maybe it's something else.
If not, well... may God help you.
Sign up here for our daily Louisville email and be the first to get all the food/drink/fun in town.