When you first walk into Magic Hour, the rooftop bar at the Moxy Hotel in New York City, you're immediately greeted by giant topiary bears doing unspeakable things to each other. It's at that moment that you realize this is not the place to bring visiting parents (unless they're really cool), but it's definitely the spot for awesome afterwork drinks with friends. The sprawling space comes complete with a retractable roof, rotating carousel seating and an R-rated putt-putt course called Foreplay, which features well-endowed, life-sized animal sculptures. And then there are the giant drinks.
Designed with large groups in mind, it only makes sense that Magic Hour offers over-sized cocktails for crowds. And three of them are seriously Insta-worthy. The Disco Ball For All ($250) comes in a glittering disco ball punch bowl. The top comes off to reveal a fruity, big-batch cocktail that serves 15 made with Absolut Elyx vodka, RIPE Bajan Punch and edible orchids. Bonus: The punch bowl actually spins.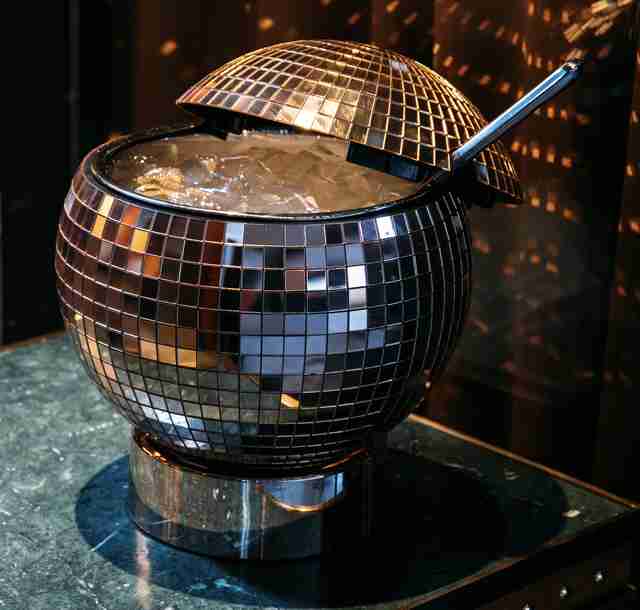 Next up is the High Octane ($135), a mix of Don Julio blanco tequila, caramelized pineapple puree, jalapeno simple syrup, lime juice and Angostura bitters. It's dispensed from a replica of an old-timey gas pump and serves 6-8 people.
The third oversized drink is the Popcorn Anyone? ($150), a "Berry Bubbly" cocktail that serves 8-10 and comes in a popcorn bag-shaped bowl with crazy straws. It's incredibly popular—occasionally selling out before the night is over—so be sure to get to the bar early if you want to snag one.
If group-sized cocktails aren't your thing, the bar also offers party fuel like Mojito Jello Shots, Champagne served in a clawfoot tub and drinks with names like Swipe Right, We Were On A Break! and All Spice No Drama. Whatever you decide, just make sure not to drink too much before you try hopping on the carousel—it's slow, but after a few Disco Balls, it takes some coordination.