When patronizing the bars of Memphis, there's a fine line between having a reasonably good time and waking up cradling a sandwich next to a stranger. These 13 places exist solely to help you blur that line and have a so-bad-it-was-good type of night.
Club 152
Downtown/Beale Street
If drinking lots of fire-flavored whiskey, grinding on at least one sorority girl turning 21, and remixes of remixes are what you're looking for, try to get into the third level of Club 152. But you're not allowed to act surprised when pre-gaming until 1:30am on Beale leads to wearing glow sticks on your head and waking up on a strange couch.
Midtown/Cooper Young
The music is so loud, the bar so impossibly crowded, and the Easter egg-hued polos so numerous, you'll be begging for an Irish car bomb (or three) if you find yourself at Celtic Crossing in Cooper Young on a Friday night. Come back the next day for the civilized Irish breakfast and you'll wonder if it was all a booze-fueled dream.
East Memphis
First warning to the kind of night you might have at Electric Cowboy: the bar is in a shopping center. Second warning: you can't tell if you're in Coyote Ugly, a legitimate line-dancing honky-tonk, or a straight-up nightclub. Final warning: there's some type of modeling contest going on and all the girls are wearing bikinis or holiday-themed costumes. Best to just enjoy the $1 domestics and take it all in.
East Memphis
If you want to find yourself in line for karaoke between a chain-smoking regular with a surprisingly decent set of pipes and a blitzed bachelorette party singing the Spice Girls, you've come to the right place. The shots cost about the same as the warmish pitchers of beer, and you'll need plenty of each before belting out your own rendition of "Livin' on a Prayer."
Midtown
If you make it to Printer's Alley you've already had an adventure because this place doesn't get going until the witching hour. Many a Memphian has gone straight from Printer's Alley to work, fueled by beer and a slight sense of irrational superiority.
Downtown
If you had a shot of Jameson for every lawyer at Bardog Tavern after midnight, then you're probably a lawyer at Bardog Tavern after midnight. Nowhere else do so many blazer-wearing young barristers convene to have loud sports arguments under the influence of Jame-o and local beer. The bartenders are pros who take Thirsty Thursday and Sunday Funday very seriously.
Midtown
The Buc's claim to fame is not only that it's Memphis' original pirate-themed bar, but that it's also the smokiest pirate bar in Memphis (not an insignificant accomplishment). The drinks are cheap and the music is grand, so you'll soon find yourself not minding that the bathroom stalls don't have doors this week. Or that your date is talking to that guy who used to be a drummer in so-and-so's band -- everyone in this bar is (or was) in a band but you -- just have another drink.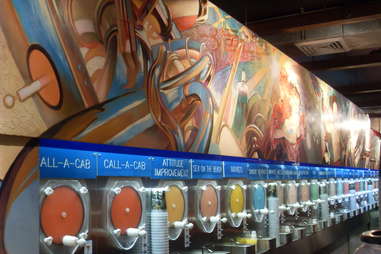 Downtown/Beale Street
Two words: alcoholic slushies. There's a full wall of them at Wet Willie's on Beale Street, where you can pick from liquid delicacies such as the Naked Willie, Chocolate Thunder, or the ever-popular Call-A-Cab. There are plenty of 190-proof grain-alcohol guarantees that you won't remember the eardrum-busting live music, the tourist couple dressed like Elvis dancing way too close together, or the awkward one-way mirror in the men's room that lets you see into the bar area.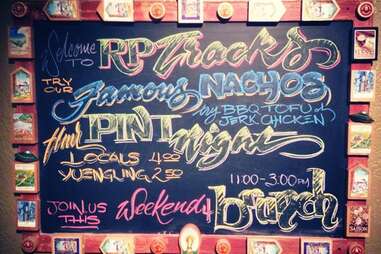 University District
If you get there early enough, college bar R.P. Tracks appears to be a chill spot. Maybe too chill. That's how it gets you. You peruse the dozens of colorfully named shooters, get a little too comfortable, and the night will quickly go off the rails. Is that your professor or a fraternity brother playing pool in the back? Who can tell? And who even cares after a few drinks with names like Alien Secretion, Mind Eraser, or Smooth Beaver?
Crosstown
The new Crosstown Hi-Tone location doesn't offer the same kind of bathroom graffiti and random brunch pizza as the old Midtown location, but the commitment to starting shows two hours late is the same. Cocktails are cheap so you'll have several while you wait... and a few shots of that local vodka. Then a man selling irresistible barbecue will magically appear while the band is on a break, so... you might as well have a beer with that, too. You'll wake up to find a barbecue taco in your purse; $20 Lyft bill (because you probably don't live in Crosstown); and hopefully, a few salvageable memories.

Downtown
Between the SEXY hand stamp, endless 40s of beer, and flowing shots, even the most timid person can end up on the stripper pole at Raiford's. Frat boys, bewildered tourists, and wedding parties in their dresses and tuxes all share the same fuzzy memories: a light-up disco floor, fog-machine smoke, twinkly lights, the Free Willy song. But no one can help you if you try to dance with a drink in your hand; that armed security guard will escort you right off the dance floor.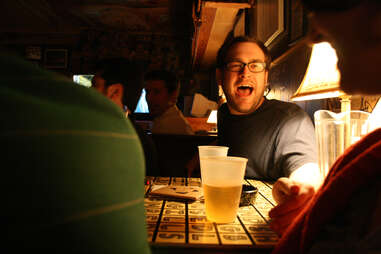 Midtown
BYOB and cheap pitchers plus karaoke nights, open mics, and an annual "prom" means that there are multiple opportunities for questionable decisions at The Poor and Hungry. Just don't expect to get booed off stage properly unless you're covered in tattoos and piercings, because this crowd takes hipsters to the next level.
Midtown
The only thing more established than the regulars at the original "Old" Zinnie's is the likelihood that you'll have too many shooters and end up yelling with another patron over Midtown bike lanes and get kicked out. Or that you'll stay for "one more beer" for three hours after a West Coast Grizzlies game on a Tuesday and have to call in to work with the "Grizz Flu" the next morning.
Sign up here for our daily Memphis email and be the first to get all the food/drink/fun in the Blues City.