Beale St is a magical place where you can sip a "Big Ass Beer" in the middle of the road then share a bucket of booze with friends while gawking at street performers and listening to great live music. Since it's already the home of the blues, don't let it become the home of the "I walked into this horrendous bar" blues and take heed of our rating of every single bar on Beale St before you go.
Possibly the only bar ever to house live goats (something about Irish lore and good luck), Silky's is the home of the (in)famous Diver bucket: a gallon-sized, shareable concoction of rum, beer, grenadine, and secret ingredients. Bachelorette party groups seem to like this. 
Rating: 6 if you're with a bachelorette party. 7 if you want to drink with goats.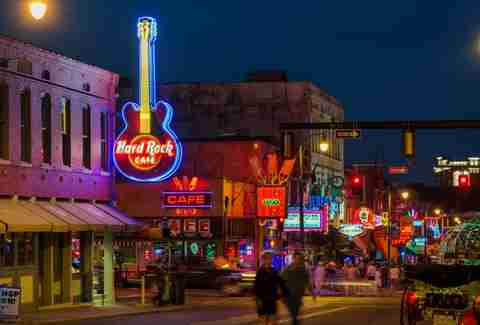 It's a Hard Rock Cafe. Nothing super special to see here.
Rating: 5
After putting "some south in your mouth" at Blues City Cafe, definitely check out the Band Box. It offers live music nightly, and every Sunday (for 20-something years!), Memphis' jam/funk/rock/soul/R&B/jazz-fusion group FreeWorld performs from 9:45pm to 2am.
Rating: 9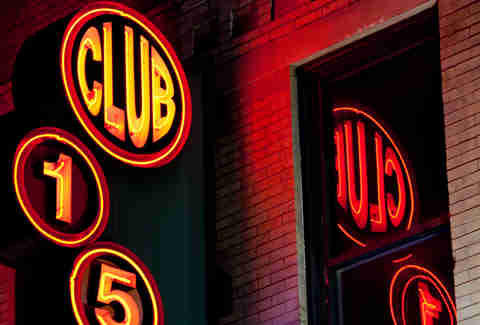 Though 152 often hosts great bands (legendary bluesman Bobby "Blue" Bland's son, Rodd, plays drums here with his band, Mercury Blvd, regularly) on its lower level, it's hard to overlook the swarms of skeezy dudes hump-dancing every woman they see in the third-floor "VIP nightclub," The Shadows. Think A Night at the Roxbury, only not at all funny.
Rating: 8 for the live music on the lower level, 2 for the third-floor club scene
Flynn's has karaoke every Monday-Wednesday, but people only tend to participate if they're pretty well lubricated. There's an 11am to 7pm happy hour featuring $5 "Big Ass" 32oz beers, so if you're not careful, you'll be shoddily singing "Total Eclipse of the Heart" to a bunch of strangers before the night's up.
Rating: 4 Monday through Wednesday because karaoke. Otherwise, 5.
This smoker-friendly, spacious, usually fairly empty bar has several varieties of beer on tap waiting to be put back by you. There is live music on occasion, but you can mostly drink in peace here.
Rating: 7 unless you can't deal with cigarette smoke
If you want to escape the madness on Beale, duck into the almost-hidden Absinthe Room next to King's Palace Cafe. Up the black-lit stairs, you can smoke cigarettes, sip the green fairy, and shoot pool, all while feeling a bit like you're in a Prohibition-era bar.
Rating: 7 if you like pool and don't mind cigarette smoke. Otherwise, 5.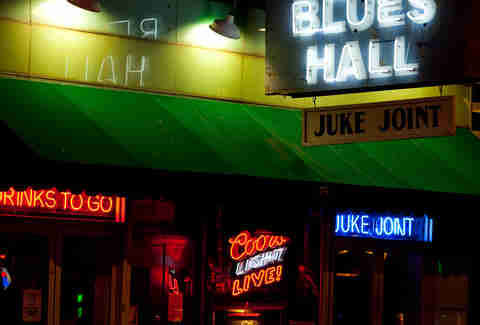 Formerly Mr. Handy's Blues Hall, this place offers moderately priced drinks in a real juke-joint atmosphere. One of the best spots on Beale to catch some truly traditional (though often quite loud) blues music. No "Mustang Sally" here.
Rating: 8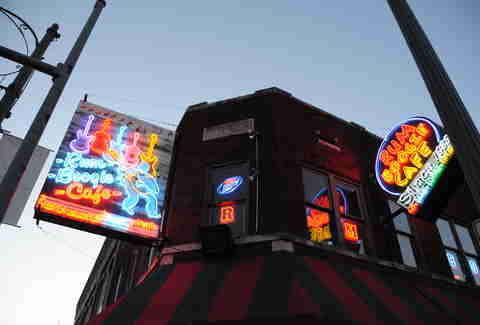 There's a good rum selection, plenty of southern dining staples, and live music seven nights a week. If you go there, cool. If you miss it, that's OK, too.
Rating: 6
The Pig is really more of a restaurant, offering a BBQ Lover's Feast -- a heaping ton of smoked, sauce-soaked meats. But you certainly won't have an issue getting your fill of to-go "Big Ass" beers here. We like things big in Memphis.
Rating: 6.5 for the food. Otherwise, 5.
Club Handy is attached to Handy Pavilion, which hosts decent live music. There's nothing super special about the covered open-air bar situation it's got going on, but it's not so bad to grab a drink there and enjoy the blues tunes.
Rating: 5 because the music's all right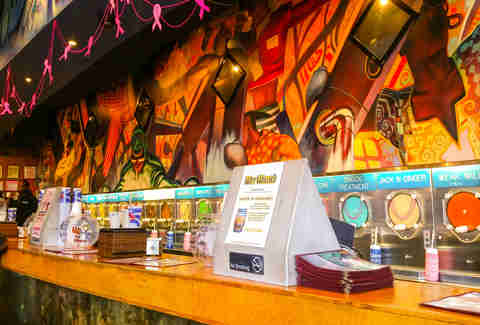 With more than 20 frozen mixed drink options, like the Call-A-Cab and the Attitude Adjustment, Wet Willie's is a great place to get brain freeze. The drinks are pretty strong, so if you have more than one, you may actually need to call a cab.
Rating: 6 if you like alcoholic slushies. Otherwise, 4.
If The Killer endorses it, it must be good. It features live music, an upstairs dance club atmosphere, and a nice people-watching balcony, so if you've made it this far down Beale, you might as well check it out.
Rating: 6
Alfred's has a spacious indoor bar area, outdoor rooftop seating, and friendly, fast service. It's a perfect place to stop in for a cheap(er) drink if you're pre-gaming before events at the nearby FedExForum.
Rating: 9
Some of the city's best blues, soul, and rock cover bands perform here. And, an odd bonus, restroom attendants squirt soap in your hands for you when you exit the stall (tip them). The "Blues Boy" may have passed away earlier this year -- RIP B.B.! -- but the thrill is never gone at the flagship B.B. King's Blues Club.
Rating: 10
This is a corporate chain deal, so you can easily pass.
Rating: 5
If slapping a few bucks in an Internet jukebox and jamming out to "PYT" over a good game of billiards is your thing, stop in here.
Rating: 7 if you like playing pool and don't mind cigarette smoke. Otherwise, 5.
You've seen the movie. It's a little less glamorous and a lot more "meh" -- enter if you enjoy ogling girls dancing atop a bar who definitely aren't Piper Perabo.
Rating: 4
The general consensus is if you've meandered this far east down Beale, you've gone too far. Turn back!
Rating: 3

Sign up here for our daily Memphis email and be the first to get all the food/drink/fun in the Blues City.

Sarah Williams is a freelance writer for Thrillist who prefers day drinking on Beale St rather than inching through the crowds at night. The fewer boozers standing between her and the bar, the better. She doesn't do Twitter, but you can follow her to B.B. King's.