Once you've exhausted Beale St, it's time to venture out to where the locals go drinking. Memphis tends to blur the lines between bars and restaurants; it seems the best watering holes also have at least one must-eat menu item, while most restaurants offer a full, fancy cocktail menu and craft beer list. Still, there are lots of fine drinking establishments (again, not on Beale St) that fill up weekend after weekend primarily for the booze and bar atmosphere. Since we've already brought you the essential Memphis restaurants, here's your drink pairing: the 11 essential bars in Memphis.
Recommended Video
Here's Our Travel Guide to This Nation of Over 7,000 Islands
Cooper Young
The appropriately named Alchemy offers the kind of dim, sexy atmosphere and sophisticated cocktails you might associate with Manhattan rather than our Midtown area. From behind the spacious bar, bartenders produce craft cocktails with ingredients that might be new to you, like The Alchemist (Eagle Rare, Antica, Aperol, and Peychaud bitters) or The Naughty Sundress (tequila, elderflower, Punt e Mes, and lemon juice). There's also an extensive bourbon and Scotch list and a bevy of small plates for all palates.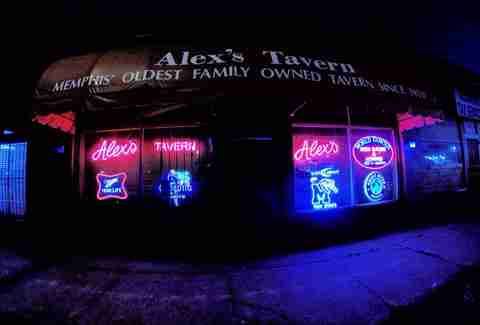 Vollintine Evergreen
There's an effortless authenticity to Alex's Tavern that comes from a hands-on, down-to-Earth owner like Rocky Kasaftes, who's almost always on the premises in his office or out back tending to BBQ ribs in the smoker. This tavern is a popular late-night spot or early-evening meeting place for Tigers and Grizzlies fans (also a great venue to watch playoff games). There're a jukebox, shuffleboard, a few beers, BYO liquor, some great BBQ ribs, and a Greek cheeseburger that's one of the best burgers in town.
Binghampton
Sip a Sazerac while sitting at what looks like the gleaming hull of a wooden pirate ship at The Cove on Broad Ave. The dark, nautical bar offers a full lineup of underrated old-school classics like a Sidecar, Pimm's Cup, Gimlet, Salty Dog, Old Fashioned, or caipirinha, plus a sizable beer and wine selection. The live music and selection of oysters and small plates make it a place where folks seem to end up during their more swashbuckling nights out.
South Main
Earnestine and Hazel's story has entrepreneurship (it was once a brothel), music (a longtime blues joint with the best jukebox for miles around), and mystery (it's very, very haunted). Despite the spot's international attention, E&H's usually relaxed crowd is a mix of locals and visitors. Downstairs, choose from about a dozen basic bottled beers and wait 'til after midnight for the dance floor to fill up. Upstairs, wander the crumbling blue-lit hallways to the back bar where you may or may not be able to purchase liquor. If you leave without eating a Soul Burger, you're just not living right.
Victorian Village
Mollie's is a proper lounge, set off the beaten path in an historic Victorian mansion just east of Downtown. It's furnished with jewel-toned divans, provocative art, leather armchairs, and iconic flame-hued paper lanterns. Try the Nouveau Riche cocktail (vodka, ginger, lemon, cranberry, and cherry) from the downstairs bar, or the Naughty Apparition (tequila, mint, lime, and honey over ice) at the upstairs bar. Mingle with the most fashionable Memphians to the tune of piano-lounge singing, house DJs, or the serenades of the ghosts that supposedly populate the stairs and hallways.
Cooper Young
Bar DKDC (rumored to stand for "Don't Know, Don't Care") is another one of Karen Carrier's projects along with the aforementioned Mollie Fontaine Lounge and elite brunch spot The Beauty Shop. Head to the cozy (read: small) Cooper Young bar for any of the simple cocktails served in Mason jars, like the Satsuma Mama with Mississippi Cathead vodka, tangerine juice, and a satsuma peel, or the Blackberry Julep with whiskey, muddled blackberries, and mint sugar. Memphis' best local musicians frequently fill half the bar on Thursday and weekend evenings, attracting a standing-room-only crowd that spills out onto the patio or into the tiny old-fashioned photo booth.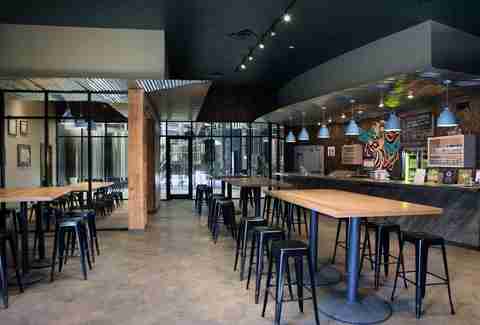 Binghampton
The first of several new Memphis taprooms, Wiseacre has become an ultra-popular hangout spot for craft beer-loving locals. The bar serves only Wiseacre beer, but from its ten taps flows a diverse selection of brews. The clean, hoppy Ananda and the award-winning Tiny Bomb pilsner are constant favorites, along with seasonal brews like the Unicornicopia saison, You Gotta Get Up To Get Down Coffee milk stout, and the Astronaut Status imperial stout. You can also pick up a six-pack of cans, fill your growler, and hang out at community tables inside, often with live bands or DJs, before you grab grub from food trucks parked by the huge patio out back.
Midtown
Sure, things can go a little awry at the Buc, but the place is quality if you're looking for an unpretentious, well-worn (and well-loved) watering hole. The words "artisan," "craft beer," or "small plates" have never been uttered by a bartender at the Buc, which suits the place just fine. It's a classic dive with a seriously good lineup of local and touring music acts. Settle in at a wobbly table or the one smoky booth with a beer, listen to the music, and gaze upon the wall hanging of a pirate making out with a mermaid.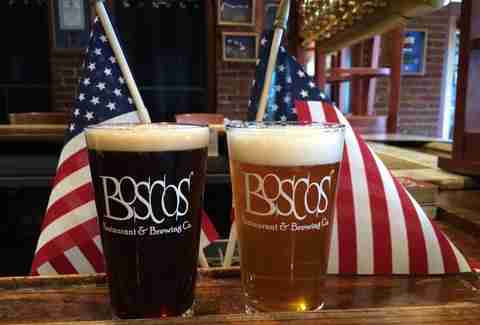 Overton Square
The Boscos bar is like a separate neighborhood pub trapped inside a restaurant. During the day and early evening, committed regulars swig Midtown brown ales and hope to win the daily Cellarman Contest at 5:30pm. Professionals and friends convene around the bar in the evenings for all kinds of craft beer, like the Bombay IPA, Flaming Stone German steinbier, or Isle of Skye Scottish ale, and cocktails, too. If you can't find a seat at the bar and it's a nice day, join the entire population of Memphis on Boscos' spacious, umbrella-filled patio for your flight of eight award-winning beers.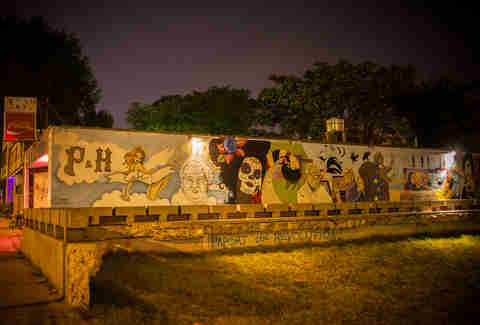 Midtown
Hanging at the P&H Cafe is a rite of passage for Memphis artists, filmmakers, musicians, comedians, and an assortment of Midtown Bohemians. The Poor and Hungry serves a handful of beers in pitchers only (just go for the PBR like everyone else) and boasts a stage for open-mic comedy and karaoke nights, pool tables, and a cigarette machine. The BYO liquor policy and tendency for things to get going after midnight make it essential in terms of drinking with Memphians who are making much of the music, art, and movies in the city.
Cooper Young
Young Avenue Deli does have some of the best sandwiches and seasoned fries around, but the place feels overwhelmingly like a neighborhood bar and is an anchor of the Cooper Young area. To the initiated, it's a relaxed place to perch at the bar for any kind of drink or shooter, and an assortment of local and regional beers on tap or high-gravity beer in bottles. There's a good-sized stage for local acts, sports on the TVs and big projector screen, pool tables, and a jukebox with strict rules ("No Mustang Sally").
Sign up here for our daily Memphis email and be the first to get all the food/drink/fun in the Blues City.