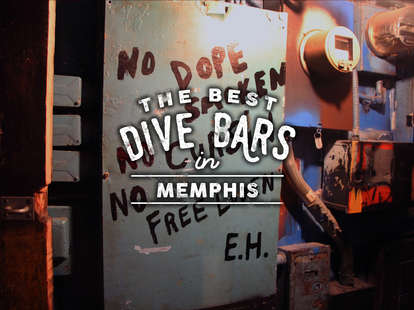 Sean Cooley/Thrillist (Edited)
Dive bars are the pillars of any community worth living in. They're nostalgic meeting places with decades of history. They're venues for bands that will probably be famous in two years, and for musicians who were famous 40 years ago. These essential Memphis dives are where you'll go to get a beer for $2.50, play a jukebox, and smoke indoors.
Midtown
Murphy's is the perfectly seedy, divey alternative to shiny establishments down the street in Overton Square. This Irish pub-inspired spot is dark, cheap, and often crowded with punk bands and their fans, especially during punk/indie/garage rock blowout Gonerfest. Grab a cold brew and enjoy the descent into debauchery in the light of the flickering neon beer signs.
High Point Terrace
The High Point Pub is our most brightly lit dive bar, featuring shuffleboard, darts, a jukebox, plenty of TV action, and $1.00 set ups. It's hyper local, which means most of the folks inside probably all live pretty close and pretty much all know each other. Newbies are more than welcome to join in the fun as it's a real congenial place. You can smoke in the courtyard and have a pizza delivered from High Point Pizza next door. Doors close at 1am.
Midtown
Former owner and barkeep Miss Shirley ran a tight ship at this definitive Midtown dive until her passing in 2010. There was no cussin' or fussin' and nothin' but beer to drink in her day, and her dedicated regulars have honored her legacy by keeping the place pretty much the same for years. It feels like an uncle's basement in the Lamplighter: kitschy celebrity portraits, a classic jukebox, and a pool table to keep you busy 'til the wee hours.
Midtown
Not to be confused with Nashville's Printer's Alley district, the Memphis dive bar is best known for being open after the after-hours bars have shut down for the night. Even though it's been renovated in recent years to make it, well, cleaner, Printer's Alley still has the dive-bar feel, with a bottled-beer selection, BYO-liquor policy, and secret burger and sandwich menu for those early-morning/post-drinking needs.
South Main
Compiling a list of Memphis dives would be silly if the indomitable Earnestine & Hazel's weren't included. The walls are cracked, the brick's exposed, the place is haunted by the ghosts of "ladies of the night," and the menu includes beer by the bottle and its top-flight Soul Burgers. Don't leave until you get a cold beverage and a helping of life advice from legendary upstairs bartender Nate.
Midtown
Dru has a no-frills atmosphere and offers weekly karaoke and drag shows (for Queens, Kings & InBetweens) that puts reality TV shows to shame; these folks are genuinely talented singers and performers. If you don't drink basic domestics, better bring a few bucks and a bottle of liquor, because Dru's Place is beer-only. Go for the shows; stay for the cheap beer and late-night pizza.
Midtown
This bar's wink-wink, nudge-nudge name is fair: The Pumping Station is gay-friendly and open 'til 3am, with bathrooms labelled "masters" and "slaves." But don't worry if you forgot to wear your leather -- something else you'll see there from time to time -- because all are welcome in this relaxed dive bar offering cheap drink specials, happy hours, free pool nights, and beer busts.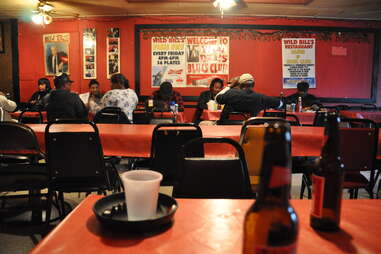 Vollintine Evergreen
Pay your cover, get your 40-ouncer and your red cups, and take a seat. It better be after 11pm, because that's when the blues get going at Wild Bill's, which gets its dive-bar status from its 40s-only policy, dimly lit interior, and authentic musicianship. Much less of a late-night frat novelty than it once was, Wild Bill's is now a true-blues dive with plenty of Memphis soul.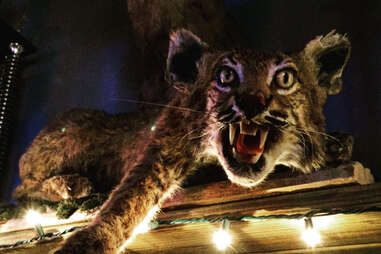 East Memphis
The Bobcat is everything you want it to be and more. Be careful, lest you take a dart to the head on your way in, and be sweet, because the young bartender isn't afraid to call you names. There's pool, shuffleboard, video poker, and smoking is allowed. They have several beers to choose from, including Bud Light Raz-ber-itas, and a $5 corkage fee for all brown bagged bottles. The Bobcat is a total dude bar, but it's clean, pretty cheap, and has a jukebox that makes you wanna dance.
Brookhaven Circle
The Windjammer is the opposite of DKDC. Anyone can wear black tights, 10 girls can sing one karaoke song together, and chances are the bathrooms will be flooded. However, you can smoke, drink hard liquor from the bar, and stay up way past your bedtime singing Patsy Cline songs and slow dancing with strangers. It's very primal. And who knew they had a full menu featuring clam chowder, hot wings, a grilled steak sandwich, and catfish?
Vollintine Evergreen
There's no other place where you can get cheap beer, play shuffleboard, stay until 3am (or later), watch basketball, and have some of the best ribs and best burgers in town. Led by owner and master barbecuer Rocky, this dive is a longtime favorite of neighborhood regulars, Rhodes students, sports fans, and down-to-earth folks from around the world looking to try some off-the-beaten-path Memphis food and hospitality.
Midtown
If you want to experience one of Memphis' most famous dives, pay your respects to the late owner and influential Memphian Wanda Wilson with the other artists, filmmakers, comedians, and neighborhood regulars at the Poor and Hungry Cafe on Madison Ave. Get a pitcher of PBR and some burgers for just a few bucks, or BYO liquor and settle into a booth to ponder the murals, graffiti, and memorabilia on the tables, walls, and ceilings. This décor combined with the smoking that's definitely allowed and the "interesting" bathrooms makes for the quintessential dive experience.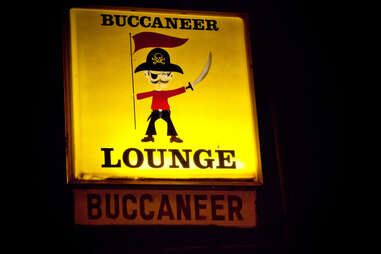 Midtown
Somehow managing to be on every possible list of Memphis bars, this pirate-themed dive has become all things to all drinkers. It's dark. It's smoky. Beer and liquor are cheap. There's weird nautical-themed stuff on the walls and the bathrooms are sketchy. There's a big round booth where you can chain-smoke and chat with musicians who are gonna "go on in a few hours." What more could you ask for?
Sign up here for our daily Memphis email and be the first to get all the food/drink/fun in the Blues City.
Stacey Greenberg lives in Cooper-Young with her two sons. She never met a dive bar she didn't like. She's the author of the award winning blog, Dining with Monkeys.