12 Must-Hit Happy Hours in Memphis
Courtesy of Felicia Suzanne's
Courtesy of Felicia Suzanne's
Happy hour: whether at the bar, on the patio, at a big table surrounded by 10 friends when you're drinking specialty cocktails, wines by the glass, or pints (or liters!) of beer, you can't go wrong. Wherever and however you happy hour, you've got lots of options in the Bluff City for saving a buck and catching a buzz in the late afternoon/early evening hours. Here are the 12 spots that do it best.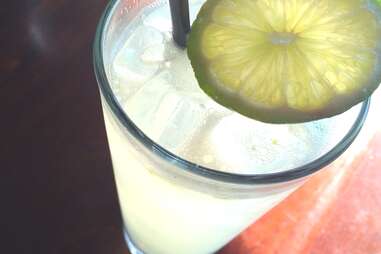 Cooper Young
When: 4-7pm, Monday-Friday
The special: $5 mojitos, sangrias, and well drinks
Alchemy's top-shelf mixologist-made cocktails are quite affordable during its weekday afternoon happy hour. For five bucks you can enjoy a minty mojito, refreshing sangria, or well cocktail, plus discounts on beer bottles and wine, and $4 shots of cinnamon whiskey.

Downtown
When: 3-7pm, Monday-Friday
The special: $2.50 domestics, $4 wells, $5 select wines
There's no password necessary to enjoy the cheap wine, beer, and liquor on Main St's not-so-secret Blind Bear Speakeasy. Go for the underground vibe of the dim, loungey interior, or enjoy a breeze on the patio outside with your affordable-and-totally-legal happy hour drink.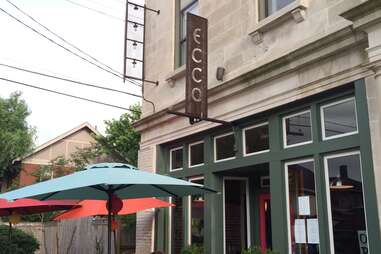 Vollintine-Evergreen
When: 4:30-6:30pm, Tuesday-Thursday
The special: $5 wine, $3 bottled beer, $1 off cocktails
Save some dough at upscale Ecco on Overton Park's cocktail hour during the middle of the week when you need it most. There's a front patio, inside bar, and lovely covered outside seating in the back, so pick your seat, then pick your poison without spending a bundle.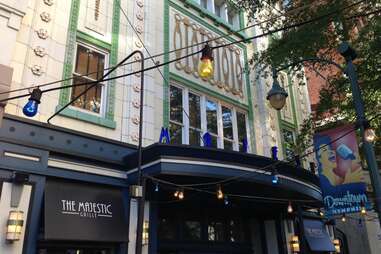 Downtown
When: 4-6pm, Monday-Friday
The special: $2 domestics, $3 imports and well drinks, $4 wine
If you find it hard to remember the specifics of The Majestic Grille's happy hour, just remember: 2-3-4. Start your afternoon off right with two-or-three buck beers and liquor drinks, or sip on some $4 wine to go with its infamous Parmesan fries.
Midtown
When: 4-7pm, Monday-Friday
The special: Two-for-one hot sake
A lot of sushi places do sake specials, but Sekisui Midtown takes the lead with its two-for-one deals on plain or flavored sake every weekday. Enjoy a few carafes with a Grizzlies or Redbirds sushi roll before you head to a game.
South Main
When: 3-6pm, Monday-Friday
The special: $3 drafts, $4 wells, $5 wines and cocktails
South of Beale gastropub goes for a solid 3-4-5-6 approach to its daily happy hour with cheap beer, cocktails, and wines, plus $6 bites if you work up a bit of an appetite. If you feel like supporting your home team through alcohol consumption, you can also snag a blue-hued Grizz shot for just three bucks, anytime.
East Memphis
When: 4-7pm, Monday-Friday
The special: Half-off drinks
Go for the happy hour, stay for the view. The Tower Center bar and event space atop Clark Tower is one of the tallest points in East Memphis, and it offers a different perspective on the city facing west, in addition to 50% off every drink in the joint.
Cooper Young
When: 4-7pm, Monday-Saturday
The special: $1 off well drinks, draft pints, and select Irish whiskeys
Midtown's favorite Irish pub boasts some rather stout happy hour offerings every weekday until dinner time, whether you're sitting inside to watch European football, or outside on the spacious patio. Celtic also offers $3 pints on Mondays and a serious Tuesday wine night: $3 house wines, $2 off every glass, or $5 off every bottle.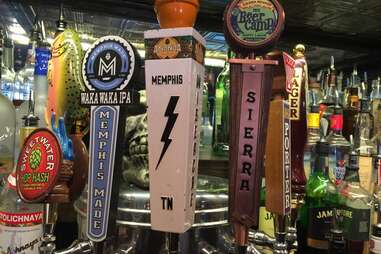 Midtown
When: 4-7pm, Monday-Friday
The special: $1 off drafts, domestics, wells, and house wines
Memphians love patios almost as much as the beer they like to drink on them, and lucky for the Slider Inn in Midtown, it has both amenities in abundance. In addition to its daily specials, this neighborhood bar specializing in tiny burgers has a three-buck pint night on Tuesdays.
Downtown
When: 11:30am-2pm, Fridays
The special: Up to three 25-cent martinis
Start your weekend like you're Don Draper with a three-martini lunch for less than a dollar. They're not the biggest martinis, but with your choice of gin or vodka, dirty, straight, or a splash of cran', they'll get the job done.

East Memphis
When: 4:30-7pm, Monday-Friday
The special: $1 off domestics, discounts on glasses of wine
Enjoy happy hour every day at the East Memphis hot spot where discounts on wine and beer pair perfectly with tapas like honey fire shrimp and Asian sloppy joe sliders. If you can only pick one night, though, Tini Tuesdays mean all martinis -- from classic gin recipes to ginger-pear concoctions -- are $5.
Overton Square
When: 11am-6pm, Monday-Friday
The special: $10 liters of beer, $5 half liters, $1 off cocktails and wine
Schweinehaus beer hall in Overton Square doesn't play around when it comes to happy hour: not only does it start at 11am, but it includes entire liters of beer that you can then attempt to use to win a stein-holding contest... or just enjoy them on the huge outdoor patio. After a few beers, you'll be glad to know that apps like soft pretzels, fried Brussel sprouts, and Kartoffelpuffers are just $5 during happy hour, too.
Sign up here for our daily Memphis email and be the first to get all the food/drink/fun in the Blues City.