New and innovative craft breweries are springing up like wildflowers across Tennessee. Fortunately, quality accompanies quantity when it comes to these microbreweries, and the proof comes with your first sip… which will undoubtedly be followed by many more sips. Here's a round-up of 11 notable new members of the brew crew you need to try ASAP.
Recommended Video
Drink This Winter Bourbon Smash and Conquer Cold Weather Forever
Bristol
Although the GEICO Gecko® has now informed the world that Bristol actually lies on the border between Tennessee and Virginia -- and this particular brewery is a block over the line on the Commonwealth side -- we'll lay claim to it because it's pumping some fantastic beers out of its small brewing system located in a repurposed bus station. From a popular vanilla porter to a beer named BFW (beer-flavored water) brewed specifically for patrons who come into the taproom and try to order a Bud Light, Bristol Brewery aims to please, and will almost always hit its target.
Chattanooga
Named for a Scot and a Brit who are considered the fathers of modern geology, Hutton & Smith pays homage to these two scientists' mutual love of beer. The taproom serves its stylistically faithful but nuanced beers, like the crisp Paleo Pils or the dry-hopped Igneous IPA, which maintains a delicate balance between hops and malt. Above all else, Hutton & Smith is proud to brew all its beers using quality ingredients. You can also find its wares on tap in bars and restaurants around the 'Noog.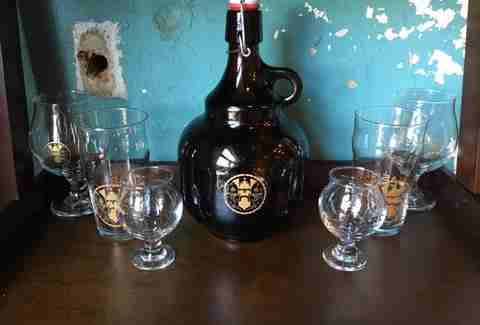 Columbia
You wouldn't expect to find a place like Asgard Brewing in the heart of small-town USA in Columbia, the home of Mule Day. But sure enough, nestled right there on the banks of the Duck River in the middle of Downtown is this brewery, dedicated to creating its own little version of Reykjavík by making and serving beers in the Icelandic tradition, a land where homebrewing was illegal until 1989. Since the lifting of its Prohibition, Iceland's brewers have been making up for lost time with a dedication to experimental seasonal beers that continue to move the margins of the craft-beer industry forward. This attitude manifests itself in the young Asgard brewery in the form of constantly changing varieties of its flagship Einstok beer enhanced by adding flavor elements like peppers, citrus zest, and ginger through a Randall system. Thanks to special festival events like Einherjar, honoring those who have fallen in battle and joined Odin's warriors in Valhalla, there's always a reason to blow your horn at Asgard.
Johnson City
Since opening in February of 2016, JRH brewer/owner John Henritze has created a family-friendly gathering spot for Johnson City craft beer fans to gather, play board games, listen to music, enjoy snacks from local food trucks, and sample his variety of both stylistically representative and downright wacky brewing recipes. He offers more traditional beers, like his take on a German hefeweizen called Henritzeweizen, on his stable flagship taps, but also more experimental options on his rotators. Henritze's big sellers, like Tannery Knobs IPA and Tree Streets Pale Ale, demonstrate that his style leans toward an equilibrium between malt and hops, so no matter how far out the recipes may get, they'll still maintain a nice sense of balance.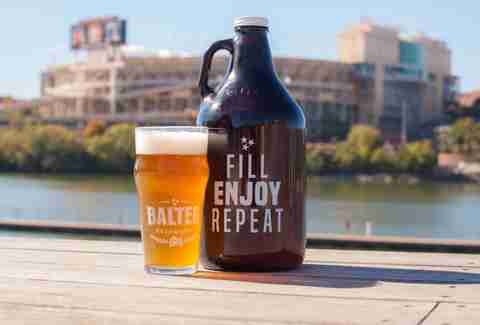 Knoxville
Located in a former service station that's been converted into an attractive taproom and brewing facility, Balter Beerworks has quickly become a destination for Knoxville craft beer aficionados. Its locale is appropriate, since the brewery founders started out together making beer in a home garage, and they have scaled up some of their original homebrew recipes to industrial-sized batches. There are no specific flagship brews, so you can usually expect something new and interesting to be rotating onto the taps at Balter. Local favorites -- and safe bets -- include Firebelly IPA and Good Neighbor, a light-bodied kolsch. If you happen to visit when they're tapping one of their cask-conditioned beers, get the hell to the front of the serving line, pronto.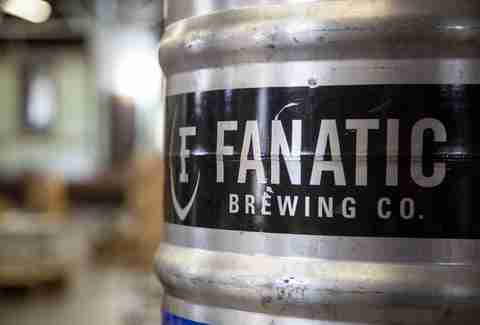 Knoxville
Fanatic's owner has spent 30 years as a professional brewer at multiple breweries, winning numerous awards for his beers along the way. At his Knoxville brewery, Marty Velas creates beers that aren't afraid to showcase bold flavors of malt and hops, and his Tennessee Red ESB shows off the sweetness of the grains thanks to the use of caramel and Munich malts. Less adventurous palates may prefer the easy-drinking Tennessee Blonde instead. Although his taproom is still under construction, you can find his beers in many local bars and stores.
Nashville
At East Nashville Beer Works, the slogan is "Beer is Community." More than just marketing-speak, ENBW really puts its money where its mouth is by opening a brewery and taproom in a mostly industrial section of Nashville that was pretty much devoid of social gathering spots before it threw open the garage doors. Open seven days a week, this family-friendly spot with a dog-friendly beer garden offers pizzas, salads, and arepas to accompany a tight list of beers ranging from a light blonde to a sessionable IPA to a smoked porter uniquely brewed with malt that is flavored with hickory charcoal in a smoker tucked away in the corner of the brewery's yard.
Nashville
Most Nashville breweries intentionally steer clear of the types of piney, resinous IPAs that characterize certain popular California breweries, but they ain't scared of no hops at New Heights Brewing Co! The flagship IPA is assertively and proudly hop-forward with a touch of citrusy grapefruit and a high enough alcohol content to remind you to sip slowly. It also offers more sessionable beers in case you're looking to enjoy more than a few at a sitting. Opening as a production brewery only, New Heights' taproom is due to open anytime now, but until then, you can find it all over town.
Nashville
This East Nashville brewery is all about variety, with plenty of fermentation tank space to complement its relatively small brewing system. This means that it's able to offer a constant stream of creative recipes in the taproom -- a philosophy that is not surprising when you realize that both owners, Smith and Lentz, hail from the beer-crazy state of Wisconsin. The comfortable and attractive taproom has become something of a clubhouse for neighbors who enjoy sampling from a selection of beers ranging from German and Belgian varieties to several options of IPAs.
Nashville
Three friends who met at their day job working at a technology company discovered a mutual love for craft beer and homebrewing. Unlike the rest of us who only dream of ditching the rat race to open a brewery, this trio actually did it -- operating out of a tiny brewing system in East Nashville. Almost 100% of Southern Grist's output is sold in its taproom, which is operated almost like a malty coffeehouse, selling pints and filling growlers to-go while offering pizza and pretzels to soak it up. You'll have to visit to try out the selection of beers, which tends to run heavy on sours, but it will be worth the trip. Particularly notable is the Nashville Mule, a tart wheat beer brewed with fresh lime zest, lime juice, and fresh ginger that is almost like a cocktail in a pint glass.
Nolensville
Nolensville's first brewery is the brainchild of Chris Goins, an avid homebrewer who decided to jump into his hobby with both feet to augment his career as a guitar teacher by opening a production brewery. Concentrating on beers that can please both the craft-beer neophyte and serious beer nerds, Mill Creek brews recipes that are especially food-friendly thanks to a careful balance of ingredients that complement food without overpowering it with sweet roasty maltiness or anesthetizing your tongue with resinous hoppiness. Mill Creek's four flagship beers are already available in cans ranging from an easy-drinking Landmark lager to Lil' Darlin', a citrus-infused wheat beer, and it aims to take up valuable real estate in your Yeti next time you plan a tailgate party or a weekend camping.
Sign up here for our daily Memphis email and be the first to get all the food/drink/fun in the Blues City.