In Memphis, patio drinking is practically a religion. Whether you're imbibing a local brew, sipping on vino, or tipping back a martini, sitting outside in the city is one of the best things about living in Memphis. Here are 14 of the best places to get your drink on in the sunshine or the shade.
Overton Square
Chiwawa's two-level sprawling patio is a magnet for Memphians looking for Mexican street food or margaritas on nice nights. There's a big projector screen on the lower deck perfect for the occasional classic movie night or Grizzlies watch party. The fact that the "Midtown Is Memphis" arch is one of the more Instagram-able spots in town is just a bonus.
Harbor Town
Get a different view of downtown at the River Inn's upstairs patio cocktail and tapas joint Terrace at the River Inn. During the winter, you can still enjoy the view as the balcony-like dining area is enclosed; in the spring and summer, catch some breezes while you watch the Mighty Mississippi go by.
East Memphis
ACRE's upscale patio is really more like a private garden -- which makes sense since the restaurant itself is a renovated home. You'll be surrounded by trees and shrubs, insulated from the city, as you sip on one of the artisan, Prohibition-era cocktails or pick something from the extensive wine menu.
 
Midtown
String lights, Thai food, occasional live music, solid beer, wine, and a vast cocktail selection; these are the reasons why Memphians flock to Bhan Thai's deck-style patio in droves, and also choose it consistently in "Best Patio" polls. 
Overton Square
Memphis doesn't have a ton of second-story patios, but the new-ish Lafayette's Music Room in Overton Square can't be beat. Not only is it excellent people-watching from above with all the other patios and food traffic nearby, but there's live music almost every day and night and plenty of beer and cocktails.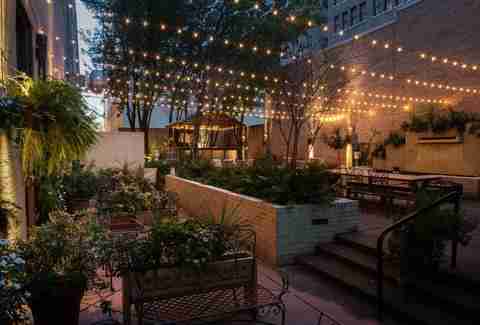 Downtown
If you want to take your patio experience to the next level, Felicia Suzanne's high-class brick outdoor dining area is for you. There's an outside bar, a fountain, and plenty of tables for you to enjoy your Southern-style dinner or Friday lunch. For something a bit more casual, stop by Taco Thursday on the patio to enjoy $2 tacos and margarita specials.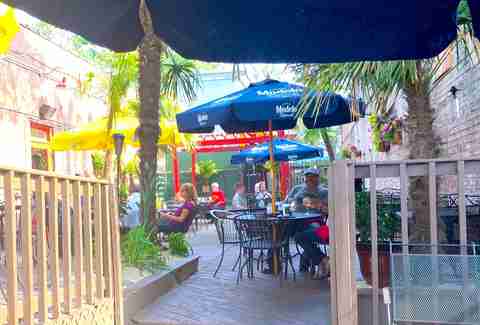 Cooper Young
Cafe Ole's staying power is undeniable -- it's been on the corner of Cooper and Young for decades. Its success is clearly due to its shady, comfy patios and strong-as-heck margaritas. It recently added a cool indoor/outdoor bar to the list of reasons Midtowners love the spot.
Midtown
The Slider Inn: go for the innuendo, then stay for the drinks, tremendous happy hour, mouth-watering slider selection, and enormous patio. At least three seasons out of the year, you'll find Memphians and their pups taking advantage of the spacious wooden patio, and probably a couple of Jameson slushies.
 
High Point
Head over to the High Point neighborhood in East Memphis for some wine and local beer on Cheffie's patio. It's spacious and has plenty of shade, with easy access to the Greenline trail if you feel like doing a little drinking and biking or running.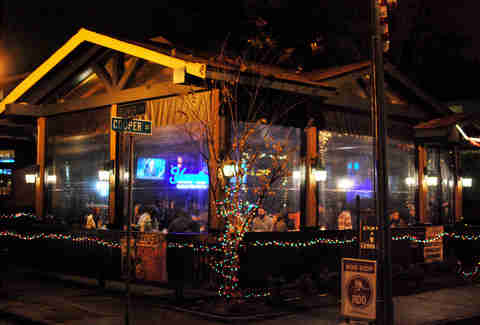 Cooper Young
Celtic's patio has everything. First off, it's huge, covered, and enclosed with heaters in the winter for maximum semi-outdoor drinking time. There's a sizable outdoor bar, frequent live music, DJs, trivia, and tons of drink specials. No wonder it wins "Best Patio" in local reader polls all the time.
Downtown
Perhaps the most coveted brunch seat downtown is the classy patio at the Majestic Grille. Sit in the shadow of this historic 1920s Art Deco building and enjoy mimosas, steak and eggs, or a tasty Bloody Mary while you enjoy a breeze and people-watching on the car-free Main Street. 
Beale Street
Between the Irish "diving goats," several outdoor bars, light-up palm trees, and live music, Silky's has the best -- and most kitschy -- patio on Beale Street. Sit in with a friendly mix of tourists, college students, and folks looking for a sunny spot to share a legendary Diver or a couple of beers.
Downtown/Cooper Young
Aldo's flowing local and regional beer selection and stiff limoncello are both perfect for sweltering summer days, either on the spacious Main Street-adjacent patio downtown or the rooftop perch at the new Cooper Young location.
 
Midtown/Downtown/Summer Avenue
You have triple the options if you want to drink (and eat!) outside at one of Memphis' favorite barbecue joints. The downtown location has a big, breezy patio with a wall decorated with a Memphis music-inspired mural, the Summer Avenue location has spots for imbibing outside, and at the original midtown location you have a covered deck and loads of local beer. 
Sign up here for our daily Memphis email and be the first to get all the food/drink/fun in the Blues City.