The 2018 FIFA World Cup is offering up a few challenges for soccer fans and bar owners. First off, the US men's national team (USMNT) didn't make the cut. Secondly, Russia, where the games are being held, is eight hours ahead of Memphis, so most matches will be taking place early in the day, either while we're sleeping or supposed to be at work. But never fear! These local bars are planning ahead to make sure we all get a proper soccer fix and have tons of fun doing it.
The first-round matches kick off June 14 and run to the 24th. And to help you enjoy yourself even if you're not enjoying Panama get walloped by Belgium, we found the five best soccer bars in Memphis that will surely be loaded with food, drink, and futbol.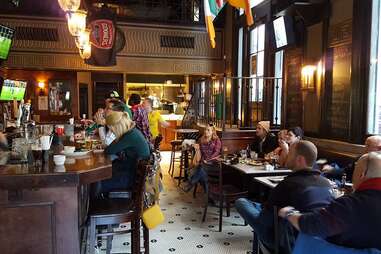 Downtown
Best for: Soccer fans looking for drink specials
Home to the Gooners (Arsenal fans) and the American Outlaws (USMNT fans), the Brass Door is Memphis' premier soccer watching bar. In 2014, they closed off the alley next door and projected games on the side of the building for maximum viewing pleasure. The Brass Door is kicking off the 2018 World Cup festivities with a party on Monday, June 12 at 6pm for the US women's national team's (USWNT) friendly with China. This is also the time to fill in your bracket and get entered for a Heineken Bluetooth Tower Speaker.

Soccer goals will be set up in the pocket park, both bars will be open, and they'll be serving $4 Heineken pints and $4 White Russians during all matches. Check out their calendar for a full listing of all the matches, times & additional specials.
Cooper Young
Best for: Catching the early-morning matches live
Celtic is Midtown's dedicated soccer bar and they plan on opening early and showing all games live. They will also show recorded games or stream them on request, when possible. Whether you plan to watch at the bar or on the expansive patio, you can enjoy Russian food and drink specials. Celtic will also be offering World Cup beer buckets (featuring beers from around the world). Look for a bracket challenge and other fun trivia and giveaways throughout the tournament.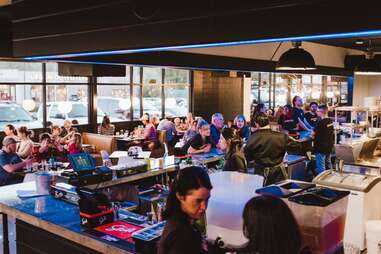 Midtown
Best for: Large groups and kids
For those wanting to watch the games with children in tow, or with a huge group, Railgarten is the place. Pong opens at 11am and can stream games on the 20-inch indoor screen. As the finals approach, they'll have specific events around the big games based on timing. Should there be any night matches, they'll be screening them on their two huge outdoor screens and numerous TVs.
Vollintine Evergreen
Best for: A divey late-night (and early-morning) atmosphere with great bar food
Alex's is dark, full of TVs, and according to our Burger Critic, cooks up some mighty fine patties and wings. It's known as a late night place since they don't actually close until 5am, so for the die-hard fans who need a good place to watch early matches, and still be able to party, Alex's just might be the ticket. Smoking is allowed and don't forget to bring cash!
Broad Avenue Arts District
Best for: A comfy, spacious viewing experience
The Rec Room -- famous for its six giant living rooms with large 20-inch high-def screens and multiple comfy couches -- is always a go-to spot for any major televised event. Unfortunately they don't open until 4pm on weekdays (meaning they won't have the early games). However, once the tournament progresses, they'll adjust the schedule for big games and host specific events around those.
Sign up here for our daily Memphis email and be the first to get all the food/drink/fun in the Blues City.
Stacey Greenberg writes in Midtown Memphis where she lives with her two sons. She is the author of the award-winning blog Dining With Monkeys and is a regular contributor to
The Memphis Flyer
&
Edible Memphis Magazine
.