After a long day's work, a proper cocktail hour is wholly appropriate. At these Memphis spots, the atmosphere varies -- from upscale to casual hole-in-the-wall -- yet the common link is the passion for mixing up creative and refreshing concoctions. Whichever you prefer, you'll have no trouble getting an expertly prepared shaken or stirred boozy beverage; your only difficulty will be choosing which drink to order.
Cooper-Young
This Midtown bar also turns base metals into noble ones by cranking out classic cocktails with a sophisticated spin. The menu changes seasonally, but you can always expect expertly mixed cocktails with bright and unique flavor combinations thanks to fresh herbs, homemade syrups, and bubbles. Bring a date and pair one of the elixirs with any of the refined small-plate menu items, and you're bound to feel some chemistry. Pro tip: Alchemy has one of the best happy hours in town with half-off specials on everything (and yes, we do mean everything) between the hours of 4 and 6pm on weekdays.
Downtown
The bar area -- located inside an old lock and key company -- is quite small with only a handful of tables. Most of the seating is outdoors on Loflin's massive covered patio, which overlooks a manmade waterfall that runs into the Gayoso Bayou. There's also a huge green space (hence the name Loflin Yard) for lounging, playing with kids, doing yoga, and a barn out back for concerts and special events. The cocktail menu features barrel-aged drinks that have been carefully crafted from classic recipes. There's a Tennessee whiskey Old Fashioned, a Sazerac, and a Bijou to name a few. Of course, the bartenders can whip up whatever you please, but don't skip out on the handcrafted, barrel-aged offerings, as they pair beautifully with the meats prepared in Loflin Yard's on-site smokehouse.
Binghampton
Channel your inner sailor at this nautical-themed bar where the absinthe fountain and Sazerac are patron favorites. You can also opt for a standard -- Old Fashioned, sidecar, Salty Dog -- or one that might shiver your timbers, like the Skull & Crossbones (Gosling's rum, sweet vermouth, bitters, and a lemon twist). The Vampire offers a unique (and very spicy) spin on the Bloody Maria with tequila, fresh chilies, and balsamic vinegar. A half-dozen oysters (or a pizza or panini) from the kitchen will do the trick if you find yourself feeling three sheets to the wind.
Downtown
Sipping on a few cocktails is thankfully legal at this late-night, Prohibition-themed speakeasy. Order a dish from the bar's late-night hibernation menu or just get the Monopolowa Mary -- a Bloody Mary that's almost a meal in and of itself, with slices of sausage as garnish. You won't need a password to order from the "Giggle Water" drink menu, but you may feel a little like a Roaring '20s gangster as you put back a Bootlegger's Mule (American Born moonshine, simple syrup, lime, and ginger beer).
Victorian Village
Try a Naughty Apparition (Patron Silver, raspberry, mint, lime, and honey) from the upstairs or downstairs bar in this historic, purportedly haunted Victorian mansion just east of Downtown. Captivating art adorns the walls, and antique furniture and decor are scattered throughout, making for a one-of-a-kind Memphis drinking experience. Kick back on a comfy leather couch or armchair and toast to ghosts of the past… and perhaps present.
Downtown
Every day, at 11am and 5pm, the Peabody's Duckmaster marches the historic hotel's iconic ducks from their home on the roof to a fountain near the Lobby Bar. It's a tradition that dates back to the 1930s (the hotel was built in 1869), and tourists and locals alike gather at the bar or on lobby couches to watch the free show. It's best to watch said free show with one of the Lobby Bar's famous martinis (they've garnered multiple awards). And once the ducks have had their swim, stick around in the bar area for prime people-watching. If you're there in the evening, note that the bar offers a selection of desserts from the Peabody's pastry shop.
Cooper-Young
As far as we know, DKDC stands for "Don't Know, Don't Care," though this small Cooper-Young bar certainly knows and cares about cocktail-making. In true Southern style, the drinks are served in Mason jars. Have a Green Line (vodka, cucumber, lime, St. Germain, and mint, named after Memphis' longest bike and pedestrian trail), then squeeze into the bar's in-house old-fashioned photo booth, and then Instagram a photo of that photo for maximum effect.
Beale St
For a completely different Beale St experience, ditch the Diver Bucket and duck into Itta Bena. Discreetly positioned upstairs from B.B. King's Blues Club and named after the bluesman's hometown of Itta Bena, Mississippi, this upscale restaurant offers a fine-dining experience, with a Delta-inspired menu and a variety of classy cocktails. The Blues Berry martini (blueberry and vanilla vodkas, Chambord, simple syrup, and cream) is sure to cure whatever blues are ailing you.
Downtown
The Twilight Sky Terrace on the roof of Downtown's Madison Hotel (open at 4pm daily) offers sunset views like you've never seen. Ask for an appropriately named Binary Sunset (tequila, lime, pineapple juice, and bitters), and sip it as the sun goes down on the Mississippi River.
Downtown
This South Main-area gastropub offers a sophisticated spin on pub food and an extensive list of inspired cocktails. But unlike some other high-end bars, S.O.B., as it's affectionately called, has more of a welcoming, low-key ambience. Sangria (prepared with whatever fruit is in season) is always on offer, or try something more inventive, such as the Not Your Grandmother's Lemonade (barrel-aged whiskey with homemade lavender-infused lemonade). Balance your booze intake with eats from the daily snack board (fried deviled eggs, seasonal hummus, cheeses, house jam, candied pecans, and crispy flatbread).
Binghampton
This cocktail bar on one of Midtown's most interesting streets -- Broad Ave -- sits between a tattoo shop and a coffee house. And those elements lend Maximo's just the right balance of cool. It's fancy yet casual, and adult yet spirited. Gather a group (this is a tapas place, so sharing is a must) and order something from the tapas menu -- perhaps the tuna tartare or the lemongrass scallops. Wash that all down with a Sexy Slipper (pomegranate liqueur and Champagne) or a Southern Charmer (bourbon, pecan liqueur, and basil).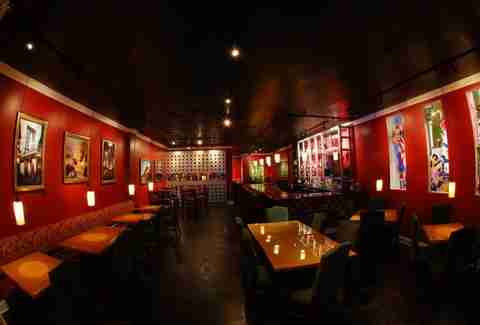 East Memphis
Fire engine-red walls and brightly colored artwork lend East Tapas a funky vibe befitting this East Memphis bar's unique cocktail list. Tequila meets ginger beer meets raspberry liqueur in the Dancing with the Devil cocktail, and drinkers get a taste of Southern charm with the Paula Deen (marshmallow vodka and sweet tea). Those are best enjoyed with a few small plates from the eclectic, Asian-influenced menu -- think Asian Buffalo chicken nachos and Mongolian beef pizza.
Sign up here for our daily Memphis email and be the first to get all the food/drink/fun in the Blues City.