A Guide to the Best Locally Made Booze in Memphis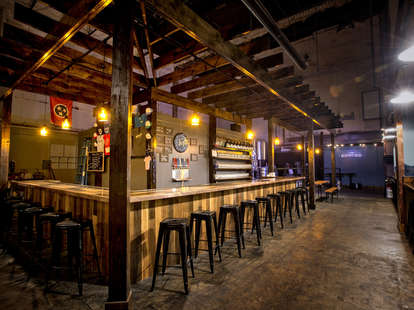 Courtesy of Brandon Dill
Courtesy of Brandon Dill
Memphis has had a long love affair with alcohol, reaching back to 1915 when our town had both a mayor and a judge ousted for refusing to uphold prohibition laws (aka combating tyranny). The city's devotion to booze has never wavered, and in more recent years, a number of craft breweries, a vodka distillery, and a winery have sprung up to feed the need for small-batch drinking. Here's our guide to the city's best locally made beer and other spirits.
Cooper-Young
Primarily a seasonal brewery, Memphis Made creates unique, limited-edition beers with unexpected flavor profiles, often giving them Memphis-centric names that only a local would understand. Past releases have included the Soulful Ginger (a saison brewed with candied ginger and peppercorn) and the Rockbone IPA (named after an unfortunate tweet by a local news station that -- oops -- linked to a porn site). But one beer, the Lucid Kolsch, is offered year-round. Called a "lawnmower beer" by its creators, this pale German ale tastes of yeasted bread with a touch of hops. It's the sort of beer you can drink more than two of, and it pairs well with just about any meal.

Where to drink it: The Memphis Made Taproom in Cooper-Young is open to the public, and that's where you'll find all of the brewery's latest seasonal offerings and the always-available Lucid Kolsch. They offer taproom tours on Saturdays and Sundays at 4pm. No food is served inside the building, but food trucks are typically parked outside.
Downtown
Memphis is known for having some of the cleanest drinking water in the world. That's because our water supply comes from the ancient Memphis Sands Aquifer, which lies deep below the surface of the city. And since beer is made up of mostly water, Ghost River Brewing has made it their mission to credit pure Memphis water as the "secret ingredient" in their crisp-drinking beers. They're also committed to conserving that water, so a portion of every barrel sold is donated to the Wolf River Conservancy. For years, Ghost River primarily stuck to a handful of year-round, easy-drinking beers -- such as a golden ale and an Irish-style red -- but they've recently begun stepping up their seasonal and limited-edition beer game by allowing their brewers to dream up some creative styles, think sour beers and rye brown ales.
Where to drink it: Ghost River doesn't have a public taproom (yet!), but their bottled and draft beers are available at most local bars and restaurants. You can find a full selection of Ghost River's draft offerings, including their their flagship beer Ghost River Golden (a mellow ale with caramel malts) and the easy-drinking Riverbank Red (a malty red beer with a hoppy finish), at craft beer shop Hammer & Ale. Have a pint of Ghost River with a goat cheese flatbread on-site, or fill a growler to take home.
Overton Square
This Overton Square brewpub is the only restaurant in the city serving made-in-house beer. Located in a bustling theater district, Boscos is ideal for pre-show beers, which are expertly paired with the restaurant's menu of dressed-up pub food. Many of their offerings are seasonal, but the award-winning Flaming Stone always on tap. Flaming Stone is created by lowering hot stones from Boscos' wood-fired pizza oven into the beer during the brewing process. Boscos' Midtown Brown is also offered year-round. This nut brown ale has a chocolate malt flavor and pairs well with cheeses.

Where to drink it: Boscos beers are only served at their restaurant. Saddle up to the bar, order an Isle of Skye Scottish Ale (a thick, dark brew with a touch of vanilla), and sip it while you wait for the Germantown Purist -- a BBQ chicken pizza with smoked mozzarella and beer-infused crust.
Medical District
An airline pilot, a lawyer, an engineer, and a home brewery supplier walk into a bar. OK, well, actually it's a taproom but close enough. High Cotton Brewing Co. was launched by four guys from very different professional backgrounds with one common love -- beer. Their Edge District brewing company and taproom has been pounding out solidly crafted beers ever since. High Cotton offers a few year-round selections and a handful of rotating seasonal beers. The Scottish ale (with malty, caramel notes) offers dark beer lovers a year-round option (most breweries only offer dark beers in the fall and winter), while the ESB, which stands for extra special bitter, will please hop-heads.

Where to drink: High Cotton's beers are only available by draft since they lack a bottling line, and many locals bars offer one or two options. But for the freshest pour, the High Cotton Taproom can't be beat. Located in a historic warehouse, the taproom has both an industrial vibe and a down-home feel. They occasionally host special events, like yoga classes, in the back room.
Binghampton
Brothers Davin & Kellan Bartosch have spent most of their lives working toward opening Wiseacre Brewing Co. Davin went to beer school at World Brewing Academy and honed his skills at the brewery Rock Bottom Chicago, while Kellan worked for Sierra Nevada Brewing Company and wrote for a handful of niche beer publications. But they finally realized their dream in Memphis, their hometown, in 2013 when they opened Wiseacre Brewing Co. in the Broad Avenue Arts District. Known as much for their artful cans as their hoppy beers, Wiseacre Brewing Co. has amassed a legion of loyal Memphis fans. Year-round offerings include Tiny Bomb (a crisp American pilsner) and Ananda (an intensely hoppy IPA).

Where to drink: Wiseacre beer is sold by the can and on draft at most local bars, but drinkers can find the widest range of experimental and seasonal offerings at their on-site taproom. Located just a couple blocks from a row of art galleries, shops, and a tattoo studio, the brewery is perfectly positioned in a burgeoning arts district. The Gotta Get Up to Get Down, a coffee milk stout, is offered year-round and is ideal for sipping on Wiseacre's expansive patio. No food is served inside, but food trucks are typically parked in the brewery's lot. Also note: the taproom only accepts cards, no cash.
Millington, TN
Located in Millington, a municipality on the outskirts of town, Old Millington Winery is just a 30-minute drive from downtown Memphis, and this boutique winery offers hand-crafted wines at very affordable prices. Made from grapes grown in a small family-run vineyard, Old Millington Winery's offerings tend toward fruity dessert wines, such as muscadine, plum, and strawberry. But they do offer a small selection of more traditional reds and whites. The Crying Angel Red, made with their estate-grown Chambourcin, is a solid red table wine that pairs great with just about anything. In the spring and fall, the winery hosts outdoor live music on Sunday afternoons.

Where to drink: Old Millington Winery isn't served at local bars, but patrons can sample and purchase the wine bottles on-site. Have a glass during a live music event there, or you can always take a few bottles home (or to your hotel if you're visiting) and enjoy with dinner.
New Chicago
The makers of Pyramid Vodka, Big River Distilling Company prides itself on using only local products to create their small-batch vodka. The corn used to make Pyramid is procured from farms within a 100-mile radius of Memphis. It's ground into their small mash cooker on-site, and any leftover mash byproduct is sent to local hog farms. The water used in their vodka comes from the Memphis Sands Aquifer, which as we mentioned earlier, boasts some of the cleanest water in the world. The end result is a smooth 80-proof vodka that's dangerously drinkable without a mixer.
Where to drink: Pyramid can be purchased by the bottle at most Memphis liquor stores, and a large number of bars and restaurants offer Pyramid in their specialty cocktails. Try it in a classic vodka martini (dirty and with three olives) at Alchemy, a high-end cocktail bar in the Cooper-Young district.
Sign up here for our daily Memphis email and be the first to get all the food/drink/fun in the Blues City.
Katie Smith is a freelancer contributor at Thrillist and a fan of drinking local. Her favorite beer is High Cotton Scottish Ale, and she likes her Pyramid Vodka neat.