The Best Spring Beers to Drink in Memphis
Courtesy of High Cotton Taproom
Aside from a couple rough days, winter has been considerably mild in Memphis. But that hasn't stopped some from being whiny babies -- bitching and moaning about the "cold." Whatever, we're ready for shorts, tank tops, patios, and picnics. And perhaps most importantly, we're ready to trade in that dark, thick winter porter for an ice-cold glass of a hoppy, spring IPA. Here's a list of Memphis' best spring brews to get you in the mood for the warmer days ahead.
Courtesy of Andy Ashby/Memphis Made Brewing Co.
Saison; 5.6%
Cooper-Young Historic District
A little background: for the past year or so, users of Midtown's Overton Park have been in a feud with the neighboring Memphis Zoo over the zoo's use of the park's prime green space as an overflow parking lot. That green space is known as the Greensward. Memphis Made's new spring saison pays homage to the beloved Greensward -- a place where locals toss Frisbees, play soccer, and have picnics when cars aren't parked there. The taste of Greenswarden is filled with light citrus and heavy hops encased in a copper ale... basically, a spring picnic in a bottle.
 
India pale ale, 6.2%
Cooper-Young Historic District
In 2014, a Memphis news station accidentally tweeted a link to a porn site (with the word "rockbone" visible in the link) rather than to a link to a story on their news website. Oops! The mistake led to an amazing day of #rockbone Twitter humor and, more importantly, to the creation of Rockbone IPA. The beloved brew -- a hop-filled beer with hints of passion fruit and berries -- is making a comeback this season (#rockbone will never die).
India pale ale, 6.2%
Edge District
This copper-colored, danky IPA is ideal for pairing with grilled foods, so despite the chill in the air, break out the charcoal and throw on some burgers. There's a massive hop punch at first sip, but the flavors balance out as hints of citrus come through.
 
Red ale, 5%
Edge District
On first pour, this ale's dark color might lead you to believe the bartender has mistakenly poured you a winter brew. But the taste is sweet, malty, and surprisingly light despite the beer's appearance. It'd be a little too easy to drink three or four of these on High Cotton's breezy patio.
American Double/Imperial IPA, 8.6%
Broad Avenue Arts District
This high-gravity beer provides almost double the boozy punch of a typical IPA, so enjoy with caution. Despite the word "double," this IPA doesn't taste too heavy on hops. Adjective Animal has just the right balance of floral flavors, grapefruit, and pine notes to herald the end of winter and welcome the arrival of spring. Bonus: it's available in cans.
 
Irish stout
Broad Avenue Arts District
Here's one for those dark beer lovers. The best thing about St. Patrick's Day happening mid-March is the arrival of Irish stouts -- perhaps the season's only alternative to spring hops. That said, Wiseacre's version is hoppier than, say, a Guinness. But that hops is well-balanced with malty sweetness.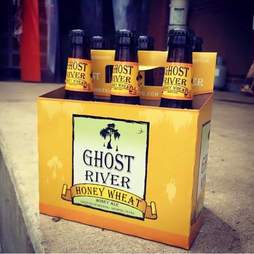 Courtesy of Ghost River Brewing
India pale ale
Downtown
Part of Ghost River's special Brewers' Series, the What's Good IPA lives up to its name. It's good. Damn good. A solid foundation of golden malt gives way to floral hops and citrus, and it does so without leaving a bitter aftertaste. This one's ideal for pairing with spicy foods, so grab a growler from Ghost River's dock and cook up some Thai.
 
American wheat beer
Downtown
This beloved spring seasonal debuted in 2015, and it's making a comeback this April. Ghost River enhanced the traditional American wheat beer with locally sourced honey and orange peel, creating a smooth, drinkable beer that offers hop-haters a spring alternative. It's available on tap or in bottles, and unlike some spring beers that may disappear from taprooms by summer, this one will be around through August.
Sign up here for our daily Memphis email and be the first to get all the food/drink/fun in the Blues City.
Katie Smith is a writer for Thrillist who may have sampled one too many Wiseacre Adjective Animals for this article.