10 new Miami happy hours to try right now
Lots of good things come in 10s: fingers, commandments, and, if you believe your ex-girlfriend, the guys she's hooked up with since you broke up last month. Lucky for you, now brand-new Miami happy hours do, too! From free buffets to half-priced pizzas, here're 10 spots to get your discount eat/drink on.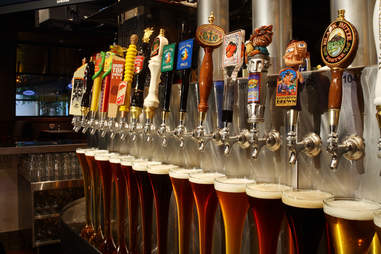 Yard House, South Beach
The new Yard House in South Beach is taking its sweet 3-6pm happy hour -- with half-off pizzas and apps plus craft pints and wells for $4.25, or half-yards for $7.50.
Blue Martini, Brickell
The Brickell 'tini stalwart just launched a whole new HH menu with stuff like lollipop lamb chops, Thai chicken, and blue crab cakes, plus half-off drinks like the Ciroc Peach/  St. Germain/ agave nectar/ fresh lemon Morning After every evening from 4-8pm.
Bread and Butter, Coral Gables
Alberto Cabrera's giving you $3-5 tastings of things like his double-bacon frita, Hialeah-style warm peanut cones, and tostone tostadas along with half-price beer and wine and a $3 "cocktail of the week" every weekday from 5-7pm. Plus, on Frita Fridays, you can get any frita for $3, too.
Cecconi's, Miami Beach
Even though the Marlins are off to their best start in years, the most fun you can have at a retractable-roof venue this weekend is still this Italian spot at the SoHo House, where they're giving you baked gnocchi w/ gorgonzola, pizzettas w/ rucola & Parmesan, salame w/ caperberry, and a handful of other items for just $4. Oh, beer, wine, and Champagne are just four bucks, too.
E11EVEN, Downtown
Really, there's nothing wrong with going inside to look at naked girls when the sun is out. Especially when those girls are flanked by a massive free buffet complete with a carving station, mojo pork, caprese salad, and chicken scarpariello, plus half-priced drinks from 4-8pm.
The Federal,MiMo
What's better than unlimited wine and sangria from 5-7pm? Well, aside from getting it with brunch, getting it with $3 craft beers, $5 specialty cocktails from "Booze Fairy" Emily Brown, and $5 snacks, like their maple BBQ bacon, Buffalo-style "pig wings", and smoked-fish dip & chips.
Lord Balfour, SoFi
Not to be confused with the former Panthers' goalie who offered Beach cops $100 billion to let him go after a boozy night in SoFi, this much-classier, newly restored Deco gem on 4th and Ocean is still gonna offer you a Kings Ransom, except this one's a drink that, along with seven other British-inspired craft cocktails, is 2-for-1 from 5-7pm on weekdays.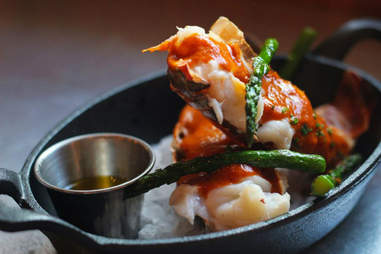 PB Steak, South Beach
Pubbelly boys Andreas Schreiner, Jose Mendin, and Sergio Navarro are getting fishy with a whole new menu of seafood specialties they're calling PB Fish, including stone crab claws, tuna tartare sliders, and a ceviche of the day, all paired with a fresh batch of rum-based 'tails from 5-7pm weekdays.
Gastrobar Perfecto, Brickell
If Curt Henning were alive, there's no doubt his new favorite happy hour in Miami would be at this wood-lined spot, where all beers are $3.50, all wells are half-price, shots de la casa are $3, and there's a whole menu of Spanish tapas for $3-6 that he could get from 4-8pm on weekdays. After he spit out his gum and threw it at the audience, of course.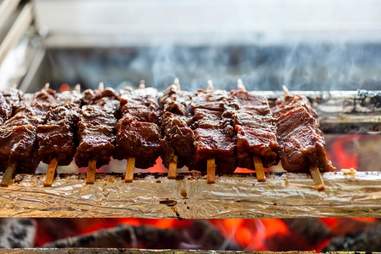 Sushi Samba, Coral Gables
This Gables sushi den is launching a new Samba Hour, which is wayyy more tolerable than, say, a "Teach me How to Dougie Hour," and boasts sushi and robata creations like ribeye anticuchos w/ mustard miso, and chili lime corn on the cob, plus $7 drinks from 4-7pm, then from 10pm until they feel like making you leave.