Shutterstock
Shutterstock
There are plenty of reasons to get excited about the Dolphins this year. We've got a newly renovated stadium, the highest-paid quarterback in the NFL, and the only guy in the league the Dolphins could find who's actually dirtier than Richie Incognito. And even if you don't find yourself in one of those pretty new teal seats at Sun Life, there are still these 17 awesome places around South Florida to try and drown out Eagles, Giants, and Jets fans.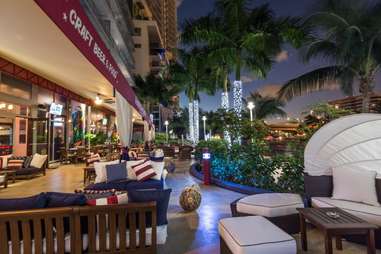 Brickell/Las Olas
Sure, the Las Olas original is about as close to going to Florida State as you can get without a rejection letter from UF, but that doesn't mean the 'Noles are the only team you can go watch there. Both locations are game-day destinations, not just for the impressive menu with stuff like black truffle short-rib sliders and some of the best mac and cheese in America, but also for the extensive collection of TVs, craft beers, and attractive patrons.

Midtown
This Midtown hole in the wall, despite being tough to find/easily missed even if you're looking for it, offers actually reasonably priced drinks, friendly service, and more football than you'd ever expect to see at a gay bar. Yes, it's a gay sports bar, and if you're not comfortable with sports innuendo, don't ever, EVER, look at this bar's Facebook.
Delray Beach
You ever done a juice cleanse? It makes you only slightly hungrier than that guy who turns into Betty White in the Snickers ad, but also makes you think of some pretty amazing stuff you'd like to eat once you're done. Which is exactly how the two sisters who run this Atlantic Ave sports den created, hands down, the best sports bar menu in South Florida, with pulled pork, chicken, and beef all smoked in-house and thrown on delicious sliders, a collection of flatbreads with those same smoked meats, and a rotating collection of beers from local brewers like Saltwater, and Due South.
Various locations
If there's one thing that tastes like football in South Florida, it's disappointment. But also wing sauce. And when you're talking football and wings down here, you're talking about this collection of sports super-bars from Dolphins great Bob "Bru" Brudzinski. Though the debate about the best wings in the tri-county area will always rage, the Fins even thought enough of Bru's to serve them in the stadium last year.

Coconut Grove
Though this might be the only sports bar in South Florida to have the distinction of serving as the set for an adult feature film, don't let that discourage you from going here to take in a game. Because in addition to being the best spot in the Grove to watch football, if the Dolphins get too boring you can always partake in one of Miami's toughest eating challenges -- the 5lb burrito -- or just down hurricanes until you start making really bad decisions.
North Miami Beach
While the Duffy's sports bar empire has fewer empty seats on a Sunday than Sun Life Stadium, the best of the lot is this one on the Intracoastal in North Miami Beach. Duffy's first Dade County location has a sprawling outdoor patio that you can boat right up to, plus a swimming pool, live DJ, and two-for-one drinks all day, every day.
Brickell
Nothing will cause domestic squabbles faster than a fall Sunday when one of you wants to find the nearest place to catch the Bucs-Jags game, and the other person wants to watch NFL football. Or eat brunch. Your best solution? This spot that's got one of Miami's best boozy brunches with bottomless sangria for $20, plus wall-sized flat screens, eight TVs at the bar, some of Miami's best mac and cheese, and a burger that may kill you.
Pinecrest
You might know it as the go-to place to catch the latest and greatest in garage and '80s cover bands from dudes who went to Palmetto, but when it's not South Dade's top local live music venue, it's a great place to catch the game without having to drive past The Falls. For people who grew up with an "SW" in front of their address, there is simply no other place to go for a big game than here. At least there's not since Gatsby's closed down.

South Beach
You might not have thought that the old Jerry's Deli space now filled with a Mexican-themed spring break bar would be THE spot in Sobe to watch football. Then you hear it has a bikini contest at halftime of every game. And then you might think fajitas and Pacifico don't really go so bad with Ryan Tannehill after all.
South Beach
The fact that the Dan Le Batard Show broadcasts from the same hotel is reason enough to give the Cleve's indoor bar a spot on this list. And, yes, this bar might be filled with the occasional fan from a Northeastern team who's here on vacation. But, really, what's more Miami than watching a game next to a guy who won't stop screaming about the injustices of "Deflategate," then running outside to a pool party to escape him?
Kendall
With a name like this, clearly this is THE spot on Sunset Dr to go and catch an episode of Dance Moms. Or, you know, maybe to watch a game. Not only because of the non-gouged prices and super-local atmosphere, but also because you can get a giant order of wings and knock an item off your Miami food bucket list.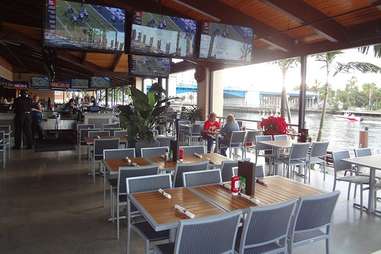 Ft. Lauderdale
Dolphins legend Kim Bokamper has a few of these spots around Broward and Palm Beach Counties, but if you're gonna go to one of them, you need to hit this one on the Intracoastal. Not only can you catch your sports with a sick waterfront view, but if watching games on the dizzying collection of over 100 flat screens gets to be too much, you can watch the sushi chef make more impressive cuts than the Dolphins' backfield has made in decades.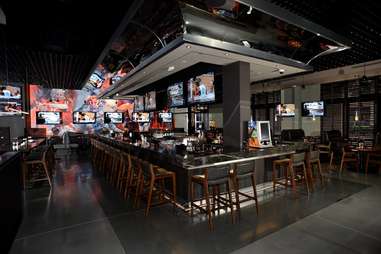 Hallandale
Imagine a sports bar, but instead of watered-down Jack and Cokes the waitress brings you stuff like a grass-fed burger from a family farm in Ocala and the best chicken curry you'll find at a place not called Churchill's. You'd be pretty close to this place -- one of 2015's best new bars -- where you can watch live horse racing AND any game on the planet. And while you can only bet on the ponies, the added action makes the last 30 seconds of a NBA basketball game go that much quicker.
South Beach
Though Lincoln Rd is about two years and a Cheesecake Factory away from being an outdoor Dadeland, the spot that was once South Beach's premiere sports bar still survives. We're not sure whether this is thanks to a favorable lease or the staff of sexy bartenders, but if you're in the Beach and want to watch a game someplace that's not hosting an Ocean Dr pool party and isn't a chain restaurant, there's no better place than "The Way."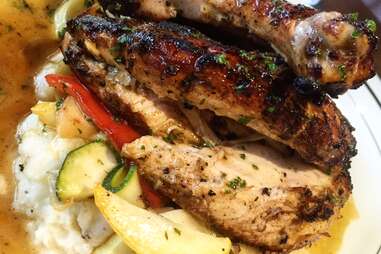 Ft. Lauderdale
There is absolutely no reason that the Saturday night bad decision marathon that is a night at Public House should end just because football comes on. So, after a few hours to recover, head back here for the Sunday brunch party, and enough screens to take up half the wall. And if you feel like soaking up just a little of that booze from the night before, the new menu's got stuff like a deep-fried Monte Cristo, 24-hour-brined fried chicken, and lobster nachos.
North Bay Village
You remember when its deck collapsed, right? Remember what people were doing to make said deck drop in the middle of Biscayne Bay? WATCHING SPORTS. There's a reason this place got so packed during the finals a few years back, and it's because it may well be the sports bar with the best water view in America. Since it sits right on the JFK Causeway, Shuckers lets you watch every NFL game in one direction, and clear turquoise water in the other. And once it cools down there might not be a better place to watch football in the winter.
Miami Springs
For a sports bar experience that will have you completely forgetting you're in Miami, there's the venerable Tom's NFL. We're not really sure why Goodell hasn't sued the pants off these guys yet, but maybe it's because this mainstay across the street from the back gates of MIA is full of retired airline pilots and other people who've been in Miami longer than the Dolphins have been a team. What Tom's lacks in fancy food and flashy TVs, it more than makes up for in old Dade authenticity, and is a must-go at least one Sunday a year, just to up your Miami-local cred.
Sign up here for our daily Miami email and be the first to get all the food/drink/fun in town.